On Saturday, February 18, Seattle-based pro-abortion organization Shout Your Abortion will open the first Shout Shop. Yup, a whole store filled with pro-abortion merchandise!
The storefront on Harbor Avenue in West Seattle will carry SYA goods—T-shirts, buttons, stickers, and pieces from their newest Fuck Dobbs line—as well as zines and books like My Mom Had an Abortion by local author Beezus Murphy and Maybe a Baby by Shawna Murphy. 
But shop runner and local artist Stella Harvey—who collaborated with SYA to make a line of crocheted bags—hopes the space will be more than a store. She wants it to be a center for creative, rejuvenating projects, too. The fight for reproductive rights is exhausting. Friends help.
"I think for folks who're fighting for reproductive justice and access to abortion, it can be super easy to fall into doom-scrolling and feeling anxious and scared about the state of abortion access in the US and beyond, and I totally get that," says Harvey. "I think that's one of the reasons I've gravitated toward SYA's mission for so long. Reminding people that even though the courts are not protecting abortion in the way we wished they would, we don't need their permission to have abortions and help one another. SYA does this through social media and actions across the country, and I think having a physical space only furthers that mission."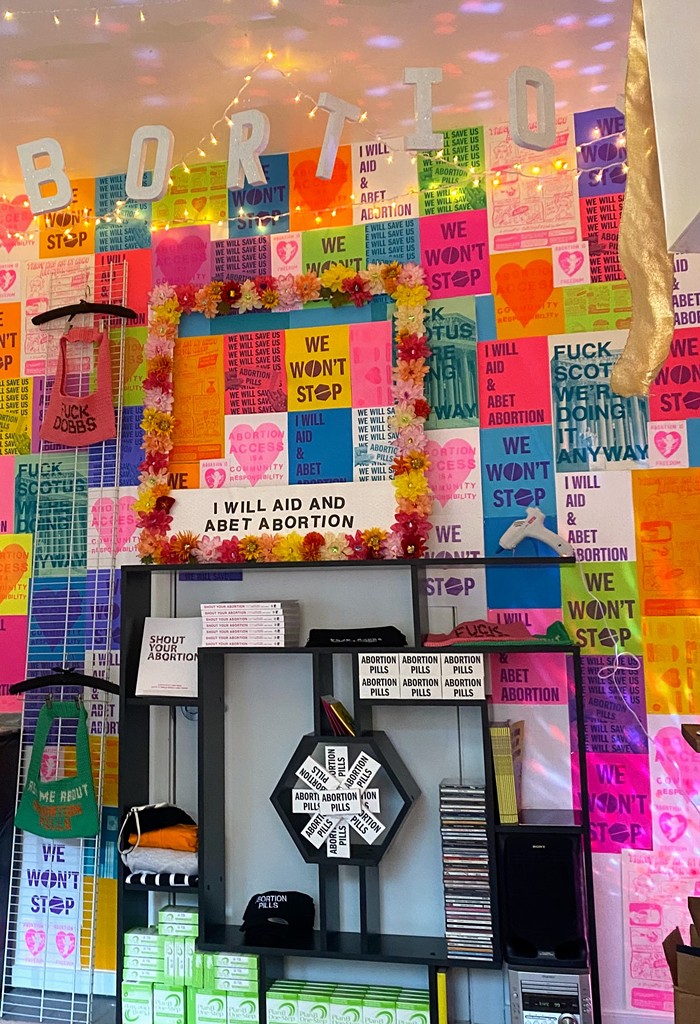 Saturday's grand opening event doubles as an apparel painting party—the Shout Shop will have the paints and brushes, you just need to bring a T-shirt, sweatshirt, tote bag, whatever, to decorate—and Harris says she plans to host more crafternoons every Sunday from noon-5 pm. February 26 is button making and March 12 is pro-abortion collage making. 
"My hope is by hosting craft events like apparel painting, button making, collage making, etc., where we can engage the community and provide the materials for people to make their own DIY pro-abortion merch, we can make real-world connection and continue to spread the message about abortion pills and ways folks can support abortion access. My hope is also that people bring their friends who may not be as outspoken about reproductive rights. I think it's really important to remind people that it's time to show up and fight for reproductive rights, and I hope that this space can help with that!"
---
Shout Shop's grand opening party is Sat, Feb 18, noon-5 pm, free. Beginning Sun Feb 26 Shout Shop will be open Sundays, noon-5 pm.