Art and Performance Spring 2023
When I first saw Emily Counts's work, it hit me like a tidal wave.
I remember the moment clearly—I went to studio e gallery during the vaccine-less summer of 2020. The gallery was hosting a joint show by Ko Kirk Yamahira and Counts and there were so many beautiful pieces to take in. But what caught—and kept—my eye were two of her ceramic vases in the back of the space.
One was painted a lacquered chocolate color and the other a matte pink. Both had round handles on one side and golden symbols sprinkled all over. Their handles intertwined as if the vessels were bravely holding on to one another, facing the future. Titled "Making Love," the work's simplicity is exactly what made these two objects feel alive. Not only alive but in love. I wanted to cry. 
Immense excitement flooded back to me as Counts welcomed me into her studio, a low-ceilinged space on the bottom floor of another artist's hilltop Fremont home. Light streamed in through the space's only window, making her vibrant ceramic apples, flowers, arms, and heads scattered around the workroom pulsate with life. These bits and pieces of sculptures will fit together to form the bulk of her upcoming show, and her largest exhibition to date, Sea of Vapors.
The show is an ambitious exploration of time, decay, self, and the women in her life, but it also marks a truly impressive expansion of Counts's already intricate and incredible art practice, a mark of an artist on the grind to grow and traverse new areas of creativity.
"Lately, a lot of artwork that I'm making is about transformation—growth and decay—within the natural world and how I see that process within our bodies reflected back in nature, so I'm working with wilting flower forms and these sort of bitten or decaying fruits," she said. "I'm thinking about beauty and the process of aging, both in nature and within human bodies and within my own body." 
Born and raised in Seattle, Counts left the soft mosses of the Pacific Northwest for the mists of the Bay Area to attend California College of Arts and Crafts. There, she picked up a degree in painting but soon found herself limited by the form. She began experimenting with other materials like wood and foam when one idea led her back to ceramics, and slowly, the medium became her primary focus. After spending some time in Portland, Counts eventually made her way back to Seattle, where her ceramic practice has grown to one that consistently exceeds expectations of what the medium can do.
"[Counts] just keeps expanding and developing," said Dawna Holloway, director of studio e and Counts's representation in Seattle for the past several years. "She is voracious in her ability to have an idea to get excited about, exploring that idea, and then producing an extremely bountiful amount of work." 
Counts's work consists of references to childhood, the natural world, and her own personal life. Her compositions are surreal, yet playful—nothing is quite as it seems. Looking at her creations reminds of me reading tarot cards. With both, there's a divination and magic inherent to each card or sculpture. Counts's spindly spiders and cobwebs? The duality of childhood joy (Charlotte's Web) and fear (fangs!). The droopy, larger-than-life flowers? A subtle hint at her past life as a florist. Phones, chains, interlinked vessels? Connection or disconnect. She undeniably has her own codex of symbols that appear throughout her work that won't inhibit your understanding, but add to it. 
For example, witches—or wizards, as Counts sometimes likes to call them— consistently pop up. They are dressed in cozy-looking sweaters, decorated with colorful flowers, and sometimes donning intricate crowns. She often nestles tinted light bulbs into these powerful figures, giving them a lamp-like glow that extends their bodies onto the walls and table, but their faces are all rearranged—a nose where a mouth should be, eyes stacked on top of one another. "It's just me trying to find something that's beautiful," she explained. "It's my search for an aesthetic positioning of the features that are more interesting."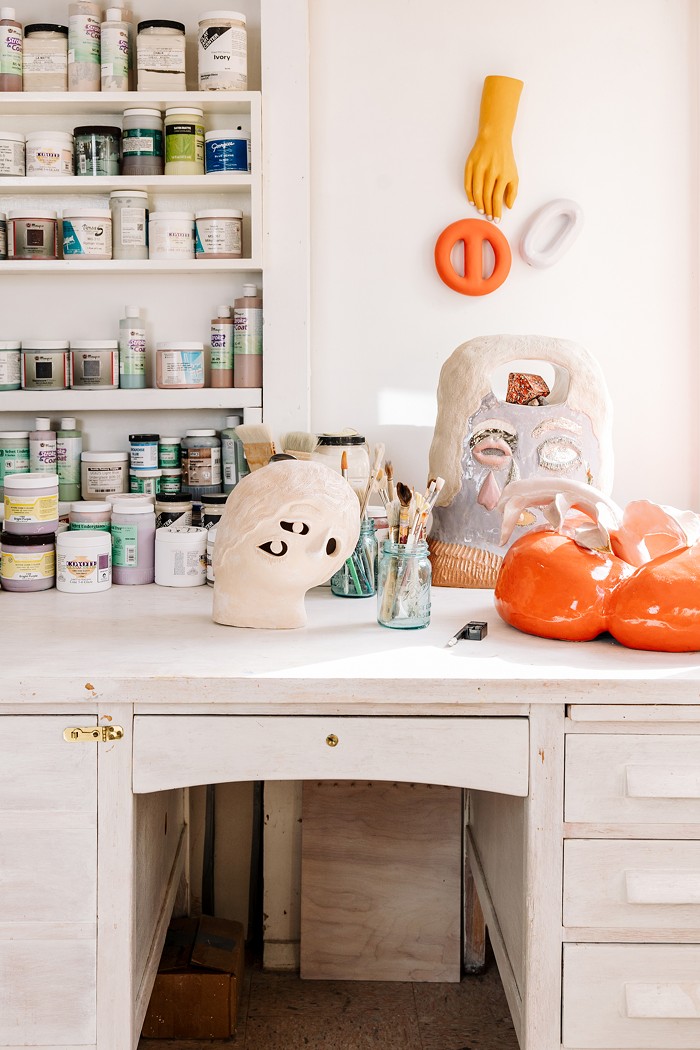 Though her femme figures are fantastical, they are all directly inspired by the women in Counts's life—her mother, her grandmother, her great-grandmother, her late best friend, herself. She integrates her loved ones' hairstyles into her work, like her great-grandma's tight curly perm or her own blunt bangs. But more broadly, Counts sees these witches as specific women in her life who are magical and artistic, qualities they've passed down to her. 
"It filtered down to me both in an emotional and genetic way to create the identity I have as an artist, my passions, my abilities," she said. 
These illuminated witchy, wizard figures served as a major inspiration for her upcoming show. Counts has been working on this exhibition for the past year and it's an ambitious vision, incorporating not only ceramics but soft sculpture and video art. It's also Counts's largest—and most immersive—show to date. A challenge she's ready to take head-on. 
The True Space at Museum of Museums will be divided into two rooms. In the exhibition's main room will be an enormous boat carrying 10 passengers who are on a journey through time outside of time. Each of these passengers is nearly life-sized—directly inspired by the same women in Counts's life—with bodies made of ceramic, wood, colored acrylic, and tinted light bulbs. Some have vampire fangs for eyes, others are seated and holding flickering candles. Some have wooden, geometric, leg-shaped pedestals for their ceramic torsos, others are draped in hand-dyed velveteen cloaks that make them appear all the more impressive. With them are their possessions, like soft sculpture fruits and flowers, as well as other objects like oversized ceramic lipsticks. 
The boat is aimed toward a smaller room where a grandmother wizard queen is waiting for her visitors. From a sketch Counts shared with me—Counts meticulously sketches her projects before making them—this sculpture will be double life-size with a massive flowing dress, a giant crown made of flowers, and thorns with a spider emblazoned on her abdomen. The loose narrative, she told me, is that these 10 figures are on a journey to see this queen who "embodies a great wisdom, as if they're going to meet a part of themselves." While it's not really the afterlife, it's not not the afterlife. Boats are symbols of eternal voyages, after all.
"There is a matter-of-factness [to her pieces]—a look inside her world, her brain, and her experience that is immediately communicated to the viewer," MoM director and fellow artist Mary Anne Carter wrote to me over email about Counts's work in Sea of Vapors. "Visual art is almost always an attempt to relay something that words fail, and she manages to deliver that message in a way that feels both immanent and expansive." 
Looking at these figures in Counts's studio left me in a quiet, reflective state; there's a strange, attractive power to the way she's shaped the figures' hands and bodies, a specificity to their faces and hairstyles. And the color! Sea of Vapors is colored in shades of deep yellow, peach, mauve, lavender, bright orange, gold luster, and hints of denim blue. It's a dreamy combo.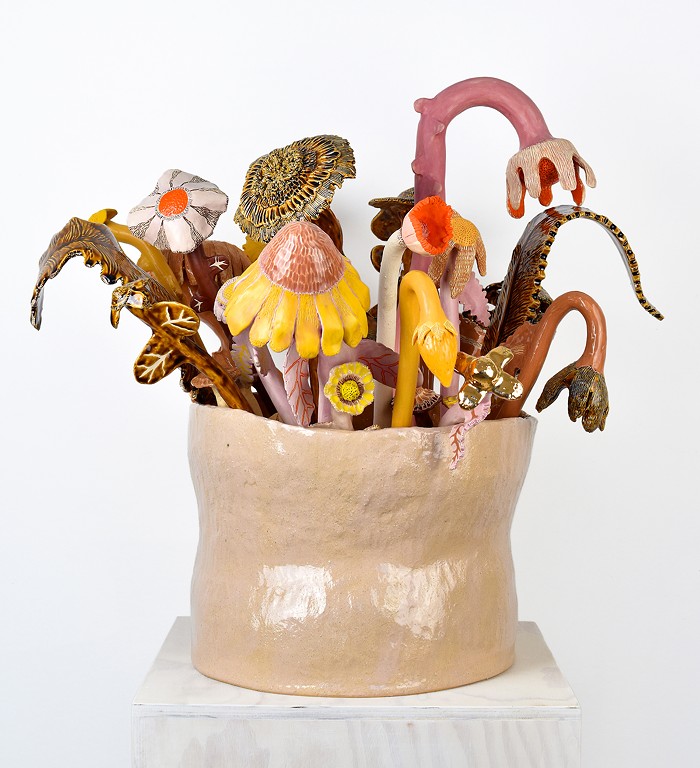 "One of my least favorite words is whimsical," said Counts as we examined her Sea of Vapors figures. It's a word that's often used to describe her work and, at first glance, one could mistake her sculptures—brightly colored, adorned with flowers, feminine—as put together with whimsy. But look closer and you'll see it's just the opposite: thoughtful, curious, grounded in memory with a sense of place. There's a real heft to Counts's work that's thrilling to take in.
"[Sea of Vapors] is really about this composite figure that holds myself and holds these other women that are so meaningful to me," she said. "I always hope, despite it being so personal and about my own experience, that there's a lot of places people can attach to or connect with."
---
See Sea of Vapors at Museum of Museums June 2 through December 31.