It's January and we're in this giant glob of gray. Everyone I know is having an emotional breakdown about the sorry state of their lives. It's only natural when the sun is sets before 5 pm.
As a seasoned Seattleite and chronic escapist, I get through this miserable time by turning to graphic novels to ease my sense of loneliness. They get you off a screen, but still immerses you into another vivid world, another way of thinking. Over the past couple of weeks, I tore through recent releases from two Seattle artists: Megan Kelso's Who Will Make the Pancakes and Brett Hamil's Slight Return. Both make excellent wintertime companions—let's get into them: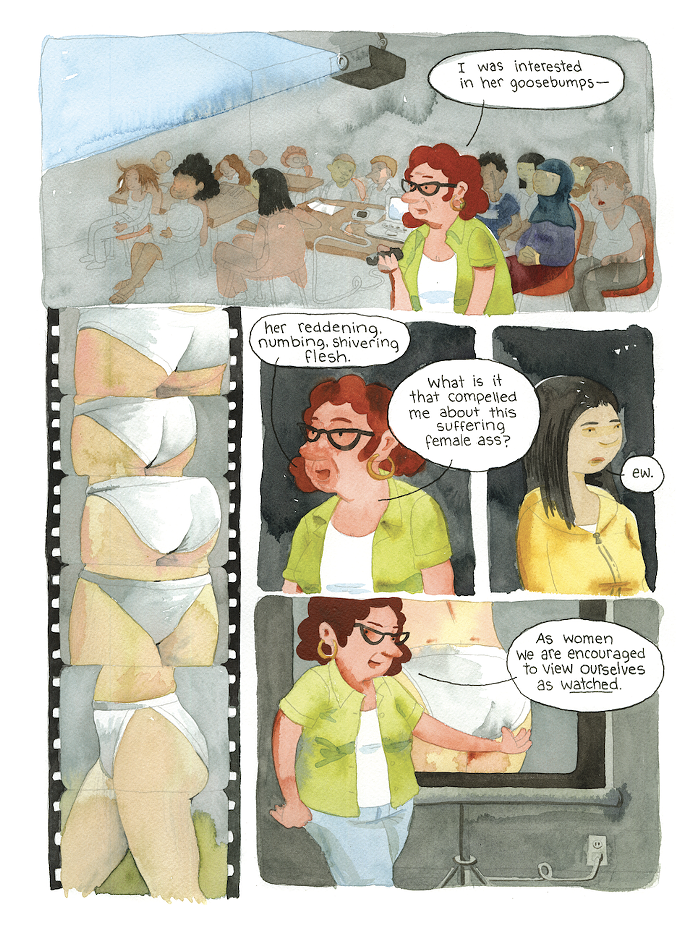 Megan Kelso's Who Will Make the Pancakes: Five Stories is a tremendous encapsulation of the Seattle-based artist's work from the past two decades. Drawing from her contributions to newspapers and artist residencies, Kelso looks unflinchingly at the knottier parts of life—the distances that crop up between mother and daughter, the toll of gendered expectations on women, grief, sex, fantasies, and desires. And she constructs these stories with imaginative depth and warmth; learned wisdom is threaded through each tale, the ideas for which, she says in the book, often come to her in her dreams. 
Who Will Make Pancakes is split into five stories with distinct styles: color, black and white, dreamy watercolor, and textured colored pencil. Though set in different time periods and communities, each story dives into the topics of family, sex, and the messy relationships people have with one another and themselves.
The book opens up with "Watergate Sue," a story of a pregnant young mother, Eve, in the '70s and her obsession with the unfolding Watergate scandal. It's told side-by-side with the story of her daughter becoming pregnant and grappling with her own ascent into motherhood. Originally serialized in The New York Times during George W. Bush's final term as president, the political scandal obsession easily transposes itself onto the anxieties of today. And it's a poignant portrait of the ways women handle self-doubt and ambivalence when faced with the idea of motherhood.
The black and white "Cats in Service," is a fable of a woman who inherits her late sister's cat servants as she deals with the grief of losing her loved one. In "Korin Voss," the titular character is a single mom attempting to raise her two young daughters in postwar America, grappling with the sexism and racism of the times. The final story, "The Golden Lasso," is centered around a young girl and the collapse of trust when an adult crosses boundaries.  
My favorite is the fourth tale, "The Egg Room." It follows a middle-aged film professor, Florence, as she manages the gap between her disappointing reality and the fantastical daydreams that knock around in her brain. There's a sadness that lingers over Florence as she teaches classes, visits her washed-up adult stepson, and manages a crush on a grocery clerk. But her dreams are the exact opposite of dull—full of praise, complex cocktails, and giant beautiful eggs. Kelso renders "The Egg Room" in creamy watercolor, giving a meditative feel to the story. Who Will Make the Pancakes is an instant classic from a Seattle great. 
You can pick up Megan Kelso's Who Will Make the Pancakes at Fantagraphics or your favorite local bookstore.
For the past couple of months, Seattle-based comics artist and comedian Brett Hamil has been posting delicious, raunchy snippets of his second graphic novel, Slight Return, on Instagram. From my habitual check-ins, the story seemed to be about a musician dude boning a bunch of hot women in his hometown after a long time away. I recently got my paws on the full version of the book, which is definitely about sex, but so much more. Slight Return gets at the heart of suburbia with all the nostalgia and supremacist ideologies that come with it. 
The book follows indie rock star Everett Elkton laying low in his swampy suburban hometown in Florida and living in his late mother's old house. Having achieved substantial success in his Elliott Smith-like career, he has a confidence about him that was absent during his teendom. That confidence leads to him banging all his women friends that he was too shy to bang in high school. Hamil composes these graphic sequences with flair and intimacy, letting the characters' desire for one another bubble over in a messy, passionate way. 
A thrum of nostalgia runs through Slight Return as Everett skateboards around town, figuring out which of his old buddies are right-wing assholes and running into new and familiar faces as he sorts through his old and current life. He carefully avoids the fascists in town who call him "soy boy" outside the abandoned Winn Dixie and infiltrate a nearby music festival he's playing at. There's a stagnation that comes with suburban life—both with memories and political ideals—and Hamil navigates these topics with humor and wit.
Slight Return is available on Brett Hamil's website or at Fantagraphics Bookstore in Georgetown.