It's a slow week for comics, which makes it a nice time to catch up on the good stuff you might've missed lately. (Unless you want to keep up with Son of Kal-El, in which case there's a great, big, beautiful hardcover out this week about your favorite bisexual spandex-wearer.) 
One book that I've been meaning to pick up for forever is Oksi, a 2021 release full of magic and myth that looked like the best Neil Gaiman stories. I was delighted to find that it met and exceeded expectations (full review below). But that's barely made a dent in my oughta-read book pile, which is currently stacked high enough to constitute a possible OSHA violation. Is it time to declare book bankruptcy, wipe out the backlog, and start afresh? Probably. But if I'd done that a week ago, then I'd have missed a real gem with Oksi. Help.
Thanks as always to Phoenix for sorting through the new releases!
THE CLOSET
Things aren't going great for Jamie. At four-ish years old, his parents won't stop fighting; his dad's an idiot, his mother's exhausted, and, oh yes, there's a horrible creature living in his bedroom closet. So begins The Closet – kind of a leading title for a book that launches at the start of Pride month but does not (yet) have any queer element. This first issue is a slow build. It introduces us to the kid's flawed parents, who already seem incapable of communicating and whose agitation has been heightened by the stress of an impending move. Poor little Jamie just wants a good night's sleep, and also for someone to believe him when he says there's a terrible malevolent force harassing him in the night. But what exactly is the monster? Is it real or imagined? Is it a manifestation of some other unpleasant element of Jamie's life? And can escaping the horror truly be as easy as moving to another home, or will it follow them? I would classify this issue as equivalent to one of the better X-Files cold opens; setting a very creepy table for what you'll just have to trust will be a tasty meal later on.
Rating: 🚪🚪🚪🚪(4/5)
Writer: James Tynion IV. Art: Gavin Fullerton. Colors: Chris O'Halloran. Letters: Tom Napolitano. Editor: Greg Lockard. Design: Dylan Todd.
Publisher: Image Comics.
CRAZY FOOD TRUCK VOL. 1
It's Mad Max with the twin titillations of food and sex. In a post-apocalyptic desert wasteland, a lone food-truck driver scrounges the waste for sandwich ingredients and outposts where he might peddle his wares. But he's not the only one with wares. On his journeys, he comes across a naked feral teen girl who is childishly innocent, programmed to kill, and drawn with such loving attention to her exposed curves that it soon becomes clear why this book exists. The duo's adventures are standard-issue: Stopped by a paramilitary group, they're forced to shoot their way to freedom; a remote town under siege needs help repelling hooligans; monsters lurk in the wastes but our heroes discover that they fight well alongside each other. The stock plots are paired with stock characters – fittingly, the first meal we see the main character prepare is a generic BLT, but when it's time for violent action and female-presenting nipples, the book shines. This could have been a Firefly, where a cast of complex characters make their way through the ruins of a war that no longer matters. It could have been a Max Max, where mayhem serves as a conveyor belt for interesting ideas. It could have even been a Cooking Papa, inspiring the reader to experiment with food on their own. Instead, Crazy Food Truck plays it safe with a well-worn path of familiar sex and violence.
Rating: 🍜🍜🍜 (3/5)
Story and art: Rokurou Ogaki. Translation: Amanda Haley. English adaptation: Jennifer Leblanc. Touch-up: E.K. Weaver, Jeannie Lee, Sara Linsley, James Gaubatz. Design: Jimmy Presler. Editor: Jennifer Leblanc.
Publisher: Viz.
OKSI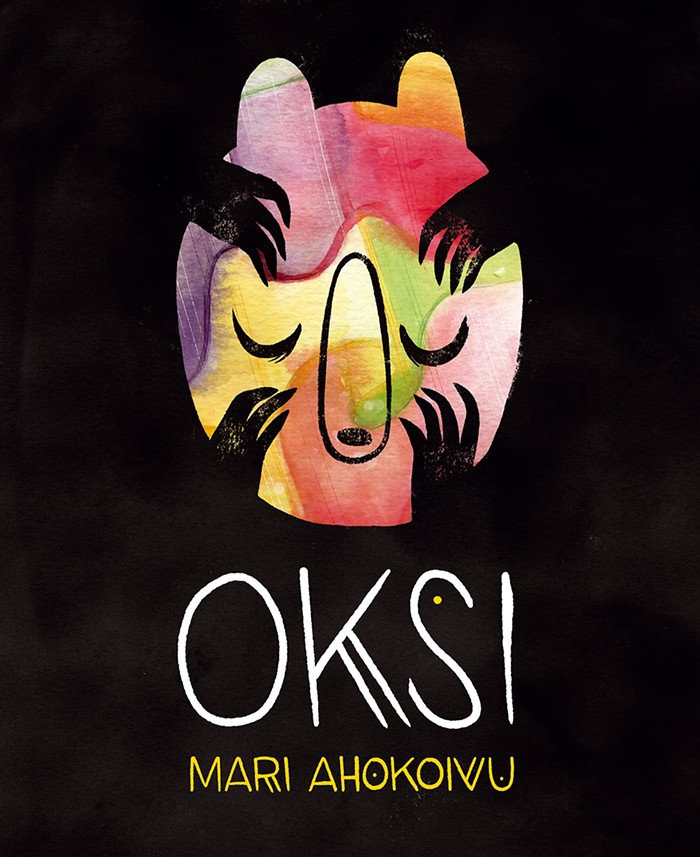 If Hayao Miyazaki had been Finnish, he might've made something like Oksi, a beautiful watercolor interpretation of Nordic-style myths translated to English last year. Deep in winter, a mother bear emerges from her den with three cubs and a strange little creature who doesn't quite fit in. Poorling, who looks more like a human or imp, is desperately curious about the world around her. She'd rather ask questions than wrestle with her siblings. A magic bird spirit goads Poorling to explore her strange powers, and soon the winter forest is revealed to be a cruel, unforgiving place full of shocking violence. Dreamy and dark, Oksi is a real spellbinder of a just-so story, a cautionary fable full of magic and malevolence. I mention this because a flip through the first few pages might give the impression that this book is easily suitable for all ages, but, while I think stalwart children would be capable of enjoying this book with some help from adult companions, you may want to be prepared to explain the more unsettling images and questions about mortality. A heartrending story of love and loss, Oksi is gorgeously illustrated, and cleverly written and translated.
Rating: 🐻🐻🐻🐻🐻 (5/5)
Written and illustrated by Mari Ahokoivu. Translated by Silja-Maaria Aronpuro.
Publisher: Levine Querido/Chronicle Books.
ALSO: CYBER-CRIME!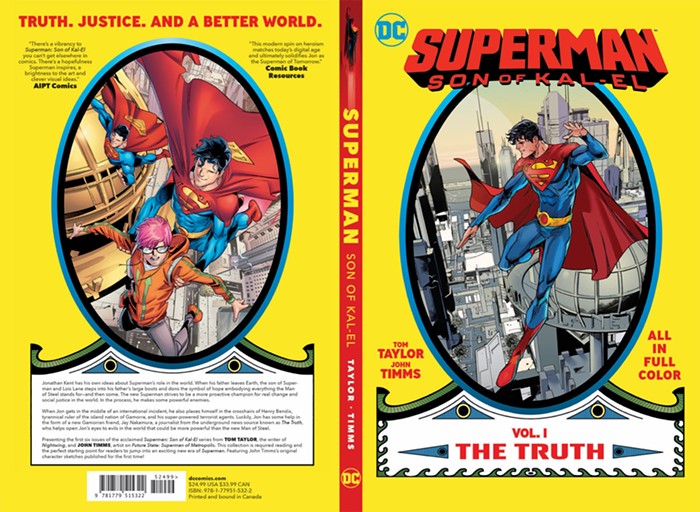 There's a new comic out this week set in the Cyberpunk universe, and now that the chatter about the video game's bugginess has died down, it's possible to simply enjoy the world of Cyberpunk 2077 (which is, in fact, interesting and thoughtful and not limited to jokes about genitals clipping through pants). Firepower gets a hardcover release, as does Murderfalcon. Also of interest is Neverender, a trippy violent sci-fi; and DC continues its Dark Crisis event with more of the usual spandex action.