There are a number of different ways you can stage Giselle, a Romantic-period ballet about a young peasant woman who goes mad, dies, and then turns into a man-killing ghost after her crush lies to her about his identity. You can deconstruct the whole thing and turn it into a primal scream about the mental health care crisis, you can update it for the class-war/#MeToo era, or you can lean into the lush phantasmagoria of it all and produce a gorgeous spring tear-jerker just in time for Valentine's Day. 
In his staging of Pacific Northwest Ballet's production, which runs through February 12, artistic director Peter Boal elected the latter strategy. But just because he's not banging you over the head with a GISELLE FOR OUR TIMES doesn't mean he and the dancers aren't making artistic choices that enrich and complicate the classic. 
The ballet, which was created by a jilted French poet and sourced from tales of slavic spirits, can be a little difficult to follow. But PNB's program includes a full synopsis, which helps. McCaw Hall's new policy of allowing audience members to bring into the auditorium a special plastic sippy cup full of wine doesn't help so much in terms of comprehension, but it does help you forgive yourself for not catching everything. Anyhow, the quick and dirty version of the story goes like this:
In Act I, Duke Albert, who is engaged to a noblewoman named Bathilde, disguises himself as a peasant and woos Giselle, a poor young woman who lives in a village down the way. (Gasp! That cad!) A nice guy named Hilarion tries to expose Albert's true identity, but he's unsuccessful—until he's not. When Giselle ultimately discovers and accepts the truth, she flips out and dies.
Act II begins in a dark wood that soon fills with Wilis (pronounced "willies"), which are the ghosts of jilted brides. Every night, Wili queen Myrtha leads her spooky platoon on a mission to find any man who wanders into the woods, and then they all dance him to death. On this night, Albert ventures into the forest to mourn Giselle at her grave, Myrtha and her Wilis intercept him and run him through the ringer, but then Giselle helps him escape with his life.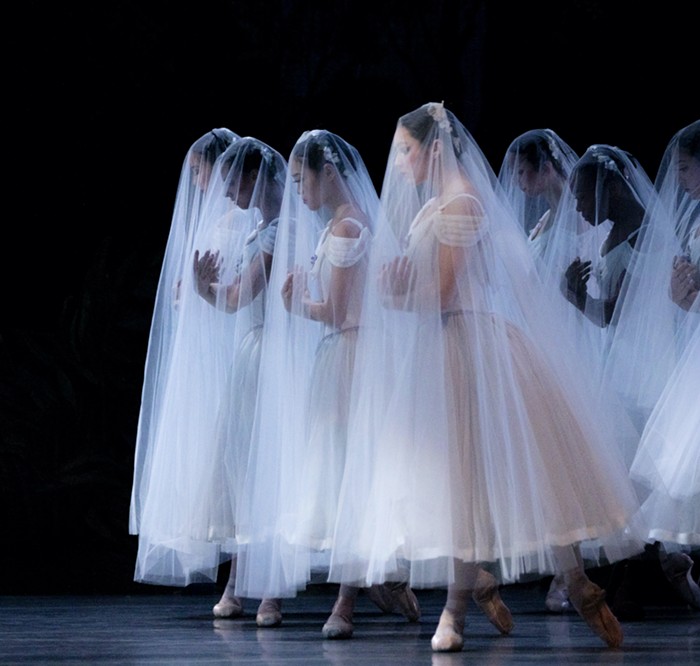 Though her highly anticipated death scene seemed weirdly truncated for some reason, Lesley Rausch, who played Giselle on opening night, hopped around en pointe like a pogo stick, spun like a top, and appeared to have enough energy left over at the end of the night to drop off the peasant skirt at the dry cleaners. Her version of the character asserted agency in the romance rather than simply falling victim to the wiles of her suitor, and she played the role playfully and skillfully.
James Kirby Rogers could have played Albert as a fuccboi, but he played him as a real prince—and he made Rausch look like a feather while he was at it. When the Wilis attempted to dance him into his grave, he pulled off a million little leg-flutter jumps (fine, more than a dozen entrechat sixes), prompting a well-deserved round of applause from the audience. Even though he was the asshole, I felt like I was rooting for him, and that's saying something when you've got James Yoichi Moore up there playing the rival who is actually doing the right thing. 
Elle Macy's ghost queen was a study in opposites; she projected gravitas and ghostliness, sovereignty and subtlety, power and poise. PNB tends to cast her in roles that showcase her flexibility and fluidity, but she crushed this queenly role. Not that a queen can't be flexible and fluid or whatever, but you know what I mean. She's got range, people!
Finally, Sarah-Gabrielle Ryan and Kyle Davis nailed the peasant pas de deux. They've nailed everything I've seen in the last couple years. Give them raises.
Though the dancing impressed, Jerome Kaplan's stunning set and costumes stole the show, transporting us to a 19th century German town and keeping us there without ever feeling stale. The dark pond in the dark wood glistened ominously, and all the little stage tricks surprised and delighted or else served to underline major themes. Massive trees, for instance, lorded over the stage with big, bushy leaves, but fall's scythe touched each one with gold, portending all the death to come. 
Boal and Co. wove subtle foreshadowing like that into several other key aspects of the performance. To take another example, during the meet-cute between Duke Albert and Giselle, each character took turns sneaking up on the other, and each responded by coyly pretending as if the other wasn't there. The playful moment presaged their painful future—though love will save one of their lives, it won't save them both. In Giselle, there is no traditional Act III with a big marriage or an unspeakable tragedy. Only forgiveness, but not without consequence. Happy Valentine's Day.