When the Space Needle originally opened in 1962 for the World's Fair, management hired an all-women team of tall "Sky Pilotesses" to operate the tower's elevators. Their job responsibilities involved careening visitors more than 500 feet in the air to the observation deck, rocking atomic-age uniforms with authoritative flair, and embodying a futuristic but ultimately homogenizing vision of womanhood.
Fast forward 51 years and a supergroup of local drag queens—Arrietty, Irene (the Alien) Dubois, Miss Texas 1988, and MyAikõ—are ascending those same elevator shafts to the Needle's top to serve a gayer, weirder "sky pilotess" redux (and a more expansive vision of gender) as "Queens of the Cosmos," the first drag show ever to be held atop the world-famous landmark.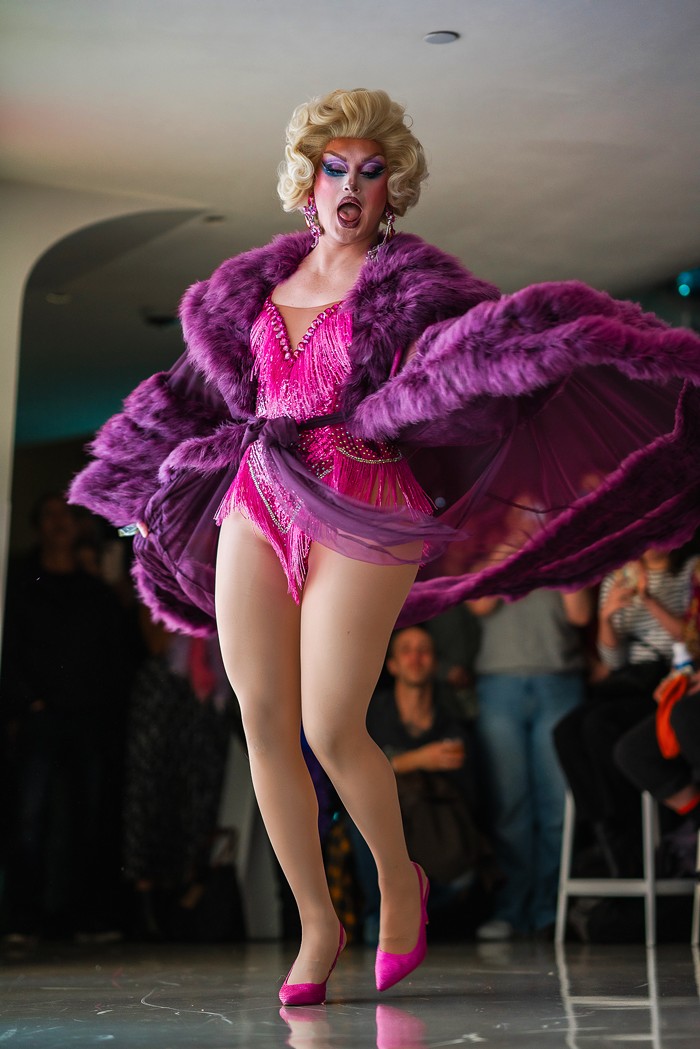 The queens came packed with iconic space-age looks, extraterrestrial numbers, as well as their own interpretations of what performing at a globally recognized (corporate) landmark means for the state of drag and queer rights in 2023. 
Arrietty, a regular presence at Dreamland and Queer/Bar, sat on one end of the meaning-making spectrum. "The only thing I know about here is: I look up at the Space Needle and it's a tall-ass dick," she told me before the show, sporting a galaxy-sized, black, curly wig and a star-twinkling sequined gown.
Tush mainstay Miss Texas 1988 offered a less phallic take. Bodiced in a piece that's equal parts outer space and Joan of Arc—cherried on top by a swooshy pink 'do and fuzzy green alien antennae—she said the Space Needle is home to several significant personal firsts. While on a visit from Minnesota, her mom saw Miss Texas do drag for the first time and then overcame her fear of heights at the Space Needle; she now wants to visit the Needle every time she comes to Seattle. "It was a fun full circle to be like, 'Well now I'm doing drag on the Space Needle,'" Miss Texas said. 
"What is a more mainstream Seattle thing than the Space Needle?" added Irene the Alien, the show's host and a RuPaul's Drag Race alum. "At this point, we're sort of breaking the glass floor of the Space Needle; I think the last thing for us to do would be to run for mayor." This was her first time at the Space Needle. She said it was cool to pop that cherry in drag—wearing what she called a "Bab Mockie" (a mock Bob Mackie)—and to do so in a professional capacity outside Pride month. 
The Space Needle's status as a tourist attraction and non-queer space shaped how the Queens of the Cosmos approached their performances. Politicians, media, and even mass shooters have targeted drag performers and their workplaces, in lockstep with efforts to deny trans people their rights. Irene said she hoped visitors seeing drag for the first time could sway relatives' thoughts on drag and gender nonconformity.
Though some of them would put on more accessible performances than they would for their regular fans, MyAikõ said the Queens of the Cosmos were still representative of Seattle's diverse drag scene. "Since we all have different drag [styles] and we all work at… different venues, we all give a different aspect of what you can do with drag," she said, pulling off an all-orange look reminiscent of the Needle's bygone roof color. (Irene dubbed her a "slutty little carrot.")
A mostly local crowd of seasoned drag aficionados below the age of—I'm eyeballing here—35 doled out no shortage of singles or enthusiasm for the queens' assorted numbers. No shortage of space-themed references to boot. 
Miss Texas 1988's nods to the theme were the most clear-cut. She channeled cheekiness through her setlist, including Katy Perry's "E.T." and "Cosmic Love" by Florence + the Machine. Her final act took the cake, involving some mad-scientist cosplay set to "Space Time Motion" by Jennifer Vanilla and "Vibeology" by Paula Abdul, reaching a climax with a magic trick and an outfit reveal. Two graduated cylinders and some suggestive sniffs/licks later and our woman in STEM was done for the night. (Did she make VCR cleaner?? We'll never know.)
Irene was similarly transparent with her music choices. Performing to "Big White Room" by Jessie J in a… you guessed it; giggling at the first line of the classic "Disco Inferno" ("To my surprise, one hundred stories high…") given her own impressive altitude at that moment; and lip-syncing to "I Can't Do It Alone" from the musical Chicago when, at some points, she did do it alone—dancing, juggling, hosting, and rearranging the lineup on the fly when a queen was slightly delayed getting into her new look.
Arrietty and MyAikõ's performances weren't as Needle-reference-laden but, true to Seattle drag's breadth and caliber, they still offered gems of their own. MyAikō exploited every inch of the runway, pulling off acrobatic moves to the delight of the audience. To the tune of "Touch" by Little Mix, MyAikō's second act culminated in a shower of singles from a stylish audience member donning Mike Teavee-esque sunglasses.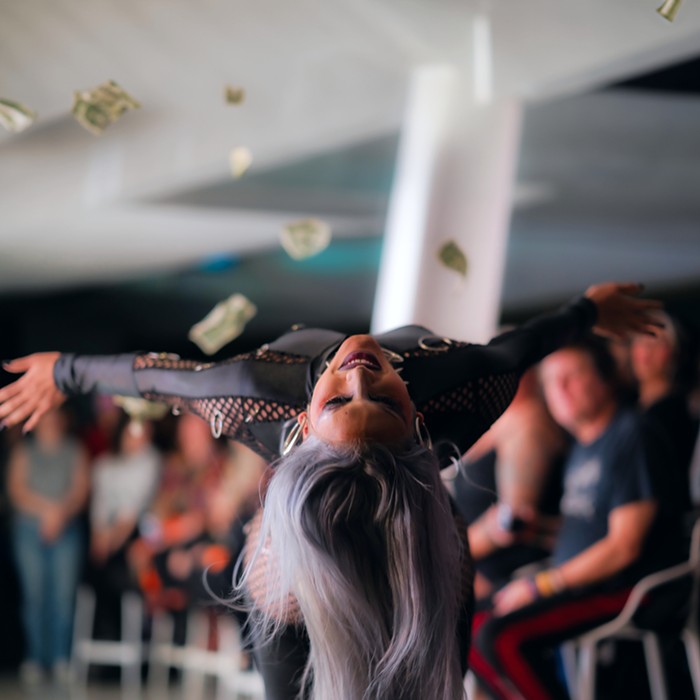 Arrietty's numbers ran longer than others, which was a welcome change of pace and seemed savvy from a cash-flow perspective. But it made for a smidge-awkward moment at the tail end of Beyoncé's listless "Rocket" in Arrietty's sultry Act III, which Irene cut off prematurely (seemingly by accident, given the observation deck's blind spots). "I know she's experiencing post-nut clarity right now," Irene joked to smooth things over. But Arrietty as sky pilotess handled the jolty finish with grace, and she gifted the audience with memorable accessories across her three acts, including a nine-foot loofah-ish scarf as well as a dance partner wearing a Disneyland Paris sweatshirt (venez comme vous êtes!).
Maybe I'm gay and have an agenda or whatever but I fear the Space Needle has peaked. Kinda hard to recover from queer excellence with same-old, same-old. (That the house DJ chose "Moves Like Jagger" by Maroon 5 as the girls' curtain call doesn't bode well for the months to come on-site lol.) The Queens of the Cosmos haven't abdicated yet, and a new dynasty is destined for 2024.