Self-described "girl dad" and veteran Bob Kettle loves to remind everyone that he's a Democrat or, as the most conservative council member calls it, a "pragmatic progressive." In fact, when the Stranger Election Control Board asked the City Council candidates in District 7 who they voted for in the 2020 presidential election, Kettle proudly showed the board a photo of him holding an American flag and giving a thumbs-up next to a "Veterans For Biden" yard sign on Election Day, a nearly three-year old snapshot he had quick access to. 
But some of Kettle's endorsements don't paint the candidate in the bluest light. His website boasts nods from several Republicans, including Republican City Attorney Ann Davison, former Sacramento Kings basketball player Spencer Hawes, and Cowlitz County Young Republicans Co-Founder Bentley Freville.
Kettle's campaign manager, Rebecca Duran, thanked The Stranger for flagging the endorsements and said they would review them. 
"Bob is a strong Democrat," Duran said, emphasis hers. "...As far as anyone who questions Bob's credentials as a dedicated Democrat, please share these photos of Bob working his butt off to get the Democratic team elected." Duran attached two photos of Kettle with Sen. Patty Murray and, upon request, the picture of him with the Biden sign.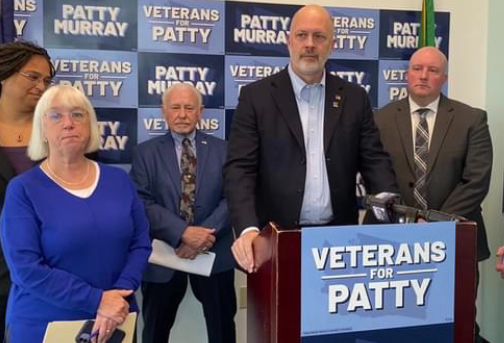 The Company Kettle Keeps
Kettle is the only candidate in any of the seven council races to earn and display an endorsement from Republican City Attorney Ann Davison. Davison infamously left the Democratic party in 2020 in a dramatic video as part of the #WalkAway movement, which aimed to siphon Trump votes from disgruntled moderates and closeted conservatives. During her 2020 campaign for Lt. Governor, she also promoted far-right propaganda against the state's comprehensive sex ed bill, teamed up with a "Stop the Steal" conspiracy theorist for an anti-Democrat video, and posted a Thin Blue Line flag online, which a normie Democrat would not dare do in the thick of the resurgent Black Lives Matter movement. 
Kettle's campaign noted that the majority of District 7 voted for Davison in 202—61% supported her, though that support would have slightly decreased under the new boundaries for D7. The campaign kept her endorsement on its website. 
As of Monday afternoon, the campaign kept Hawes's endorsement on the website, too. Seattleite Hawes earned a reputation as one of the most outspoken conservatives in the NBA. In 2016, he wore a "Hillary For Prison" shirt in a postgame interview and butted heads with basketball legend LeBron James in the media after King James publicly refused to stay in a Trump hotel. Hawes also criticized 49ers quarterback Colin Kaepernick for protesting against police brutality by kneeling during the National Anthem, according to NBA.com.
I asked Hawes why he supports Kettle and will update if he responds. 
Unlike Davison and Hawes, Kettle's campaign removed Freville's name from its list of endorsers. 
Freville, who has a lower profile, dedicates his online presence to bashing mainstream Democrats such as Sen. Murray. He also regularly praises election-denier Joe Kent and mini-Trump / failed gubernatorial candidate Loren Culp. Freville's Twitter bio links to the campaign website of state Rep. Jim Walsh, who infamously wore the Star of David to liken vaccine mandates to the plight Jewish people in Nazi Germany. Walsh now chairs the Washington State Republican Party.
Freville does not live in Seattle, but he visits often enough to care about who holds office, particularly downtown. He told The Stranger that Kettle's decision to identify as a Democrat doesn't bother him. From Freville's conservative perspective, Kettle is the better of the two options for District 7. 
Freville said he supports Kettle because the current city council is "kind of a disaster" when it comes to public safety. He called out Kettle's opponent, incumbent Andrew Lewis, specifically for casting the deciding vote to tank Council Member Sara Nelson's initial bill to adopt the state's criminal public drug use law. While Lewis later passed the drug war reboot, Freville still believes Kettle will more doggedly advocate for more officers and for an even more generous budget for the Seattle Police Department, though Lewis also advocates for a larger police force.
Freville also supports District 1 council candidate Rob Saka and District 3 council candidate Joy Hollingsworth because of their conservative public safety platforms. He said Kettle, Saka, and Hollingsworth are probably not Republicans, but since the council races are nonpartisan, he thinks of those candidates as "common sense" leaders more than representatives for one party or the other.  
On top of the endorsements, wealthy Republicans, landlords, and the corporatists who bought the last three conservative mayors set up an Independent Expenditure committee supporting Kettle. So far, "Downtown Neighbors" has raised more than $130,000 and has paid for an ad attacking Lewis, who The Stranger endorsed. 
Any Trumpers for Lewis?
By contrast, Lewis's campaign website displays endorsements from Rep. Pramila Jayapal (D-WA), Seattle City Council Member Teresa Mosqueda, and a slew of community endorsers who do not spend their time online promoting far-right politicians. As for donors, Lewis's PAC, Energize Washington, draws from a mixed-bag of supporters. SEIU 775 Quality Care Committee chipped in $10,000, but so did the Affordable Housing Council, which typically supports the more conservative candidate so they can continue to profit off sprawl. 
Lewis tried to market himself as the unity candidate, the one to bring both sides together, but conservatives somewhat rejected him. When he announced his reelection bid earlier this year, Lewis bragged that he earned endorsements from progressives such as Jayapal and conservatives such as Jon Scholes, the CEO of the anti-tax, tough-on-crime Downtown Seattle Association. However, after Lewis's controversial vote against the reboot of the drug war, Scholes claimed that he never endorsed Lewis, even though Lewis listed him as an endorser on his website for four months and Scholes provided a positive quote for the press release announcing Lewis's campaign. Still, Lewis and Kettle both earned "strongly aligned" marks in DSA's candidate survey.
Despite a few conservative endorsers for Kettle, he and Lewis share similar platforms. They both love the Mayor, they both want to cut tens of thousands of dollars in City spending, they both want to hire 1,400 cops, and, god dammit, they both support criminalizing public drug use.