After more than 40 years in the pizza biz, Northlake Tavern and Pizza House's chef and owner, Abdoullah Abdoullah, is calling it quits. Citing health problems, he announced his retirement on January 7 on the pizzeria's Facebook page. "I am happy that the Big Mario's family will continue the Northlake tradition [of] bringing quality pizza and hospitality to our community [in] Northlake," he was quoted in a press release. Northlake's last day in business will be January 31.
Originally from France, Abdoullah started slinging pies at Northlake in 1981, after studying mechanical engineering at nearby UW. He was trained in the pizza arts by Herb Friedman, who opened the tavern in 1954, and later bought the establishment from its second owner, Cheryl Berkovich-Winzenread, just six years ago. But at age 70, he's calling it a day, and understandably. Abdoullah was unavailable for comment, as he's focusing on his health issues right now, but we were able to email with Big Mario's owner, Jason Lajeunesse, who's excited about the minichain's fourth location opening in March.
The obvious question on all of our minds: Are they gonna gut the space and lose Northlake's super unique old-school '70s pizzeria vibe?? Same story as all the other hallowed old-guard Seattle spaces that have gone down lately? 
Lajeunesse says no. "Our plans are to simply focus on repairs, equipment upgrades/replacement, cleaning, outdoor seating, and creating a private room for events, large parties, rentals, etc. We'll make sure that the charm of the Northlake Tavern is not lost!"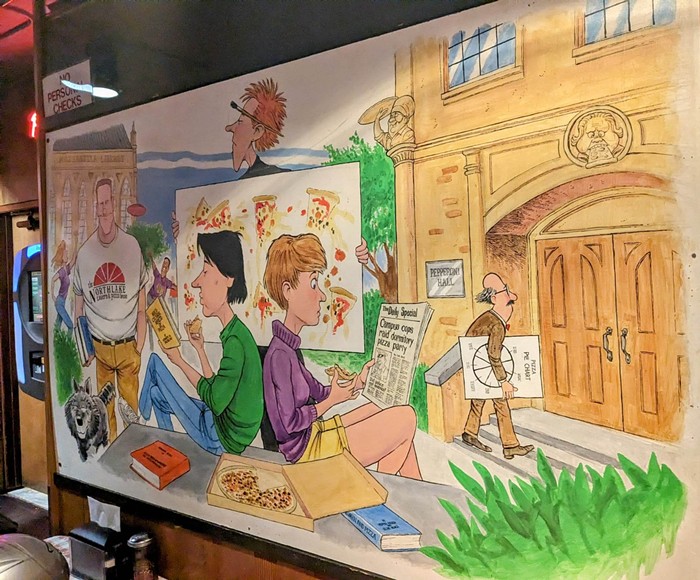 Word on the scene is that they'll keep all the pizza-punny David Horsey cartoons on the walls too. No info on the marvelous red pleather high-back bar stools yet, but fingers crossed that they'll stay. (If you're getting rid of them, can I have them??) 
Lajeunesse adds, "We've been gifted several very cool Northlake pieces from Abdoullah, which have not been up in some time, and plan to showcase those alongside others in a dedicated historical display!" 
That said, when it comes to the pizza itself, sounds like it's gonna be mmmmostly Big Mario's style, which is your classic New York-style pizza—a major departure from Northlake's thick-crust, six-pound honkers. But Lajeunesse says they're still gonna try to retain some of Northlake's flair on the menu. "With Abdoullah's blessing, we hope to recreate some of the Northlake classics in our own pizza style. As we work with the existing Northlake family, we will get a better sense of what we should pay tribute to." Here's hoping that at least means the finely chopped black olives, which you never see as a pizza topping anywhere anymore. Big Mario's Pizza will serve hard liquor too, unlike Northlake, which only does beer and wine.
Lajeunesse also says that all eight of Northlake Tavern's existing employees have been invited to stick around through the transformation into Big Mario's, and only one has opted to retire instead. "We hope to continue to work with everyone who wants to stay."
There'll be a farewell party at Northlake Tavern on January 31, and everyone's invited. If you want to indulge in a lovely, hefty, high-piled, caramelized-edged casserole of a Northlake pizza, you've got until then.
I know a lot of people are calling this development sad or bittersweet, but it kinda seems like a best-case win-win. Do you want to be running a pizzeria full-time when you're 70? I don't. Maybe Big Mario's isn't keeping every single parmesan shaker from the Northlake incarnation, but it'll be some from Column A and some from Column B—a fair compromise—and it sounds like it'll be recognizably Northlakescent. Big Mario's says they're working closely with Abdoullah to help and support him however they can as they both negotiate the switchover, so hey. Anytime someone gets to retire comfortably, especially in this country, it feels like a success. Congratulations to Abdoullah, and welcome to the neighborhood, Big Mario's. 
And good call on keeping all the raddest stylistic elements of this historic Seattle place, guys. If you're smart, you'll call the new location "Big Mario's Northlake Tavern." You know, like Ruth's Chris Steak House. People would like that. Just a suggestion.