Anything can be ballpark food if you try hard enough—or at least that seems to be the guiding ethos of the 2023 Mariners concessions program, previewed last week during a delightfully gluttonous media event at T-Mobile Park.
Before turning several dozen feral hungry journalists loose on a stylish buffet, Executive Chef Javier Rosa extolled the benefits of having a full and predictable offseason (i.e. free of owner shenanigans or major pandemics) to fine-tune menu ideas, and the result is a collection of food that seems inspired by both the whimsy of Ted Lasso and the innovative prowess of Seattle's famous tech industry. A pizza is morphed into a hot dog shape; a quesadilla is engineered for maximum containment and minimum mess. Do you believe that pigs can fly? Barbecue pork "wings" show that the Mariners do.
As you watch our boys in blue work to earn a repeat of their historic trip to the postseason this summer, here's what you can expect to stress-eat at T-Mobile Park:
Edgar's Cantina 
Every season on Top Chef at least one contestant is on the receiving end of a lecture about how the most essential quality of handheld food is that it's easy to hold in your hand, something the restaurants in the standing-room-only 'Pen haven't always gotten right. I'm not saying Chef Javier spent the offseason binging food competition shows, but he has thoughtfully reimagined Edgar's Cantina quesadilla with a burrito-style fold to reduce ingredient spillage. A colleague and I tested out the new fabrication with a high-tech method called "Walking while eating"; we found the brisket version held its insides better than the new shrimp option. Both were delicious, and the filling amounts were generous. 
Also new in the Cantina are fish taquitos, which had a beautifully crispy-flaky crust and impressively moist cod. These would be a great alternative if you wanted something handheld but lighter than the brisket-dense quesadilla. 
Walk-Off Market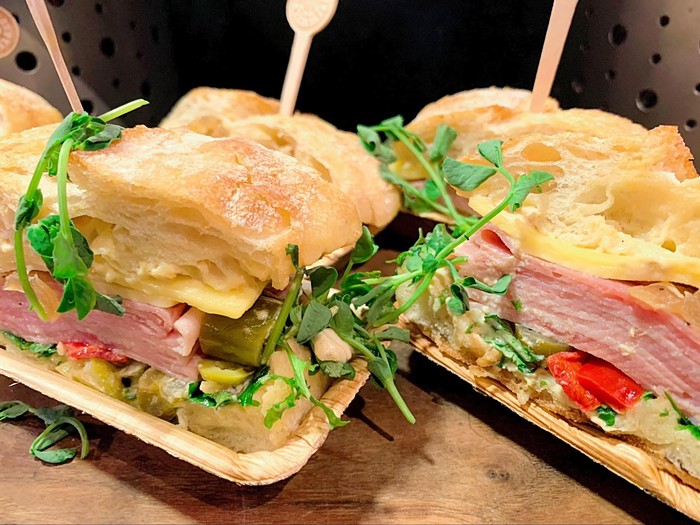 The new Ballard Pizza "Cal Zone" was inevitable but uninspired; for better punny fare opt for the Ham Swaggerty Sandwich. It's piled high with smoked ham and arugula and, like its namesake, has a little kick; it's also messy enough that, like many a saucy Italian man, it tried to get in my bra. I let it slide because frankly, it's both filling and delicious—and available at the Walk-Off Market, so you don't even have to wait in line.
Holy Smoke BBQ
Pork wings? To a biologist, that's preposterous—but if you're at a Mariners game, the new delicately lollipopped pork rib "wings" are an excellent choice, challenging your idea of what ballpark food can be with a zippy barbeque sauce, pomegranate seeds, and a delicate shaving of jalapeño. They ARE sticky, so get extra napkins and maybe give them a pass if you're trying to keep score. 
Moto Pizza
Buzzy Detroit-inspired pizza joint Moto Pizza won't debut at the park until May, but I hear that's still a shorter than their months-long preorder process. For T-Mobile, they've galaxy-brained their pizza into a hot dog-inspired long rectangle, which both makes it easier to eat and gives you more of the crispy frico edges that are a large part of Moto's appeal. The well-salted crust was soft but had enough gluten structure to hold up an abundance of toppings—the "Root" with local mushrooms was good, but I preferred the tangy and tropical mango chimichurri and banana ketchup twofer of Mr. Pig. 
Scotty's Juice
Pouring in the 'Pen and on the 300 level will be summery batch cocktails from local family-owned company Scotty's Juice, including a fresh grapefruit paloma and strawberry or watermelon spiked lemonades. Hopefully, you'll also be able to buy the juice, which tastes pleasantly healthy and light, unleaded for those not interested in imbibing. 
Plus!
The Value Menu is expanding both the number of items and locations. Most notable is the favorite food of small children 🤝 stoners 🤝 Minor League Baseball players: Smucker's Uncrustables, offered in both strawberry AND grape!


Salt & Straw are debuting two new flavors at T-Mobile Park; the Beecher's Flagship with Apple Pie Cinnamon Rolls was light on the cheese and heavy on the sugar, but the vegan Marionberry Coconut Sherbet was an absolute revelation, creamy but light with a summery tang. Returning flavor Salted, Malted Chocolate Chip Cookie Dough is also an excellent choice. 


🐔🐔💥 (pronounced "Chick Chick Boom") claims to be "the first all-emoji food stand." The chicken sandwich and waffle fries looked fine, but if they try to make me order in emojis I'm out.