Before I say anything about this $18 cocktail: the Doctor's Office has a rep that I want to address. More than once, I've seen online complaints by people who have never been here, asking whether this "expensive-ass, reservations-only bar" is actually worth it.
I mean, yeah. TDO's worth it, for sure. As a giant cheapskate, I still know that an $18 cocktail, although empirically expensive, is not really expensive for New Seattle, and especially not the Hill. I saw a $21 old-fashioned at [redacted] on Broadway the other day, and it wasn't even special. That's just how it's been here in the postmodern era of our city for the last five or ten years, and there's no sign of stopping. An exquisite handmade cocktail usually costs between $14 and $18 here now. Try, uh, Moscow, ID, if you want cheap craft cocktails, 'cause Seattle ain't the one.
But moreover, a well-crafted cocktail has a time and a place. The Doctor's Office is for a special occasion, not for everyday happy hour. Let us say that a $6 well at the Baranof is to a Kraft single as the Bom Dia at the Doctor's Office is to a cave-aged taleggio. Both delicious, both valuable options to have, but they're two completely different things that serve different purposes. This drink's purpose is to make you feel fancy. 
And yes, of course it's worth it to make a reservation because why not. It's easy! A restaurant recommending reservations doesn't automatically mean it's being exclusive and snobby! It often just means it's a small joint and they want you to have a good experience. 
Got your fancy pants on? Okay. Let's proceed.
First time I went to the Doctor's Office, I stumbled through the door super late on a Sunday without realizing that they prefer reservations, and a seat was found for me, so yeah, you actually do not need them. It's just a good idea because there are only a dozen seats in the house. I was seated at the bar, where bartender Andrew Bohrer—a titan of Seattle's cocktail scene, might I add—was at the helm, and he cheerfully let me pelt him with questions on hey what's this thing and let me see that bottle way up there and what's that guy over there drinkin' and say, what kinda scotch do ya got?? It was immediately clear that this was a very rarefied collection of liquor, and that these dudes know their shit, but that they're at once affable folks who are happy to chat with unwashed pedestrians like me. 
There are a number of luscious-sounding cocktails on this list, and I always have a hard time choosing. That initial visit, I didn't recognize a couple ingredients in the Bom Dia, so that had to be first. The drink's name means "good morning" or "good day" in Portuguese, and it's got Brazilian cachaça, Swedish punsch, Coco Mahina liqueur, pineapple gum syrup, citric acid, tiki bitters, Drappier champagne, soda, and shaved coconut. Had no clue about Coco Mahina, and only a dim acquaintance with Swedish punsch. Plus it comes garnished with a giant fresh flower, which I'm a total idiot for. I will always order a drink that comes with a flower. It makes the drink taste better. 
Right away, there's something pastrylike about this cocktail, giving tropical fruit and toasty spices. Some low citrus notes wafting around in there. Cinnamon rolls. Lemon bars. Butterhorns. Coconut flan tarts. Pineapple upside-down cakes. The scent of a French bakery in the tropics, riding a Caribbean breeze. All of that, and then carbonated. 
Each craft cocktail on the menu has a byline after it, and on my second visit to the Doctor's Office, it seemed all my favorite cocktails were credited to Josh Ibañez, including the Bom Dia—and he happened to be behind the bar this time around.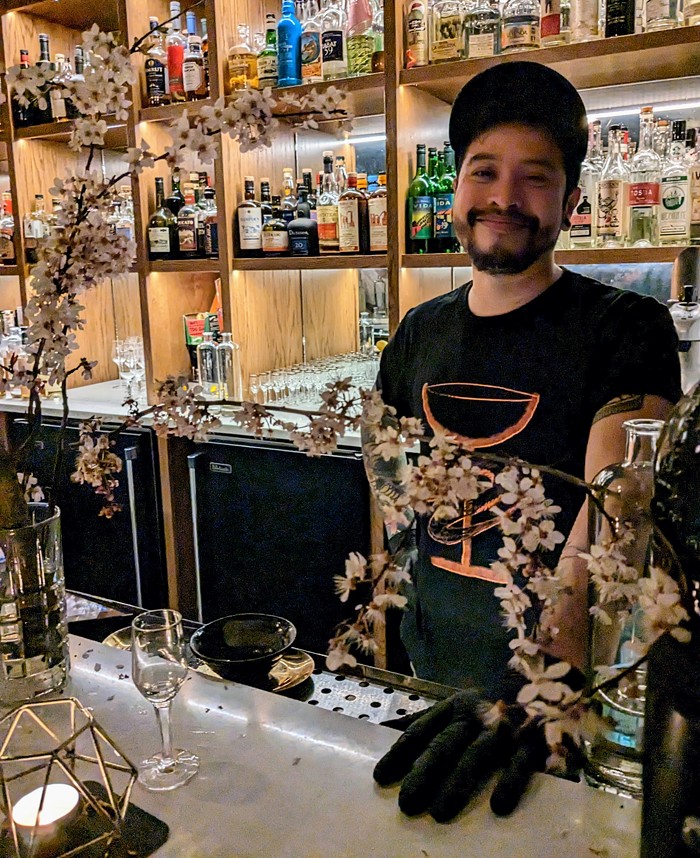 Josh comes to us from Houston, an alum of vibey cocktail hotspot Better Luck Tomorrow, and he works one day a week at TDO, so I lucked out to find him on-site. He's been in town for three and half years, and he says he was attracted to Seattle by its natural beauty as well as the world-class cocktail scene—especially the program at Rumba, where he now works as bar manager during the rest of the week. I asked him how he dreamed up this little fruit tart of a drink.
"So, there's a bar in London called Coupette, and they do a champagne piña colada that they're very famous for! So I was thinking about that one, and I also wanted to do something with a Brazilian batida, which is cachaça, fruit juice, and sugar, usually shaken or blended with ice. But we don't do shakers here at TDO. We don't have any cocktail tins—we stir everything. We don't use any fresh citrus here either. So I wanted to meld these two drinks together but also be mindful of TDO's style.
"Because I work at Rumba," he added, "I have made a looooot of piña coladas, and so I wanted to come up with this really refreshing version of a piña colada and a batida that isn't so much like a coconut milkshake. A clarified version."
To do this, Josh starts with Coco Mahina, a rum liqueur made by Rhum Clément, a distillery in Martinique that specializes in agricole rums. Josh gave me a little cordial glass of straight Coco Mahina—it's got a smooth satiny feel and a roasted coconut profile, with a little grass in there from the agricole base. Much less cloying than the mainstream Coppertoney coconut rums—like, for example, Malibu, where it knocks you backward with a blast of coconut sugar up your noseholes. This is much more vegetal.
Then, with the piña colada–batida mashup in mind, Josh swaps out some of the usual rum content with cachaça, rum's Brazilian cousin, as well as Swedish punsch, made by Kronan. Sweden's national drink, punsch can correctly contain brandy, rum, and/or arrack, among other liquors (hence the word punsch). Kronan's version combines demerara rum with Batavia arrack, an Indonesian liquor made from fermented red rice and molasses that's got a subtle funk. 
Swedish punsch also carries warm apple-pie spices—allspice, anise, cardamom, and clove, as well as dried lemon—and I think these spices along with the tiki bitters are why I get such total pastry vibes from this drink. Especially in combo with that bready champagne flavor! It's basically breakfast.
Then Josh mixes in pineapple gum syrup to give the drink some heft, makes it bubbly with soda water and champagne, adds a cinnamon hit with tiki bitters, and acid-adjusts with citric. The yeasty champagne cuts the fruit, the tiki bitters at the end play well with the spices in the Swedish punsch, and the citric acid tones down the sugar. 
Oh, and the final elixir is topped with roasted coconut flakes and a nice ostentatious flower. I got a gerbera daisy once, a little dahlia once, and a mini-gladiola once. Eeeee, you guys.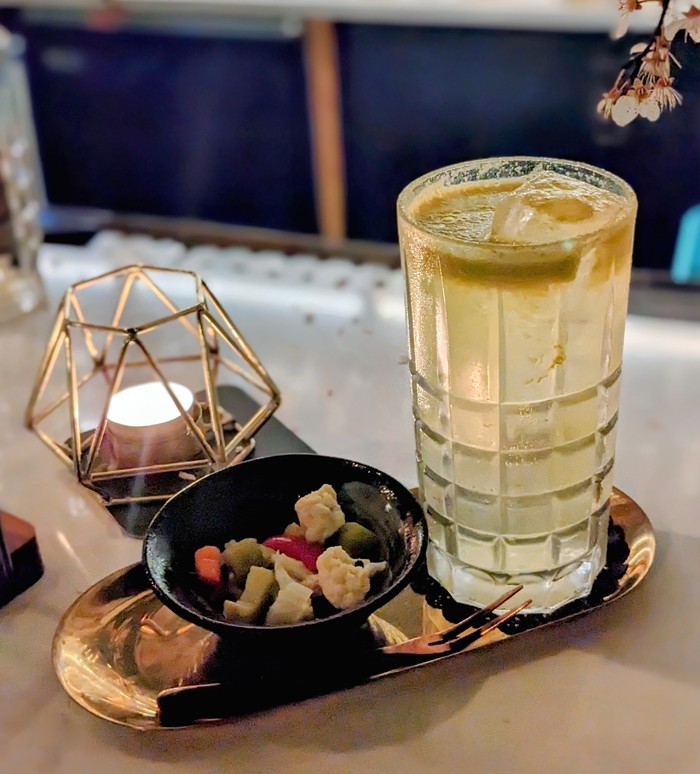 Another drink from TDO's cocktail list that I must celebrate here is That Kind of Day, made of aquavit, celery shrub, soda, and a pinch of salt—also invented by Josh. This drink was REFRESHING AS ALL SHIT, and it would work wonderfully without any booze. Light, sparkling, with a zippy spice profile thanks to Josh adding classic pickling spices—mustard seed, peppercorn, coriander seed, bay leaf—to the shrub, which he toasts before steeping. There's a round sweetness in there that makes me think of maple syrup, perhaps mixed with a drop or two of balsamico. Still fresh and lightweight, though, not at all syrupy. This celery shrub seems super versatile and one can imagine it'd work quite well in a Bloody Mary too. It's a next-level Dr. Brown's Cel-Ray. 
I sucked this thing up in about 60 seconds. The cocktail comes with a side of pickled veggies too, which just delighted me to death. The whole thing was a plain joyous experience. 
See, so, this is how I get a crush on drinks like this, despite generally shying away from highfalutin stuff. These drinks are just painstakingly woven. Normally, cocktails are like parfaits, where you drink them and first you taste the rum, then you taste the coconut, then the citrus, the spices, each of them in turn, and the flavors emerge serially. But with a cocktail like this, you don't perceive each individual component but instead the finished tapestry. A person who is an expert about these flavors sat down and wrote a poem with them, and you're buying the dopamine and the feeling and the emotion created from tasting it. You don't find that at Chucklefuck's Bar and Grille. That's what the money is for.
By the way, make sure you check out the zany polka-dot bathroom before you leave TDO. Not only because it's seemingly a loving homage to Yayoi Kusama, but also because they have one of those Japanese robot toilets that automatically opens the lid when you walk in the door and warms up your butt when you sit down and sprays it with perfume or whatever when you're done. Like, if you want it to. It lives to serve. 
I suppose the internet was asking two similar but distinct questions about The Doctor's Office, and while the answer to both of them is yes, there are qualifiers to the yeses. Yes, this complicated high-concept cocktail that contains 50 different herbs and spices and liqueurs from 12 countries and was hand-built for you by a skilled cocktail scholar is definitely worth $18. It's a treat, not a daily pint. And yes, it's always worth it to make a reservation, anywhere, even Denny's. I've been back to the Doctor's Office twice since I first test-drove the Bom Dia, and I've never had a problem getting a res. 
So don't flinch at TDO's academic menu or the reservation thing. If we're running with the metaphor, the Doctor's Office is not like a doctor's office at, yanno, Overlake, where it looks like a five-star resort and the doctors are there to gouge you and then tell you you're fat and you drink too much. TDO is more like a friendly neighborhood clinic, which, sure, they require an appointment. Ideally, you don't go to the clinic every day anyhow. But when you do, you're perfectly welcome there, everyone's nice, and they're there to help. 
---
The Doctor's Office is participating in Seattle Cocktail Week now through April 2. Check out their SCW specials here—and in person!