It's a sunny-drizzly Saturday in Pioneer Square, where Seattle Restored is hosting its Spring Market and Art Exhibit inside an ex-coworking space. It's taken me weeks to pin chef José Garzón down for an interview, after showing up randomly at his eponymous Belltown foodhole, Garzón, inside Black Cat Bar. He was in Florida, then at a popup in Everett, then Vegas. But word on the street is that I can find him here today.
Sure enough, Garzón and Stefanie Hieber, his cofounder/biz partner, are at the very back of the floor. From behind fruit-'n'-floral–oilclothed tables, Hieber's serving little boats of chow mein-like veggie soba saltado and citrusy pork mojo over red beans and rice, while Garzón works the wok—and the crowd. Everyone who walks in the door zips past the vendor tables, beelining for Garzón and Hieber. You can smell the food from the street. 
These noodles are a take on a staple dish in chifa cuisine, a combo of Chinese Cantonese recipes and South American ingredients that's found in Ecuador, where Garzón's from, and throughout Latin America. The dish usually contains meat, but this cover, with criolla veggies, clearly doesn't need it—it's packed with umami. Garzón says they also do versions with pork belly or carne asada at Garzón, where it's crowned with a fried egg. "I like everything with a fuckin' egg because I'm an egg slut," he grins. 
Have they changed the original recipe up for Seattle audiences, beyond those two things? 
"I mean, in Ecuador, these recipes are different from house to house," Garzón says, "so yeah, it's my personal rendition. For example, they make it with spaghetti noodles, which makes no sense! And it's all soupy! So I was like 'Okay, spaghetti noodles—out.' I swapped in soba noodles, to absorb all that soup. Nobody knows what soba is in Ecuador, so that part's all me." The recipe also usually leans on soy sauce, but Garzón and Hieber make their own sauce with soy, tomato paste, vinegar, and garlic, among other umami flaves. 
"Anyway," Garzón says, "if a person from Ecuador or Peru or Brazil tries my dishes, they won't be identical, but they'll definitely be familiar! Maybe a little better." 
The soba saltado's a preview of Garzón's new spring menu—among other dishes being rolled out are steak milanesa, ceviche Jipijapa, and cheesy moro (lentils + fried rice) with an optional slab of pork belly. There's also the un-South American frita cubana, which Garzón calls "the Seattle Dog of Miami:" a pork/beef patty with fresh onion, ketchup, a fried egg, and a whole mess of shoestring fries spilling out of a grilled Telera roll. "I lived in Miami," he explains, "so this is the Cuban influence coming out in my menu!"
 

 

View this post on Instagram

 
Garzón's lived all around the globe, in fact—not counting the years he spent traveling it as the touring guitarist for Bremerton punk band MxPx. He came to the US in 2001, after signing with a major record label in his teens, starting out in Puerto Rico and later bouncing around the mainland. 
"I'm not only all over the map geographically, but mentally too!" Garzón laughs. "My brain works that way, a zillion ideas all at once." Even though he doesn't tour with a band, he's still always traveling, for business and leisure. "Which means I'm always picking up new menu ideas, wherever I go." 
Hieber and Garzón met in 2016 while working at the Barking Frog in Woodinville, where he'd test out his ideas at family meal. Hieber was an instant fan, and they started popping up in 2018 with just a rice cooker and a stock pot—in bars, at parties for industry friends. "But it got to the point where the parties got too big," Hieber adds, "and we said, 'Why don't we try to do this on a larger scale?"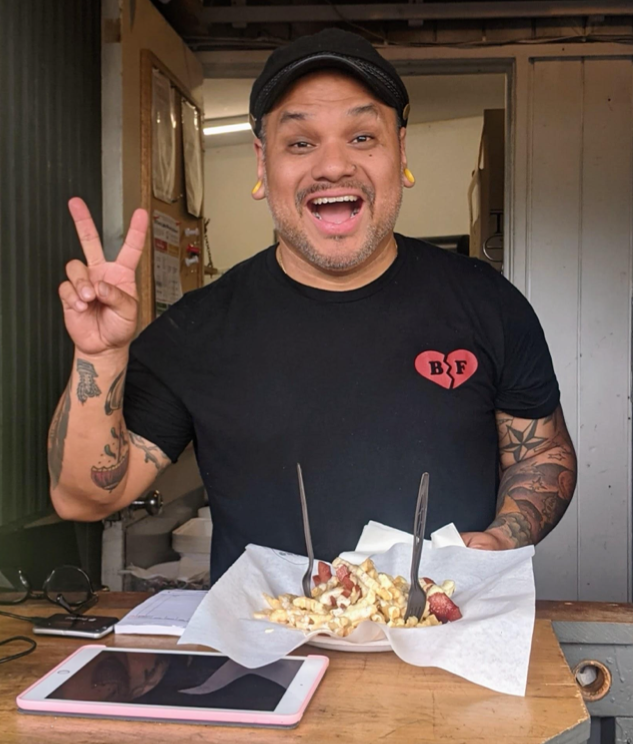 A larger scale, indeed. Four years later, the Garzón crew has three different side projects in play—each with a distinct menu, incredibly. 
There's also Ekéko, a popup for "drinking snacks," which are what you eat in Ecuador after you've had dinner and then some drinks. They're deep-fried South American street food classics, like salchipapas—crinkle-cut fries with garlic sauce and crispy-fried hot dog chunks. I'll never forget my first bite of this dish, with its snappy, juicy, extra-fatty sausages that evoke Danish pølser and that gorgeous garlic punch to the face. Another Ekéko fave is the citrusy-herbal fried chicken thighs with red onion aioli: a serious contender for best fried chicken in Seattle, a city with a fuckload of great fried chicken. 
Then there's Lola's Supper Club, a ticketed, twice-yearly dinner party that's Hieber and Garzón's nod to their fine-dining background. And last December saw the debut of Chifa Baby!, a prix fixe ode to chifa food, featuring dishes like picadillo-filled egg rolls and arroz chaufa, aka Peruvian fried rice. 
Garzón's got some real emotions about this cuisine. "Chifa food is a whole culture in Ecuador, and I ate a shit-ton of it growing up. For many immigrants, there's a cohesive thing of when we move to America, no matter where you're from, Chinese food is just familiar! It kept me alive when I was, like, fresh off the boat and didn't speak English. It was like 'Oh, thank god, rice! Pork!'" Garzón's original menu was actually supposed to be half chifa, but they ended up focusing on the Latin American items, per customer demands. 
"Yeah, then I was like 'I really wanna do food cart food!' so we bought a hot dog cart and did Ekéko for Year Two. It was perfect for the pandemic 'cause it was outside, so we ran with it." 
Then, Hieber says, "We were like, 'We miss fine dining! And cocktails and wine! We should do a sit-down dinner where we tell the story of each dish and how you came up with this and that.'" Dreamed up by Hieber and named for Garzón's grandmother, Lola's Supper Club will spotlight chefs from Turkey and Sri Lanka in its summer installment. 
"And then I was like 'Man, you know what I really miss? Chifa food!' Which was the entire point of Garzón," Garzón laughs. "So we went back to the beginning, and we're doing Chifa Baby! in Year Four." 
For Garzón, the impetus behind creating all these different menus is to provide comfort food for fellow immigrants. "It's super cool to meet other Latinos—or Filipinos, islanders, all immigrants—who're like 'Wow, this reminds me of something I ate as a kid!'
"It's like that Ratatouille moment," he says with a clap. "You know where the food critic takes a bite and closes his eyes and zooms back to his childhood? Where the bite reminds you of something your mom made and takes you there. That's special to me." 
At the Black Cat Bar last week, Garzón gave me the Lola's Supper Club treatment as he introed the new menu, narrating the lore behind each item. First off, he brought out one of those geometric-patterned plastic bowls you see in Chinese restaurants—full of fragrant rockfish ceviche, cured in lime and orange juice. 
"Here's a really cool dish that's specific to Ecuador," he explained. "So, I grew up on the coast, mostly in Guayaquil, later Salinas and Galápagos. And as you go up to the mountains from the coast, they use different ingredients. The coast uses more fish, of course, and people in the mountains eat more potatoes, peanuts, stews. There's a town in between, Jipijapa, where you find weird combos of mountain dishes and coastal dishes! So, peanuts are not usually eaten in ceviche on the coast, but in Jipijapa, they put peanut sauce in it. Plantain chips, meanwhile, are very coastal. So this is a cool combination."
I've mostly had extra limey, acidic ceviche in life, so the round peanut flavor and the sweet spark of the OJ are refreshing, interesting additions. I even drizzled the curtido brine onto the porky, starchy moro, it was so nice. Fantastic springtime dish. Eating this made me feel like a freshly sheared sheep. 
Later, Garzón prefaces the steak milanesa as he sets it down. "In Ecuador, we're what I call the Double Starch Gang. We eat this with potatoes AND rice. But Seattle people kept asking for a salad, sooooo now we have a salad on our menu. Tomato vinaigrette on mixed greens, and you squeeze the lemon over the panko-breaded milanesa, and it's super summery and light." 
Yep. Light and bright, between the vinaigrette and the crystalline panko crust. I admit I'm a Seattle person who wants a salad, but now I want the rice and potatoes too! A future side, perhaps. 
Speaking of the future, one has to ask if Team Garzón's dreaming of a dedicated brick-and-mortar someday, since that's always the thing with popups. 
"It's not our end game," Hieber says, "but it's on our radar." The obvious blocker is that running a full-service restaurant kills your freedom when you have to endlessly hustle to pay the bills. "A chef used to be measured by the size of his restaurant, absolutely," Garzón says, "but for me, it's about what you can do outside the restaurant. I'd much rather be free to do things like that Spring Art Market, or to go to shows like Food and Wine Vegas! To do the fun stuff and spread the culture and the vibe and the love." 
The other thing about becoming a Restaurant Person, Garzón points out, is that the marketing game gets turned way up too. He'd rather have his food speak for itself. 
"I see all these industry people who're sooooo worried about selling their brand and being on best restaurant lists and fuckin'... sucking James Beard's balls and shit. Everybody wants to be on Chef's Table and get a fuckin' star, and I'm like 'Just cook, bro! Just fucking cook. People will come, and if they don't, then your food sucks. Make it better.' That's all you have to do."
---
Garzón is inside Black Cat Bar in Seattle and at Scuttlebutt Brewing Taproom in Everett daily. Ekéko's also currently popping up at Black Cat Bar, in fact, just for the summer—the menu transforms around 10 pm. Details on the next Lola's Supper Club are forthcoming; check for updates at garzonpnw.com or follow @lolassupperclub for details.