On Lady Jaye's website, co-owner Charlie Garrison ("Chef Charlie") is introduced as "The Master of the Meat." 
He's "always thinking of creative ways to incorporate the whole animal in the menu so nothing goes to waste," the site reads. The restaurant's Instagram feed backs up that claim with an endless display of photos and videos showing Garrison loading up a giant smoker with pounds and pounds (and pounds and pounds) of Meat with a capital M.
Pork chops, pork belly, pork cheeks, pork shoulder, and rolls of porchetta that probably weigh more than a toddler. He's got tenderloin, tri-tips, top sirloin, loaves of meatloaf as big as watermelons, and beef ribs that the restaurant lovingly refers to as Dino Ribs for obvious reasons. Lady Jaye loves the meat they source through Preservation Meat Collective (the beef and pork come from Pure Country Farms in Moses Lake), and they want you to love it, too. They even have a meat counter manned by a very funny butcher named Tyler, and they sell a monthly meat box subscription that comes with a house recipe if you ever want to DIY.
But I don't care about the meat.
I haven't eaten meat since Tag Team topped the Billboard charts. In West Seattle, Lady Jaye may have made a name for itself as a great smokehouse, barbecue joint, and butcher shop, but when I stopped by to meet the Master of the Meat, I just wanted to talk about his cookies.
Every Sunday morning, during the West Seattle Farmers Market, Garrison takes a break from the smoker to turn the restaurant into a pop-up bakery. He starts early—like when it's dark outside and some people are still filing home from bars—to fill Lady Jaye's front half with some of the best baked goods you will find in Seattle.
There are trays of golden biscuits wearing crowns of raspberry, strawberry, and apricot jam, and tender Shokupan doughnuts overstuffed with chocolate and vanilla cream. Next to rows of big-ass cookies dotted with M&Ms, peanut butter chips, Heath candy bits, and crushed Oreos sit stacks of marshmallowy crispy treats. And we're not talking about your basic back-of-the-box recipe to please picky kids with sticky fingers. Garrison's crispy treats are the size of bricks and loaded with, quite literally, a rainbow of cereals and stir-ins—Cocoa Krispies, Fruity Pebbles, Golden Grahams, freeze-dried marshmallows, chocolate chunks, and pretzels.
There's even one crispy treat made entirely of crunched-up Ruffles potato chips. RUFFLES POTATO CHIPS! The chips are thick enough to hold their own in the marshmallow bath, making for a decadent salty-sweet, crispy-crunchy marvel. (Though it can start to feel a bit repetitive about halfway through, so I would very much like to try a version with some peanut butter chips and/or mini M&Ms mixed in, too, please and thank you.)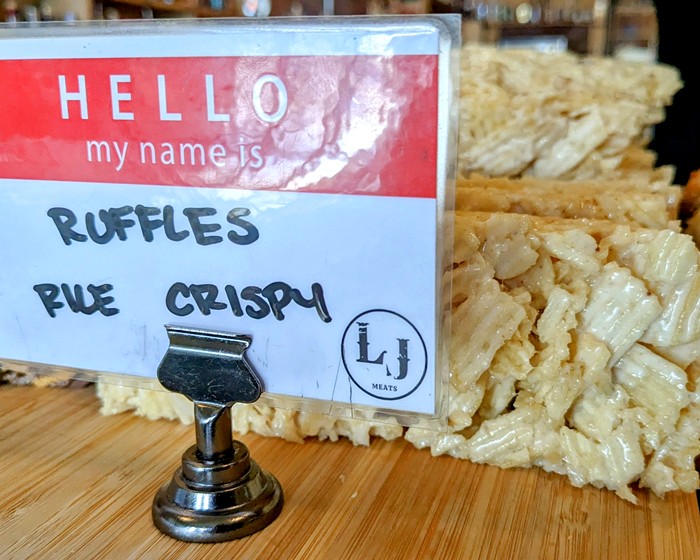 To create these superstar snacks, I imagine Garrison wandering through the grocery store and grabbing just about anything that could possibly be mixed into a pot of melted marshmallow goo and seeing what happens.
"It's true," he said with a laugh. "Most of the time it's the Grocery Outlet because they have the weird stuff and I can get it for cheaper. We sat here [on the patio] one afternoon while I was doing my orders and I'm like, 'Hey, what kind of cereal did you like growing up?' The bartender's like, 'Apple Jacks.' I tried it—it was gross, we couldn't sell it."
Experimentation is a big part of Garrison's game. For his cream-filled Shokupan doughnuts, Garrison tweaked a recipe for Parker House milk bread rolls that he makes every Thanksgiving to get a pull-apartable, melt-in-your-mouth dough that can only be described as ethereal. How?
"It takes a lot of kneading, but because it's so enriched, and there's so much yeast in it, it does have a kind of cotton candy stringy gluten quality to it," Garrison said. "It's still super light because it has tons of butter and milk." Tons of butter and milk, the most beautiful phrase in the English language.
With such a delicate dough, the filling had to be precise—too light and it would disappear, but too thick and it would gummy up or overpower the perfect golden exterior. The trick, Garrison said, is to whip cream in the robot coupe food processor instead of in the KitchenAid. It's cut with a blade instead of whipped with a whisk. "It's not fluffy—it's stable like a frosting would be, but it's cream. It's less aerated." But just as dreamy. Fucking brilliant.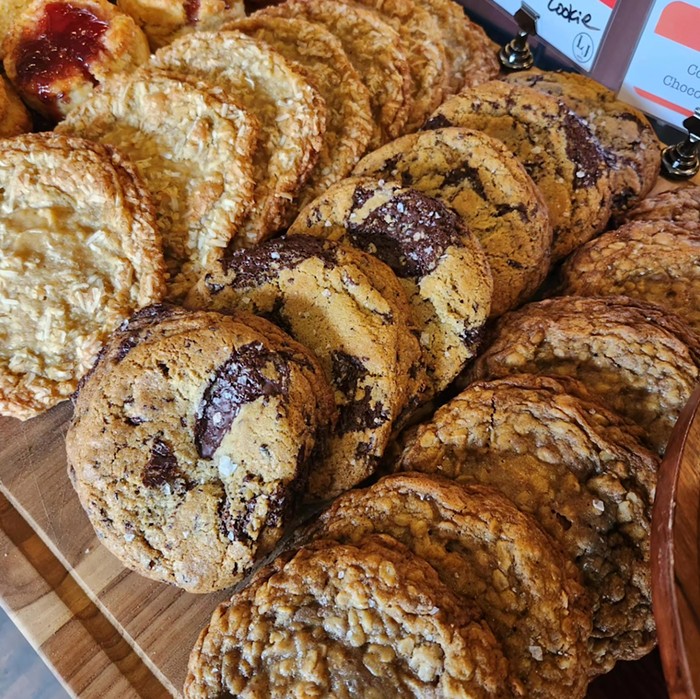 As much thought went into Garrison's chocolate chip cookie recipe, too. To make one of the best chocolate chip cookies in Seattle, he had to eat every chocolate chip cookie in Seattle.
"My daughter and I went to basically every bakery we could, three or four different times," he said. "It would be, like, seven [cookies] at a time. We'd go home, put them all out, cut a little wedge off, and blind taste them. I don't want to talk shit about everybody, but there are a lot that you can tell they're made the day before or if they're using good butter."
After considering the pros and cons of other cookies he developed his own recipe. "I tried five, six, seven different versions and came up with something I'm happy with. I don't think it's the best one, but it's better than a lot of the other ones out there."
He's being modest. It is the best. Or, I think so anyway. It's impossible to declare any one chocolate chip cookie the best chocolate chip cookie because the best chocolate chip cookie is different for everyone. But Garrison's is impressive, with a mix of dark chocolate, milk chocolate, cocoa nib that boosts the chocolate intensity without adding sweetness, and a visible sprinkle of Maldon salt on top. It evolves as you eat it, no bite is the same. It contains layers, like the cross-section of Earth—a crispy crust, a chewy mantle, and a soft core. (For what it's worth, he says Temple Pastry's chocolate chip cookie takes the trophy—"It's more caramelized than the one that I do. Whatever happens with the butter and sugar that makes it have the caramelized bottom, that's my favorite part.")
Garrison's coconut cookie is another example of how one treat can contain textural multitudes—it looks like a cookie, but it eats like the most perfect bite of a just-out-of-the-oven coconut macaroon, before the crispy golden edges have softened from the moisture left in the sugary center. It has some of that chewy and crispy caramelization Garrison likes so much in other cookies, but the center stays soft without becoming mushy.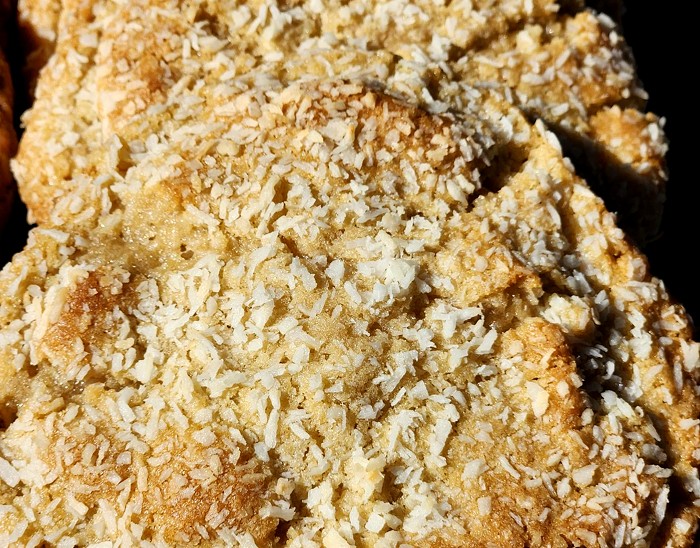 You wouldn't know it by looking at the weekly spread, but Lady Jayne's kitchen isn't built for baking. Garrison can only bake eight of his extra-large cookies at a time, so the fact that there are dozens upon dozens of them on display every Sunday morning is almost a miracle. He has to proof the doughnut dough on a chair in the office, and he introduced the crispy treats, he said, mainly because they can be made entirely on the stovetop, leaving the ovens available for mini bundt cakes, buttermilk pecan cake, lemon pound cake, the fudgiest and most chocolatiest brownies you will ever eat, and cast-iron pans stuffed with both sweet and savory bread puddings (that sometimes feature fat hunks of pork belly because I wasn't lying when I said Lady Jaye's love meat).
The hassle has paid off; the secret of Lady Jaye's baked goods is out. It's been out, really. Every Sunday the line starts early, before they open their doors at 10 am, and if you're not there by 11 or so you might be left picking at crumbs. The baked goods have been so popular, in fact, that Lady Jaye is in the middle of prepping a second location, a bakery and coffee shop in South Park called Little Jaye, which they hope to open by early September.
Is the Master of Meat bummed that he's now becoming more known for his pastries? 
"Oh no, it's cool, I think it's fun," he said. "It's something different, which is why it's fun for me. I'm still learning—we're still trying to push the envelope and do new stuff as much as we can. There's only so many cuts of meat you can smoke. I think we've smoked every cut you can possibly smoke."
---
Lady Jaye's bakery and cafe Little Jaye will officially open Thursday, October 5. It's located at 309 S Cloverdale St in South Park. Follow their Instagram for updates.