Norfolk Southern's recent train wreck in Ohio happened literally overnight, devastating the small town of East Palestine with an environmental disaster that no one saw coming.   
In Seattle, Sound Transit is engineering its own train wreck—a new light rail station in the Chinatown International District called the "4th Ave option," which will create a construction nightmare for a decade or more, devastating small businesses, transit service, and pedestrian safety. 
But unlike the community of East Palestine, we can see this train wreck coming, and we know Sound Transit has a better option. Instead of building the station at 4th Ave, the agency can build two new stations north and south of the neighborhood, both faster and cheaper.
The CID is incalculably valuable to the Seattle region. It survives as one of the few remaining Chinatowns across the US and Canada that is both culturally and economically active.   
First and foremost, it's a living neighborhood that's more than pretty buildings. Tens of thousands of immigrants, refugees, elders, youth, and mom-and-pop businesses all rely on its unique cultural services every year. Unlike most Chinatowns in North America, it's still a first stop for many Asian immigrants.
The CID is also a welcoming space for hundreds of thousands of sports fans and downtown workers, and it serves millions of riders as the region's largest transit hub. Local Asian-serving businesses offer visitors a much more interesting experience than the corporate chain hospitality that dominates redeveloped stadium areas in other cities.
Although not often cited, the CID also adds a unique destination as the only remaining Chinatown in the Pacific Northwest for the tens of millions of annual travelers to Seattle, including cruise ships and business travelers. It may be hard to calculate this value, but it is real and has a regional impact.
It's not just 10 years of construction that will hurt. Extensive scholarship shows that gentrification and displacement often follow new light rail investments. The CID is already surrounded by land that the City Council approved to be built 170-270 feet high—begging for redevelopment. Speculators are camping on a lot of that land, waiting for the right moment to build high-rise condos, hotels, and office space.
Once high-income residents are attracted to the CID, the small businesses that serve the many Asian and Pacific Islander communities will be outbid for space by chain stores and restaurants. This could be accelerated if stores close during construction. This process is how most Chinatowns across the US are disappearing.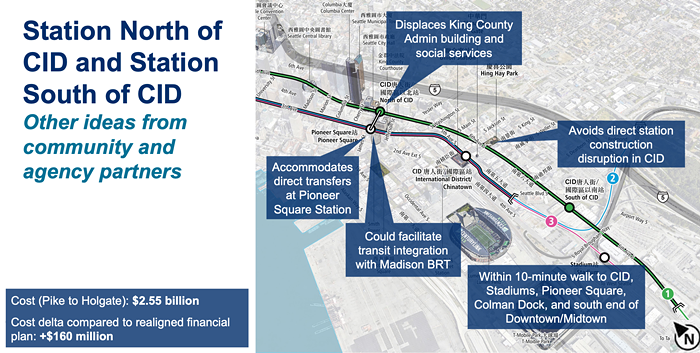 Locating the light rail stations north and south does create a tradeoff for travelers to and from the CID, including requiring a transfer from one of the three lines and a slightly longer trip by five minutes. Groups such as Pioneer Square Alliance and Historic South Downtown would argue that not having all three lines go through a CID hub at 4th Ave will harm the mobility of future CID stakeholders. But Sound Transit has not studied future mobility for any proposed location–especially not for low-income residents, seniors, and workers, who mostly use Metro buses—to make such a sweeping claim.
Many of the best transit systems in the world use hubs that still require a transfer for flagship destinations, like main rail stations and tourist attractions. The key hub that advocates call for, connecting all three light rail lines, will be the proposed north CID station with connection to the existing Pioneer Square station.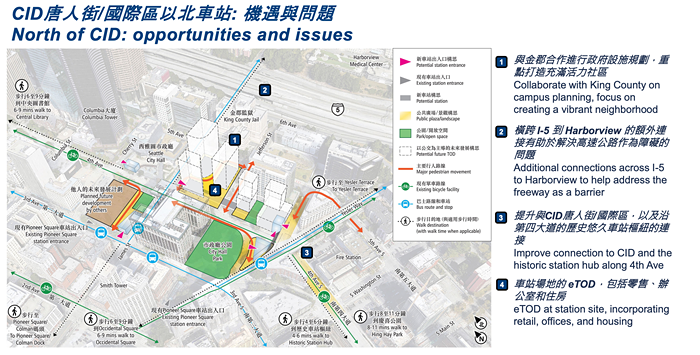 Unlike 4th Ave, the CID north option also has land nearby that Sound Transit can acquire for construction staging and offer back to the community for affordable housing. And, Sound Transit in partnership with Seattle can invest in streetscaping that will make the short walk between Yesler and Jackson safer for pedestrians. County Executive Dow Constantine just announced the potential closure and teardown of both the King County Jail and the County administrative building—that will be right at the corner of the CID north station.
The CID south station has similar benefits. It would be just one block south of Uwajimaya, and it could catalyze both new, welcoming streetscaping and affordable housing on nearby land. Visitors to the CID could get off here and walk only three blocks to experience all the CID has to offer. It would also offer another station for stadium-goers that would relieve the pressure of game-day crowding.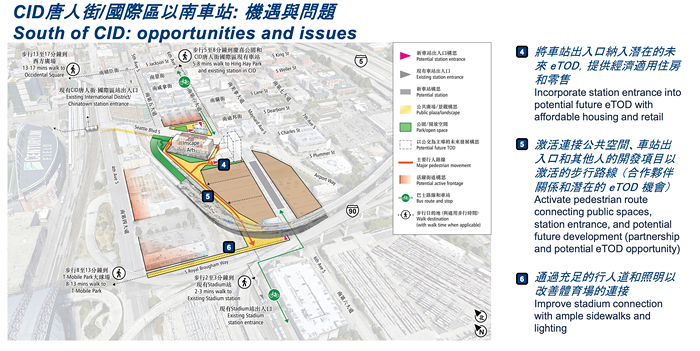 Moreover, the north and south CID station locations appear to come with less delay risk. The proposed 4th Ave station would be laid into liquefaction prone soil and under the 4th Ave Viaduct, with the potential for surprises that add to construction length—the Highway 99 deep bore tunnel was a grim example of costly delays. Ten years of station construction could easily turn into 15.
At the end of the day, decisions to site massive infrastructure projects present tradeoffs. Usually, marginalized communities bear the brunt of these tradeoffs. 
Is a disappeared CID an acceptable tradeoff? Historic Asian-immigrant built buildings with no Asian people in them, or only rich Asians, is not what our community needs. The CID was founded by poor and working-class Asian people seeking a home and a sense of belonging in a city hostile to them. It is still home to many residents and workers who cannot afford to live anywhere else. The 4th Ave option will erase this community of the inhabitants and legacies that shaped it. Transit planners should not have us choose between the protection and sustainability of a vulnerable community over the convenience of a transit system, especially when there is an alternative option available.
The harm of a 4th Ave station is simply too risky. Few places in the Seattle region are as valuable and as vulnerable at the same time as the CID. A generation from now, many of us hope to bring our children and elders to the CID to observe our celebrations, connect to our legacies and experience a taste of cultural belonging. With the 4th Ave option, this may no longer be a viable reality, and we may only read of a living CID in history books.
With the north and south option, our families and communities can savor a sense of belonging, knowing that preservation of our histories was intentional, and not merely an afterthought. Our public officials must do everything in their power to make sure it doesn't disappear, and this includes Sound Transit building two stations just north and south of this priceless neighborhood.
---
Christina Shimizu is executive director at Puget Sound Sage. 
Sue Kay is an organizer with the CID Coalition.
Mike Vu owns Itsumono.