Finally, in the face of mounting atrocities by the Israeli military, some local Democrats—after five-plus weeks of near-deafening silence—are joining the call for a ceasefire in Gaza. That's a step in the right direction, and the credit goes to the growing global anti-war movement, including local activists who have forced the politicians to move. Now, the movement must press these Democrats to take the next step and vote on Tuesday for the ceasefire resolution I've introduced (once again) in the City Council. 
My resolution would put the Democrat-dominated City Council on record calling for an immediate ceasefire, humanitarian aid to the people of Gaza, an exchange of hostages, an end to US military aid to the Israeli state, and an end to the Israeli occupation of Palestinian lands. These are demands supported by the thousands of people in Seattle who have marched, sat in, called, written letters, donated in support of the people of Gaza, and otherwise have taken action in the last several weeks.
Two weeks ago, when I introduced a similar resolution, Democrats were united in opposing it. Not a single one of them gave the motion a "second" so that it could be debated and voted on. They did so in the context of Biden and the Democratic leadership nationally backing the ongoing slaughter of the people in Gaza, and pushing for an additional $14.3 billion in military funding for the Israeli state.
Now, because of pressure from a growing anti-war movement, the tide has shifted. What will happen on Tuesday? Will Democrats stand with the people of Gaza and ordinary people worldwide demanding an end to this brutal war, and vote for my resolution? Or will they engage in political maneuvering, like offering a watered-down resolution in order to provide cover to the Biden administration's continued funding of the war?
What happens on Tuesday at the City Council meeting depends mainly on the strength of our movement, and that is why I urge everyone to turn out at City Hall for the 2 pm meeting. If you can't attend in person, you should sign up to provide public comment online. In particular, we must demand that the City Council go on record opposing any further US military aid to Israel.
The news since October 7 has been agonizing. Around 1,200 Jews, Arab-Israelis, and foreign nationals were brutally slain by Hamas forces, followed by the Israeli military's massacre in Gaza, which to date has killed more than 11,000 Palestinians, including 4,000 children. We must condemn Hamas's attacks on civilians but also the brutal collective punishment and state terrorism by the Israeli ruling class.
Take the Israeli state leaders at their word: When a leader in the governing party declared, "Bring down buildings!! Bomb without distinction!... Flatten Gaza. Without mercy!" they were being absolutely serious. In Just over a month, Israeli forces have destroyed 220,000 homes, and bombed and invaded hospitals and schools, implementing a reign of terror that has few equals in recent history. These horrifying developments have spawned a huge and growing global uprising, as they well should.
We've marched alongside Palestinians and Jews, workers and elders, clergy and children, all united in a call to stop the current Israeli slaughter, resolutely demanding an immediate ceasefire, humanitarian aid to the people of Gaza, and an exchange of all hostages—the 240 Israelis that Hamas has kidnapped, and the thousands of Palestinians now held in Israeli prisons in a cynical tit-for-tat.
And this is a global movement in support of Palestinians: 300,000 marched in London, along with huge protests in Copenhagen, Rome, Stockholm, Wellington, Melbourne, New York, Washington DC, Oslo, Kuala Lumpur, Ankara, Johannesburg, Seoul, Accra, Karachi, São Paulo, and many more cities. 
Workers, too, are beginning to flex their labor power in support of the Palestinian cause. Dock workers in Barcelona refused to handle ships carrying war materiel to Israel. Belgian logistics workers have also boycotted handling weapons shipments bound for Israel, as have port workers in Salerno, Italy. Toronto workers and community members shut down weapons production facilities, and last week charter bus drivers in Virginia staged a sick-out, stranding hundreds of pro-Israeli-state demonstrators who had flown into Dulles Airport to attend a right-wing, pro-war, "no cease-fire" rally in DC. 
Just this past Thursday, activists snarled rush-hour traffic in Boston, San Francisco, and Montreal by blockading bridges, giving the broader public a small taste of what Palestinians have had to face every day of their lives when they try to pass through Israeli military checkpoints in the West Bank, East Jerusalem, and Gaza.
Two-thirds of Americans now back a ceasefire, and public support for the Israeli state is tanking, a Reuters/Ipsos poll last week showed.
Yet the Israeli military's wholesale destruction of the Gaza strip—a patch of land no larger than the size of Seattle, yet containing three times as many people—continues unabated. That destruction is only possible because of the material and political support provided by the Biden administration. 
The US supplies Israel with a staggering $3.8 billion a year in military aid—money that could be, but is not, spent on schools, health care, and social services. And now he's calling on Congress to approve another $14 billion.
Biden and the Democratic political establishment also are responsible for delivering the Israeli state something else they are deeply reliant on—political cover. Asked last week about the chance of a ceasefire in Gaza, Biden scornfully replied, "None, no possibility."
Biden's warmongering translates to more dead Gazan children, women, and men. More suffering and destruction. More guarantees of future conflict and insecurity for working people and the poor both in Israel and Palestine.
This conflict also needs to be viewed in the context of the New Cold War between the two imperialist blocs led by the US and China. Israel is the United State's most important link in the Middle East, and it has long acted as a bulwark for US imperialism in the oil-rich region. Hamas is linked to Iran, which is itself an ally of China. The spread of the conflict could greatly exacerbate tensions between the two imperialist blocs with broad global implications.
And there is the immediate danger of this conflict developing into a wider regional war in the Middle East. That is why it is crucial that we build a powerful mass movement to put pressure on the Democrats both locally and nationally to stop funding the war on Gaza immediately.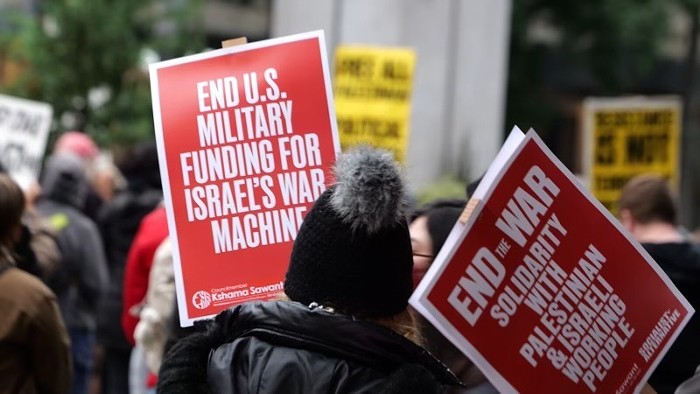 Last week—as Palestinian fatalities topped five figures—four City Council Democrats signed onto a letter initiated by area faith leaders. This is a positive step forward, as the letter calls for a ceasefire, humanitarian aid, and an end to the Israeli occupation. 
But while the letter correctly demands release of the hostages held by Hamas, it does not hold the Israeli state to the same obligation to release the thousands of Palestinians it has detained in recent weeks. And even more notably, the letter fails to call for an end to US military aid to the Israeli state. 
That is a significant omission, because it's obvious to any observer that the Israeli government would be unable to carry out its brutal killings in Gaza without the billions in annual aid from the US. 
When Democrats call for a ceasefire but fail to also demand an end to US military aid and support for the occupation, they want it both ways: They are responding to movement pressure to say they are against the war, but they are propping up the very thing that perpetuates the root causes of the war; namely, the United States funding the Israeli state's brutal occupation and apartheid-like policies.
I fully expect that Democrats will try to have it both ways on Tuesday. They will want to pose as standing with the millions demanding a ceasefire, but they will be very reluctant to break with their leader—President Biden—in demanding that the US stop pouring gasoline on the fire. 
Our movement's job is to hold the Democratic politicians accountable, and to make it clear that, in order to truly stand with the global anti-war movement, they must support not only a ceasefire, but they must also join with us in demanding an end to US state funding of the death and destruction in Gaza.