Jeremiah Green, the drummer who founded Modest Mouse with guitarist and vocalist Isaac Brock and bassist Eric Judy, has died. He was 45 years old. DJ Marco Collins released a statement on Instagram yesterday evening, on behalf of Green's family: 
 

 

View this post on Instagram

 
Isaac Brock also posted about Green's death via Modest Mouse's Instagram account, writing, "I'd like to say a bunch of pretty words right now, but it just isn't the time. These will come later, and from many people.
Please appreciate all the love you give, get, have given, and will get.
Above all, Jeremiah was about love."
Green and his Modest Mouse bandmates began playing together in Issaquah in the early '90s when they were still in high school. They released their first EP, Blue Cadet-3, Do You Connect?, on K Records in 1994. The next year Green's other band, Red Stars Theory—which, at the time, featured James Bertram, Tonie Palmasani, and Jason Talley—released their self-titled debut 10-inch.
In their earlier years, Modest Mouse regularly played at local all-ages venues like the Old Fire House in Redmond and the Velvet Elvis. I remember seeing them at RKCNDY multiple times, too—Brock was the first person I ever saw yell into guitar pickups.
While it feels impossible to comprehensively capture just how far Green's contributions to the Pacific Northwest's music community have reached—the number of kids who picked up drumsticks after seeing Modest Mouse or Red Stars Theory live is massive, I'm sure—The Stranger has been lucky enough to be along for the ride. Sometimes literally.
In 1996, music columnist Kathleen Wilson spent the day with Modest Mouse in their hometown, not long before the band released This is a long drive for someone with nothing to think about. on Up Records. It was teenaged Green who picked her up at The Stranger offices.
I should probably point out right now that the members of Modest Mouse are (1) boys, and (2) very young. As in the-drummer-is-still-in-high-school-young. So my tour was basically just a day in the life of three small-town boys, rock stars in the making. A week later, my patent-leather shoes are still caked with mud, and two mementos of my trip sit on my desk: a brass shotgun shell and a rusty bolt the size of a hammer.
There were llamas, there was trespassing, and there were grilled cheeses and ice-cream sodas at Triple XXX Rootbeer Drive-In—you can read the fun time capsule here.
A few years later, in 2000, former Stranger Music Editor Erin Franzman perfectly summed up Green's mesmerizing talents in a piece about some of the city's best up-and-coming bands and musicians: 
Red Stars Theory lay down seemingly innocuous tunes, and embroider them with their guitars until the songs are as full, round, and ripe as late-June fruit. For a band who play with their backs to the audience (TURN AROUND, FOR CHRISSAKES!), they still give you a lot to look at. As long as the drum kit faces the audience, the elegant and languid Jeremiah Green is where your eyes will rest. He hits so hard, and yet with the most puzzling fluidity; his visible motions and the audible beats are not quite in sync, as if you've stepped into a poorly dubbed kung fu movie. The sensei is giving you his secrets and your brain won't follow; the sounds don't match the moves; they're blurred, too fast—the effect is disorienting, but you can't bear to tear your gaze away.
Later that month Modest Mouse would make their first big splash into the mainstream by releasing their critically acclaimed major label debut The Moon & Antarctica. Pitchfork gave the "monumental, ground-breaking, hypnotic, sublime" album a near-perfect 9.8, and writer Brent DiCrescenzo praised Green's drumming throughout, calling his work "wholly unique and creepy" and "playful and inventive." It's rare that a drummer can do both ends of the spectrum so well.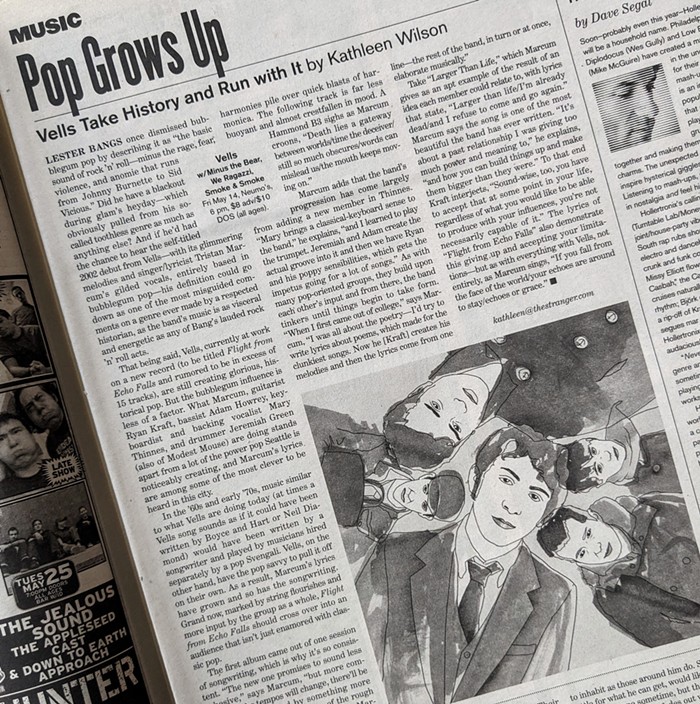 Green left Modest Mouse in 2003, though he rejoined in 2004, not long after the release of Good News for People Who Love Bad News. In a 2004 interview with SPIN, Green talked about being diagnosed with bipolar disorder, and he spoke more about the "nervous breakdown" and depression that contributed to his temporary departure in an interview with NME last year.
During that time, though, he also focused on a new project, the Vells, a band that played, as Kathleen Wilson described it a 2004 music feature "Pop Grows Up," as "glorious, historical pop." They released their debut EP, produced by Phil Ek, in 2003, and, while we're talking about Pitchfork, it's worth mentioning that they gave the Vells' EP a 7.8.
Green's contributions to the music community go beyond what he offered as a drummer. He was an advocate for mental health and he continued to collaborate with other local musicians, even as Modest Mouse experienced huge amounts of commercial success.
He was one half of the 2008 project World Gang with Darrin Wiener aka Plastiq Phantom, for example, and his percussion work can be heard on Graig Markel's project The Animals at Night's 2007 release Via Novella.
Many friends and fans are posting "Trucker's Atlas" as an example of Green's impressive, inventive drumming style, and rightfully so, it's hypnotizing. So while we're looking at everything Green accomplished—and all the ways in which he inpired Seattle's music scene to be more creative—here are a few more great examples of his intricate style.
RIP Jeremiah Green.