It's always an auspicious sign when you walk into a club and the DJ's playing DAF's "Osten Währt Am Längsten." Such was the case Saturday night at Clock-Out Lounge, as I strolled in to see Osees mainman and surprise-selector John Dwyer at the digital controls. He was the special guest of Stranger Music genius Lars Finberg, former Osees drummer and current sticksman for A Frames, Seattle's greatest rock group of the '00s... and, as they proved over the weekend, holder of that title whenever they deign to reunite.
Dressed in red for solid sartorial reasons, A Frames—guitarist/vocalist Erin Sullivan, bassist Min Yee, and Finberg (who now lives in LA, where he leads the Intelligence)—returned to the live circuit as part of the Cloudbreak Music Fest. Coming out of a seven-year hiatus, A Frames showed little sign of rust; they tore through 18 examples of scathing, bullshit-free post-punk culled from their three essential albums, plus a cover of "Batman" by the Australian group X. That these songs were released 18 to 23 years ago mattered not: A Frames have tapped into the fountain of eternal youth and sonic truth. It's as if no time has passed since the threesome's early-'00s prime. Dystopian rock will never die, at least not in A Frames' capable hands.
They opened with "Black Forest," in which Sullivan's omniscient narrator surveys a post-apocalyptic hellscape: "Humanity is erased/Black forest left in its place/No burgers, no sports, no jokes/Civilization was a hoax/Fire smoldering, ash and death/Black forest the after-breath/No churches, no garbage cans/No punk, no garage bands/No organism left to grow/Black forest and fallout snow." Allrightallrightallright! Who's ready to party?!
Perhaps A Frames reunited just to remind us that every song of theirs carries a premonition of end times, for which they have created the ideal soundtrack. Thus, their catalog will never not be relevant. (In a 2005 A Frames feature in The Stranger, Finberg claimed that Sullivan's lyrics are meant to be taken as darkly humorous. If true, then Erin has the greatest deadpan delivery this side of Steven Wright.)
As the set progressed, heavy with selections from the classic self-titled debut album, A Frames gave us a seminar in skeletal yet muscular post-punk that aspires to the condition of the machine. So many other groups have attempted this difficult feat, and their herky-jerky machinations usually end up sounding corny. Not so with A Frames. Their songs prove that having automaton-like tendencies doesn't hinder their ability to get limbs and hips twitching spasmodically. In this way, they resemble garage-rock innovators the Monks. They proved this thesis with the robotic funk of "Modula," the sinister "Chemical" (featuring backing vocals from Universe People's Jo Claxton and the Fall-Outs' Kimberly Morrison), and the noisy, lurching "Hostage Crisis," among others.
Similar to pessimistic science-fiction authors, A Frames may be fixated on the many ways humankind and society have gone terribly wrong, but that doesn't mean their music is devoid of joy. This is the band's essential paradox. In every bleak track, Sullivan unleashed an economical solo that was a display of steely monomania and ballistic harshness. Yet each one generated tones that balanced agony with ecstasy. And from the contented looks of the showgoers, A Frames had showed that sonically signifying humanity's demise can result in damned fine catharsis. May their next hiatus not be so long.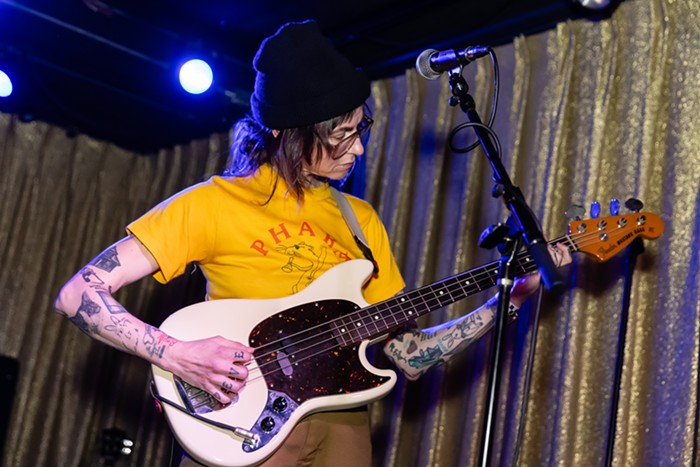 The Fall-Outs—another revered Seattle trio who have not released any new music in nearly 20 years, though Hex Enduction Records reissued their 1986 debut LP, Fine Young Men, last year—preceded A Frames with the sort of stripped-down punk & roll and ramshackle thrashabilly that have made them beloved by old-school Seattleites. Lots of superfans danced wildly to the Fall-Outs, who now feature the aforementioned bassist Morrison (the Dutchess & the Duke, Unnatural Helpers, etc.). It seems that there's this alien concept known as "fun," and the Fall-Outs found many ways to incorporate potent doses of it into their energetic rock's main vein.
Opening the night were Quid Quo, a local trio led by guitarist Zack Wait and bassist Chelsea Gaddy. Like some grimmer and harder-hitting version of X's John Doe and Exene Cervenka, the black-clad couple often traded stentorian vocals or sang in unison while drummer Stevie Lee Ragle kept bashing time.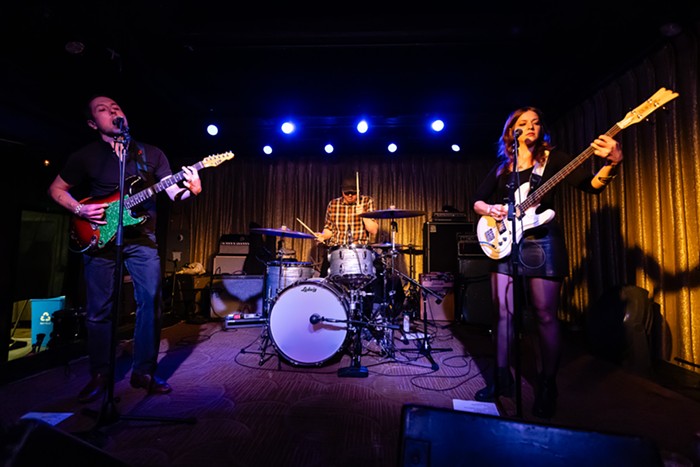 With barely a pause between their terse songs, Quid Quo forged a dense, swerving attack that just kept winding the crowd tighter and tighter, making the Ramones sound bloated by comparison. Quid Quo's last two cuts, however, offered some variation, with a Royal Trux-like chugger and a slow, sludgy piece that recalled the mighty Flipper. Hearing Quid Quo's music live is like standing in a narrow corridor and having shrapnel fly around your head. That may explain why one audience member was walking around Clock-Out with a bloody nose...
A FRAMES SETLIST
01 Black Forest
02 Galena
03 Wasteland
04 Nuclear
05 Modula
06 Hostage Crisis
07 Calculator
08 Abstract
09 Chemical
10 Plastica
11 Neutron Bomb
12 Test Tube Baby
13 Search and Rescue
14 Batman
15 Traction
16 Surveillance
17 Transcenic
18 Electric Eye