How odd to see the headliner's frontman standing in the middle of the crowd during the opening act's entire set and bobbing his head for most of it. But that was the case last night at the Crocodile, as Mark Arm unassumingly enjoyed Los Angeles sextet Hooveriii's saxy and speedy rock—think King Lizard on amphetamines, with a predilection for the rhythm from Golden Earring's "Radar Love"—while positioned dead center in the no-booze zone. (This show was all ages; Saturday's was 21+.)
Hooveriii—who've been touring with Mudhoney for the last five-and-a-half weeks—dedicated a cover of Gary Numan's "Metal" to Sub Pop's longest-running rock group, and its cathartic climax made for a nice segue into Mudhoney's 28-song performance.
With genius perversity, Mudhoney began their set with the junk-dazed "When Tomorrow Hits," which Spacemen 3 covered in 1991. That's how confident Arm, guitarist Steve Turner, drummer Dan Peters, and bassist Guy Maddison are with their status as Seattle's elder statesmen of underground rock.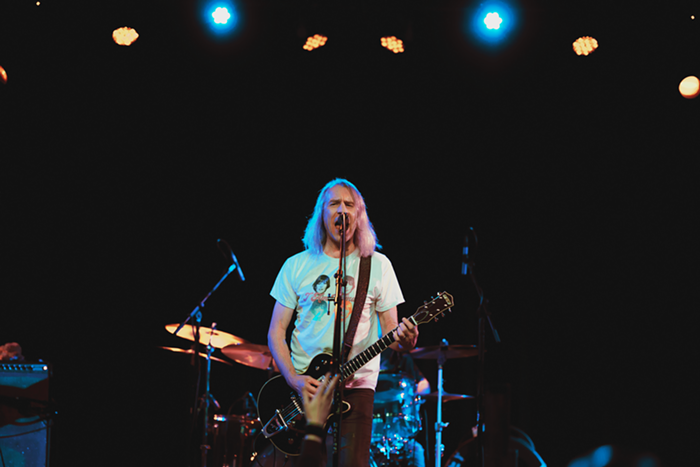 This risky opening gambit led smoothly into the molten avalanche of "In 'n' Out of Grace," with bonus blurting from Hooveriii's saxophonist. After an extended drum-and-bass break and a powerful Peters solo, the full band burst back in and the dude in front of me whipped his long hair around with enough velocity to poke out an eye. When Arm bellowed "Oh god, how I love to hate!" it felt cozy and familiar to fans of a certain age. Remarkably, the singer's ability to shred with his pipes has not lost an iota of ferocity over the last 35 years. That deal with El Diablo is working out well.
The quirky paean to tiny canines "Little Dogs" from this year's better-than-it-has-a-right-to-be Plastic Eternity followed, and a pattern emerged for the night: trusty old faves from Superfuzz Bigmuff and Mudhoney mixed in with newer fireballs of fury from 2018's Digital Garbage, 2019's New Morning in America EP, and Plastic Eternity. That strategy revealed how well Mudhoney have (r)aged and how it doesn't matter if they've not radically changed over the decades. 
As Mudhoney went through probably their 900th version of "Sweet Young Thing Ain't Sweet No More," it occurred to me that they showed no indication that they were tired of playing these oldies. On the contrary, they seemed as super-charged about them as the gray-haired and the fresh-faced fans did. After the song ended, Arm quipped, "And here's the B-sides." Cue the timeless garage-rock shit-stirrer "Touch Me I'm Sick"... and cue members of Hooveriii running out from backstage and stage-diving. WUT. Then some paying customers followed suit, but their aggressive manner inspired Arm to lecture them on etiquette. Dive with grace into the crowd; otherwise, your fellow fans should allow you to hit the deck and let the bones fracture where they may.
After much begging from the audience, Mudhoney returned for an encore. "The big problem with all-ages shows is there's too much enthusiasm," Arm cracked. So those who didn't file out prematurely received a gift. "If I Think" still sounds like Mudhoney's most heart-breaking song. "Suck You Dry" still rampages like a motherfucker. The swaggering garage rock of "Who You Drivin' Now" still earns its "HEY HEY HEY"s. "Here Comes Sickness" still puts much Blue in your Cheer. Holy shit—Mudhoney still got it, and they're not gonna get it out of your face.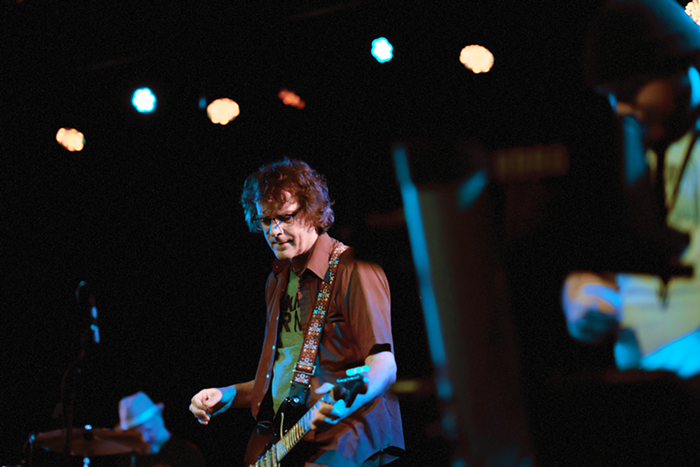 Looking around the sold-out Crocodile at the many adolescents digging their parents' beloved gr*nge act, one felt that Mudhoney could have a secure future for another 20 or 30 years. Hell, Turner looks about as fit now as he was in '88. Plus, those anecdotal reports about the kids not wanting to rock appear to be exaggerated. And as long as the world remains fucked-up (bet), Arm & co. will continue to roll out the weapons to rail against it with wit and gusto.
MUDHONEY SETLIST
01 When Tomorrow Hits [1989's Mudhoney]
02 In 'n' Out of Grace [1988's Superfuzz Bigmuff]
03 Little Dogs [2023's Plastic Eternity]
04 Souvenir of My Trip [2023's Plastic Eternity]
05 You Got It [1989's Mudhoney]
06 Move Under [2023's Plastic Eternity]
07 This Gift [1989's Mudhoney]
08 No One Has [1988's Superfuzz Bigmuff]
09 Judgement, Rage, Retribution and Thyme [1995's My Brother the Cow]
10 Sweet Young Thing Ain't Sweet No More [1988's Superfuzz Bigmuff]
11 Touch Me I'm Sick [1988 single]
12 Tom Herman's Hermits [2023's Plastic Eternity]
13 Nerve Attack [2018's Digital Garbage]
14 Get Into Yours [1989's Mudhoney]
15 Almost Everything [2023's Plastic Eternity]
16 Flush the Fascists [2023's Plastic Eternity]
17 F.D.K. (Fearless Doctor Killers) [1995's My Brother the Cow]
18 Oh Yeah [2018's Digital Garbage]
19 Next Time [2008's The Lucky Ones]
20 I'm Now [2008's The Lucky Ones]
21 Paranoid Core [2018's Digital Garbage]
22 Human Stock Capital [2023's Plastic Eternity]
23 21st Century Pharisees [2018's Digital Garbage]
24 One Bad Actor [2019's New Morning in America]
ENCORE
25 If I Think [1988's Superfuzz Bigmuff]
26 Suck You Dry [1992's Piece of Cake]
27 Who You Drivin' Now [1991's Every Good Boy Deserves Fudge]
28 Here Comes Sickness [1989's Mudhoney]