The biggest stories on The Stranger dot com this year were our endorsements for both the primary and general elections. Great job, Seattle! You love to be informed before turning in your ballots, and we're honored that you trust us to ask the hard questions and put in the work.
But 2022 brought Seattle so much more than just elections. Here are 10 more stories that topped our most-read list in 2022, in both news and arts and culture.
News and City
KOMO Journalist Blasts Out Proud Boys Propaganda, March 21, by Rich Smith
"On Saturday afternoon KOMO poverty porn reporter Jonathan Choe tweeted out a soft-focus montage of a Proud Boys rally in Olympia and advertised a Q&A session the hate group planned to hold afterward as if he were talking about some kind of humanitarian organization."
The People of 3rd and Pine, March 4, by Hannah Krieg
"...broadcast journalists and the paper of record have amplified the voices of police, business owners, and local officials. But it would not be the Seattle process if we did not meet with all stakeholders. It's time we hear from the people of 3rd and Pine."
Port Townsend Responds to Transphobic Bullying With Trans-Inclusive Proclamation, Aug 16, by Hannah Krieg
"On Monday night, the Port Townsend City Council and Mayor David Faber delivered a message loud and clear: transphobia is not welcome in Port Townsend."
Seattle's Ice Storm Crashes Revealed That Cars Are Not About People, They Are About Cars, Dec 30, by Charles Mudede
"Is our love of cars so overwhelming? Or do cars just make us dumb?"
The Netflix Documentary Downfall Shows I Was Right About Boeing's 737 MAX Crises, Seattle Times Was Totally Wrong, Jan 24, by Charles Mudede
"The documentary, which is certainly engaging, does describe Boeing's transition from a company centered by engineers to one centered by shareholders. And it makes one mention of the company's buyback bonanza, which continued even after the Lion Air crash. The same cannot be said about the Seattle Times, which made no mention of Boeing's decade-long reallocation of accumulated capital from production to the inflation of its value on the stock market."
And Now, the Tender Tale of the Orca Swimming Around With a Dead Fish Balanced on His Nose, Feb 14, Matt Baume
"Last week there was a bit of a social media fuss over Alder, an 11-year-old killer whale photographed with a fetching new fashion accessory: a dead salmon balanced on the tip of his nose. But the image left many questions unanswered: How did he get the fish up there? Why wear a fish in the first place? Is this the start of some kind of new trend? Like paparazzi shouting at starlets outside Chateau Marmont, I had to know more about that photograph. So I started asking around."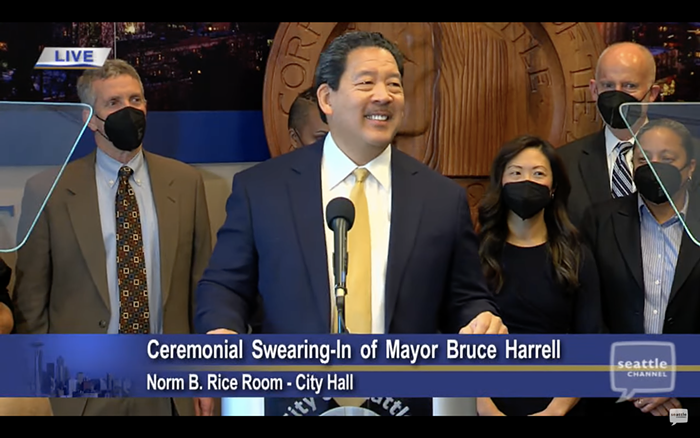 Say Goodbye to Seattle's Violent Antifa Socialist Hellscape and Hello to "One Seattle," Jan 4, by Hannah Krieg
"Harrell opened his address by describing a Seattle that 'fear[s] that our days in front of us hold less promise than those behind us.' But he said his team would bring the city out of this time of uncertainty and fear by unifying the town into 'one Seattle.'"
Here's What Amazon Did to Get Rejected from This Year's Pride March, March 29, Matt Baume
"The problem is that the company was offering to pay Seattle Pride $100,000 for all of those concessions after recently donating nearly five times that amount to homophobic politicians."
Seattle Cop Tells Queers They Need to "Work on Respecting" Bigots, May 10, by Matt Baume
"The evening of April 30, around a dozen creeps came to Capitol Hill to gather footage of themselves shouting hateful things at queer people. They carried a microphone and amp, set themselves up outside of Queer Bar on 11th Ave, and started trying to pick a fight. It worked."
Two Children Held in Jail in Connection with Ingraham High School Shooting, Nov 9, by Hannah Krieg
"On Wednesday afternoon, the 14-year-old child suspected of shooting and killing another child at Ingraham High School Tuesday morning waived his first appearance in juvenile court. In his absence, the judge determined probable cause for three separate charges brought forth by the prosecution: one count of murder in the first degree, one count of unlawful possession of a firearm in the second degree, and one count of possession of a dangerous weapon on school property."
---
Arts and Culture
Seattle Is the Anti-Fashion Capital of the World by Charles Mudede
"Seattle fashion offers little resistance to nature; it is too practical to be stylish, which is always super-artificial, always working against the forces of nature. We just give up and put on what's best for the rain and all of those very short days."
Seattle Has Lost the Battle Against Air Conditioning by Charles Mudede
"If you are with me in time and space, you are experiencing yet another day that could reach 90 degrees. And tomorrow, it's almost certain we will. Under these excessive conditions, Seattle's general attitude toward machine-cooled interiors must be revised. We can, of course, still maintain our honorable stance on umbrellas (a true citizen of the 206 does not need one), but the same can no longer be said of AC."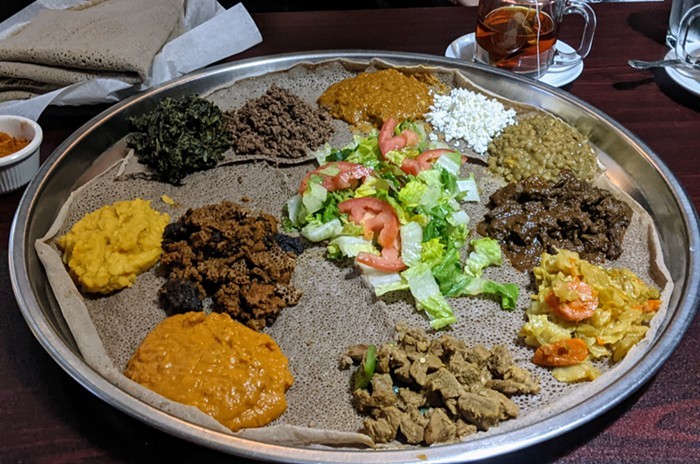 15 Best Restaurants in the Greater Seattle Area by Meg van Huygen
"Is this list for the eaters or for the restaurants? Is it to boost the signal on a restaurant that people seem not to know about, 'cause I think they should? Or should I include truly great stuff even if everyone already knows about it? Is it maybe more fair and more useful to lift up small businesses rather than restaurants that are already killing it and, say, already had a spread in the New York Times the other day?"
Is This the Best Fried Chicken in Seattle?, Jan 6, by Charles Mudede
The fried chicken there is certainly remarkable, but I never can get over the size of the chicken wings and drumsticks (no breasts or thighs there). They are as big as dinosaurs. I do find this troubling.
How Much Does Zoë Kravitz Pay for Her Fictional Seattle Loft?, Feb 11, by Jas Keimig
"Last spring, director Steven Soderbergh's crews descended on our foggy city for several unusually bright days, taking over downtown with staged protests for his most recent offering, the Seattle-set thriller KIMI. The movie, which started streaming Thursday on HBO Max, stars Zoë Kravitz as Angela Childs, an agoraphobic tech worker who works for an Amazon-like company called, lol, Amygdala."
Seattle Sticker Patrol: This Is Bananas!, July 28, by Jas Keimig
"I'm only upset because I had to look up the meaning of Hershey Highway, lol."
"Seattle Is Dying" Is the Sequel to Escape from New York, March 18, by Charles Mudede
"Escape from New York is very much like the whole Seattle Is Dying movement, in the sense that both offer the same explanation for poverty and crime. You are poor because you made bad choices. You are a criminal because you are all evil inside or too lazy to make something of yourself, the cement of which is found in the hours spent hard at work."
Paul McCartney's in Seattle!, May 3, by Dave Segal
"The 34-song set encompassed many phases of McCartney's 60-plus years in show biz and it allowed him to flex on his trademark Hofner bass, psychedelically decked-out electric guitar, acoustic guitar, piano, mandolin, and ukulele. He used the latter to play 'Something,' a touching tribute to former bandmate George Harrison, who gifted the instrument to Paul." 
Seattle's Graffiti Culture War, May 20, by Jas Keimig
"In a recent interview with The Stranger, the Mayor said that he'd like to enact a citywide plan to deal with graffiti by this fall. The plan, which he's calling his Many Hands Arts Initiative, won't focus only on prosecution. Instead, it'll take a more 'multi-pronged' approach. 'When I say 'many hands,' I'm not just talking about the hands of the graffiti artists, but the hands of the community and the private owners and the City employees,' Harrell said."
10 Essential Record Store Day 2022 Titles, April 20, by Dave Segal
"Because I always try to accentuate the positive [cough], I present here 10 releases that you should check out and, if able, purchase. To be sure, there are more than that deserving of your precious disposable income and time, but you aren't made out of money and I don't have all day here."