The King County Regional Homelessness Authority (KCRHA) has assured concerned community members that the agency is working to shelter residents of the ship canal bridge encampment, but parents from the nearby John Stanford International School no longer give a fuck about getting the camp residents into housing. 
In a protest on Friday, parents said the homelessness that landed people in tents under a bridge in the first place wasn't the issue. The issue was gun violence, fire, and drug use at the encampment (which exists because people can't afford a home, just saying). Some parents used that framing to argue that KCRHA must sweep the encampment immediately and treat residents like "any other criminal '' by jailing them for using drugs and firearms.
KCRHA's encampment "resolutions" take much longer than one morning of cops and City employees ripping away belongings from unhoused people, busting up their community and their sense of stability, and kicking encampments around the city in a demented, unyielding game of Whack-A-Mole. 
While the City certainly still conducts daily sweeps without much in the way of outreach or shelter referral, the KCRHA has been trying to push the conversation forward on sweep reform. But the continued political pressure from neighborhood-watch types could hamper efforts to move away from sweeps, especially under the looming threat from the Washington State Department of Transportation (WSDOT) to eventually issue a trespass order against unhoused people who refuse shelter referrals. 
In the case of the ship canal bridge encampment, there's not much room for KCRHA to make concessions to the parents. A rule attached to the state funds the authority receives for removing "right-of-way encampments" like the one near the school requires outreach workers to refer all residents to non-congregate shelters. 
But the authority is working under a deadline. According to a letter from WSDOT, the site will close by the end of March. That deadline gives KCRHA and outreach workers another week-and-a-half to make offers to all of the remaining 14 residents. An outreach worker familiar with the site said that's a realistic deadline–so long as units become available. 
On Friday, the spokesperson for the KCRHA painted a clear picture of the lack of shelter. Outreach workers had no tiny home spots, only three non-congregate shelter options, a handful of spaces specific to women and families, and 8 congregate beds available for referrals in all of King County. As you can imagine, there's more than one site competing for these spots, and outreach workers have told The Stranger in the past that the sweep-of-the-day typically gets dibs on whatever shelter space is freed up for that day.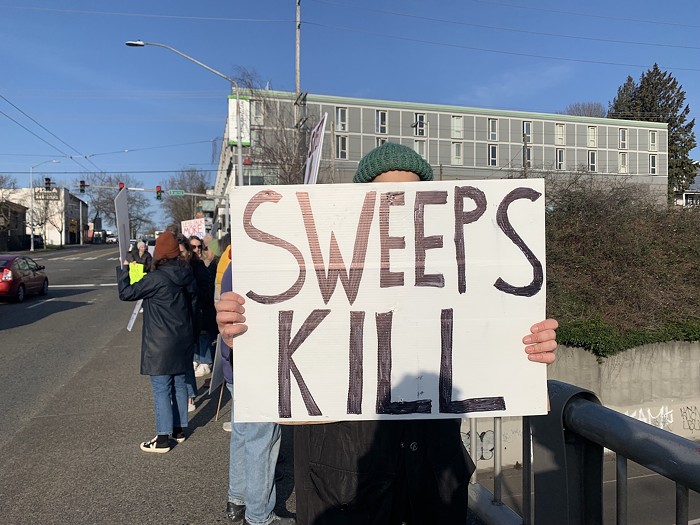 Still, the population at the camp has dropped from 30 to 14 since November. One outreach worker said he knows of two people who left the site because of a shelter referral; the rest just went somewhere else on their own volition.
The timeline on a proper "resolution" entirely depends on when shelter space opens up, which happens either when someone exits homelessness, gets kicked out of their spot, or just decides to go back outside. The outreach worker said there's no clear average for how many shelter beds crop up each day. He said, unfortunately, the only way to set a hard deadline is to order a sweep.
The KCRHA has repeated time and time again that they don't "sweep," they "resolve" encampments. The authority's insistence pisses off anti-sweep advocates, who still see cops regularly carrying out sweeps, and it pisses off the people like the parents at the Friday protest, who don't see cops chasing out homeless people often enough.
"It should have happened yesterday," Emily Houston, a protester and parent to a kindergartner, said of the removal. She and other parents called for an immediate sweep, regardless of shelter availability. 
But pushing people from their encampments does not actually get unhoused people off the streets. They don't just disappear, as much as some of the protesters may wish they would. 
Without adequate shelter referrals, authorities often sweep encampments a block or two away from their original spot, so it's unclear if the parent advocates would even be satisfied with the location of the next inevitable nearby camp. 
With this in mind, I asked another parent, Phil Klatte, where the residents should go. He said that his gripe with the homeless encampment has nothing to do with homelessness, but rather crime. If someone has a gun a block from a school, he said the conversation should be about arresting that person, not referring them to shelter.
A small counter-protester presence stood along the bridge Friday morning. One sign read, "sweeps kill." The counter-protester declined to comment, but other housing advocates reacted online to the parents' demonstration. 
This is a photo of wealthy people who DGAF about the survival needs of people in their community.

We shouldn't accept people living in tents. And the solution is NOT "not by me" but demanding Housing+ Services+ Progressive Taxation. That's how people with humanity would respond https://t.co/7rQBZIth3P

— Paul "Why are golf courses valued ₵ on the $?" (@PoulChapman) March 17, 2023
The KCHRA spokesperson seemed to have some hope for more shelter opening up. In a Friday morning email, she said the authority has nearly finalized contracts to open up 113 units of emergency housing. One of those buildings is expected to open its doors to clients this week.