Earlier this month Mayor Bruce Harrell announced his plan to "fill up" 20 vacant storefronts by early summer through the City-funded Seattle Restored program. The goal amounts to one of many "short-term" activation strategies in the early phases of his "Downtown Activation Plan," which he affectionately refers to as "DAP." 
The program gives a win to property owners, who get a paycheck from the City for a unit that may have otherwise remained empty, plus a win for Downtown visitors hungry for a cool soap shop or an art installation. But only time will tell whether the program will reliably produce small businesses that survive long-term and serve the existing downtown community. So far, the City can point to one shining example of success, and Seattle Restored expects more in the coming months. 
What is Seattle Restored?
Seattle resident Sierra Jones just signed a two year-lease, making her the first Seattle Restored participant to continue her business after the program stopped funding her. 
Jones dreamed of opening up a community healing and event space for Black and Brown people for three years, but she said she had no hope of landing a commercial lease. That is, until she found Seattle Restored and got a free-trial run for her business, Inside. 
"Wholeheartedly, Inside would not exist if it wasn't for the Seattle Restored program," Jones told The Stranger in a phone interview.
Seattle Restored, a program run out of the Seattle Office of Economic Development (OED), removes cost barriers for small business hopefuls and artists eager to display their work. The program asks property owners to pretty please lease their space for three months at a flat rate of $2,500, and the City will pick up the tab. The City also kicks the commercial tenant a $2,500 stipend to pay for equipment, staffing, or other expenses associated with their business. 
After the three months, Seattle Restored will pay the landlord an additional $1,000 a month in rent for up to six additional months if the landlord and tenant agree to continue the arrangement. The program also offers classes and helps with marketing, according to program manager Andrea Porter. 
A Shining Success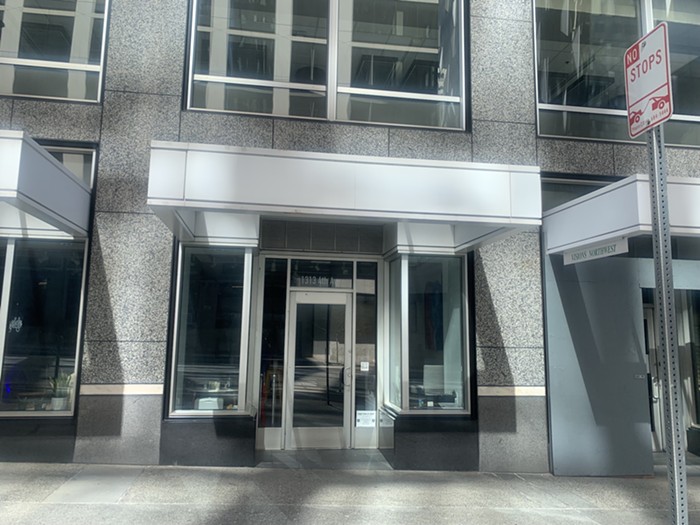 Jones was one of the first business owners to launch with Seattle Restored in 2022. That year, the program selected 35 lucky prospective business owners to open pop-up shops and temporary art installations on the City's dime. Pop-ups such as TASWIRA, the First African Streetwear Store in the Nation, and Puddles Bakery, which sells baked goods for dogs, made up about 40% of the activated storefronts, according to an estimate from Porter. Art installations, such Plamena Milusheva and Choong Ng's interactive bubble symphony, made up the other 60% of City-funded storefronts, she said.
This year, Seattle Restored set a goal to "activate" 45 empty storefronts. So far, the program has filled 25 storefronts, including nine in Pioneer Square, six in Belltown, six Downtown, three in Little Saigon, three in Magnolia, and one art installation in the Chinatown International District. Of those 25 activations, Seattle Restored classifies 16 as women-owned, 13 as Asian or Pacific Islander-owned, seven as Black owned, three as Latino-owned, and three as family-owned. Most of the businesses and art installations are owned by people who claim more than one of these identities. 
Despite the Mayor including the 20 storefronts in his announcement, the plan has been in motion. According to a spokesperson at the OED, the office worked with the previous administration to set up the program as one of the office's first investments into COVID-19 recovery. The Mayor also set a deadline to open the storefronts by summer, which probably will not happen. Porter said Seattle Restored will open most of the remaining 20 during summer, but they likely won't hit their goal until the end of the year. 
Porter remains hopeful that some participants from this year will continue their businesses after their time with the program ends. So far, no other pop-up businesses or art installations made more permanent arrangements after their nine months with Seattle Restored, according to Porter. She said some participants only want a short-term pop up, especially art installations that are not really built for commercial success. Many others have not reached the end of their time with Seattle Restored to make more long-term arrangements just yet. 
Jones felt that Seattle Restored helped set her up for longer-term success. The program connected her with Google, which led to opportunities to host Black in Tech events at her space. She has continued partnering with corporations to keep the business afloat.
Additionally, during her free-rent period, Jones was able to save money and develop a good relationship with her landlord, Unico Properties LLC. After her time with Seattle Restored ended, the company gave her a deal on rent. Jones pays $2,600 a month in rent and utilities for her 1,200 square foot unit in the heart of Downtown. She said that's about $1,000 less than market-rate. She hopes that in two-years she will be able to afford market-rate rent. 
Unico, which leases five Seattle Restored properties, declined to tell The Stranger how they make the project pencil, but there's clearly other perks for landlords. 
Unico Director Janel Jensen said the program is "compelling" because, for one, it gives small businesses the opportunity to operate downtown, which according to Porter gives the property owner a sense of "giving back" to the community. Jensen also said that filling storefronts gives a "better feel" and keeps "negative activity" away. And, as in Jones's case, the program can lead to more permanent neighborhood fixtures. Besides, Jensen said, leasing ground floor space right now is slow-going, so it's possible some spaces would have remained empty anyway.
The OED said the City has spent $2.5 million on Seattle Restored. If everything goes to plan, Seattle Restored will have opened a total of 80 pop-ups going back to 2022. At the very least, that amounts to $200,000 of City funds going to commercial landlords. On the high end, if every pop-up extended its lease to the program's limit, the amount would climb to $680,000. 
There Might Be a Better Way to Do This
If the City's true intent is to help small business, then it would be more efficient to just give all that money directly to the businesses–rather than to commercial landlords–like it already does with grant programs, according to University of Washington Professor of Public Policy and Governance Jacob Vigdor, who received a Ph.D in Economics from Harvard University. Vigdor said commercial landlords are guaranteed to walk away with money in this situation, but we can only "cross our fingers and hope there's something in it for the small businesses, too."
If the City wanted to support small business' rental cost without paying landlords, then it could preserve current rates with commercial rent control. The Seattle Restored program, which offers a flat-rate for rent, essentially amounts to a rent control agreement between the City and landlords willing to cooperate. Commercial rent control wouldn't help tenants that cannot afford market-rate units without the City's help, but it would prevent steep increases from making the prospect even less attainable.
Unlike residential rent control, the City can actually pass rent control for commercial spaces. Council Members Lisa Herbold and Tammy Morales passed a commercial rent control policy in 2020 that stopped landlords from raising rent on small business and nonprofits. 
When I asked the Mayor about commercial rent control and strategies to make rent cheaper for small business, his office said, "While rent affordability is one factor that impacts small businesses, we frequently hear about other issues involving access to capital and technical support." The spokesperson listed other programs run through OED, such as the Tenant Improvement Fund, the Capital Access Program, Storefront Repair Fund, and consulting. 
But at the end of the day, DAP's primary goal is to "get more people downtown," as the Director of OED Markham McIntyre said in the press conference earlier this month. When the OED asked Seattleites what would bring them back to the city's commercial core, they asked for more small businesses and art, which is a very convenient answer when the City already runs a program to prop up those sorts of places. 
With a record high of 104,000 people currently living downtown, calls to bring people back downtown carry hefty implications, according to Vigdor. 
"Implicit in these calls is the notion that the problem with downtown isn't that there are no people there, it's that the wrong kind of people are there, that the solution is to get more middle-to-upper-class folks from the suburbs and single-family neighborhoods back," Vigdor said in an email. "But at least in theory one could pursue a downtown vacancy reduction policy that prioritized the needs of people who are already there. Which might be more like grocery stores than art gallery pop-ups."