Last Sunday the Washington State Legislature finished up its 2023 session with a fun bit of drama The Stranger spent the week reporting out. In brief: A bill to criminalize addiction failed after progressives voted against it, showing a level of spine rarely seen on the House floor. 
But pausing Washington's reboot of the war on drugs wasn't the only thing lawmakers did over the last 105 days. They passed more than 450 bills, including a $69 billion budget (nice) that makes historic investments in housing, behavioral health care, regular-ass health care, public and private sector workforces, climate change mitigation, and the arts. They even christened a new state dinosaur. 
So please join me on a little romp through the highlights, the lowlights, and the even lower lights of the 2023 legislative session.
No Taxes on the Rich, or on Anyone Else for that Matter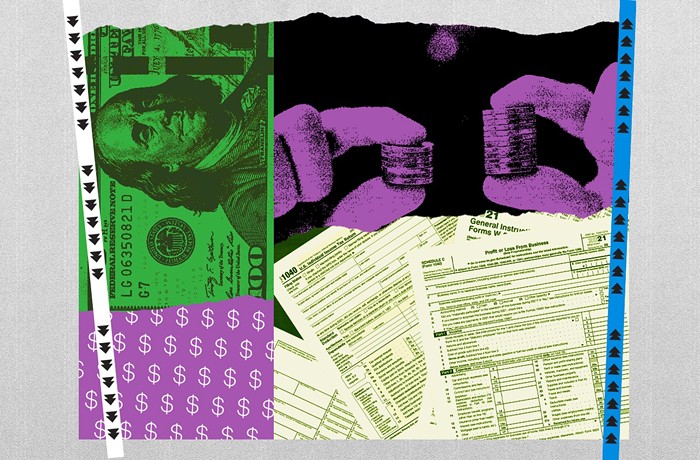 The state needs a lot of money to adequately address several Major Problems, and the economic forecast for the next couple years doesn't look stellar. In response, Sen. Noel Frame (D-Seattle) introduced a Wealth Tax, which applies a 1% tax on stocks and bonds over a quarter billion dollars to pay for housing, special education, and returning more tax money to poor people. Thought the public loves it, Democrats had questions about implementation, and so the bill didn't get too far.
An idea to raise the property tax limit from 1% to 3% emerged as one of the two recommendations from the Washington State Tax Structure Work Group, a years-long effort to survey the state and draw up tax policies that people actually like. That proposal, sponsored by Sen. Jamie Pedersen (D-Seattle), would have at least allowed counties to ask voters to pay for the stuff we need despite stingy state lawmakers, but it also died.
House Majority Leader Rep. Joe Fitzgibbon (D-West Seattle) said he thinks the House had the votes for the proposal, but the Senate never sent it over. Sen. Joe Nguyễn (D-West Seattle) said some members—even progressives—expressed concern about the perception of being seen as raising property taxes.
Given the need to build 30,000 homes for poor people yesterday—homes that developers simply will not build—Rep. Frank Chopp (D-Seattle) introduced on tax on the sale of residential and commercial buildings over $5 million. That money would funnel into the fund the state uses to finance affordable housing developments. Though House Finance Chair Rep. April Berg (D-Mill Creek) kept the bill alive for a while, it also died. Realtors ran a hokey ad campaign against it and got some headlines, which may have scared Dems, lol. 
Sen. Nguyễn said the House dropped the bill kinda late and didn't pass it, so that was part of the failure. Fitzgibbon said the Senate had been "pretty direct with us" about not having the votes for it, which raised the question of why the House should spend the political capital to push it through only for it to die in a tax-averse Senate. Members in both chambers expressed concern with slightly raising the tax on the sale of commercial real estate iN tHiS eCoNoMy, though both think they could have overcome those concerns.
Since the Legislature typically only passes new taxes during "long" 105-day sessions such as this one, don't expect the state to start forcing the rich to pay their fare share next year. Do expect all other crises to more or less continue apace for another decade.
They Finally Passed the Gun Control Stuff We've Been Screaming About for Years
As predicted, Democrats finally passed more significant gun safety regulation. Unfortunately, they again ignored my proposal to melt all the guns in the state. They did, however, pass a ban on the "sale, manufacture, distribution, importing, or marketing" of a long list of semi-automatic guns. The bill exempts police departments and the military, and it allows manufacturers to sell the guns outside the state.
Another new law would allow the Attorney General to use the Consumer Protect Act to prosecute gun shops for violating the assault weapons ban. We join New York, New Jersey, California, and Delaware in doing so.
Sen. Pedersen carried both of the bills mentioned above, but Rep. Liz Berry (D-Seattle) pushed House Bill 1180 over the finish line. That one requires gun-purchasers to wait until ten days after they pass a background check to obtain their little death machine, and it also requires them to show proof that they've passed a gun training course. According to a RAND survey of studies, the policy may reduce suicide deaths and violent crime, and it puts us on par with California.
A bill from Sen. Nguyễn to let cities go harder on gun controls failed, so Mayor Bruce Harrell will have to lobby harder next session if he really wants it.
Lawmakers Stiff Renters
More than a decade into the state's housing crisis, this year lawmakers picked three words that begin with the letter 'S' to guide their policies on the issue: supply, subsidize, and stabilize. Those terms translated to: reduce regulations on housing developers so they can build more housing in more places, put more money in the state fund that developers use to finance affordable housing units, and protect renters from predatory policies.
In Olympia, time and political capital are sort of limited. If lawmakers wanted to prioritize based on immediate need, they would have emphasized passing tenant protections to help stabilize 40% of the state's population in their current homes.
But, as I wrote earlier this year, Dems killed both major bills to help renters. And by "major," I mean one bill to blunt rent-gouging a little and another to give tenants a six-month heads-up when their landlords want to gouge them—policies passed in Oregon and California back in 2019.
But don't say they never did nothing for ya. They did manage to pass Rep. My-Linh Thai's House Bill 1074, which requires landlords to give tenants a receipt when they pocket your security deposit. Let's get some more renters working beneath the dome down there, huh?
Historic Amounts of Money for Affordable Housing, Though Not Near Enough
As I mentioned earleir, the Department of Commerce says we need to build 30,000 units of housing for people making less than 60% AMI every year for the next 21 years in order to keep up with demand.
This year, lawmakers added $400 million to its affordable housing coffers, a "historic" investment that will produce *drum roll, please* 3,000 new affordable rental units. Only 22,000 left to go! 
We could have doubled that investment if the Legislature had passed that tax on high-dollar real estate, but, alas, there was just too much other stuff going on during this Year of Housing.
Anyway, more than $163 million of that money goes into the general affordable housing competitive pool, $100 million goes to building permanent supportive housing, $40 million goes to downpayment assistance for poor people, more than $40 million goes to earmarked housing projects, and $25 million goes into funding housing for people with Intellectual and Developmental Disabilities. 
Sen. Frame's bill to help prevent people who live in mobile homes from displacement also passed. That legislation makes park owners give notice when they plan to sell, and it gives nonprofits or people who own homes in the park the opportunity to buy the community.
Doing the Bare Minimum to Increase Density
Despite support from Republicans, realtors, and developers, last year NIMBY Dems and lobbyists representing NIMBY cities successfully killed a bill from Rep. Jessica Bateman (D-Olympia) to legalize more housing types in most places.
This year she revived the effort as House Bill 1110, brought in Rep. Andrew Barkis (R-Olympia) to serve as a Republican mascot, and wrestled the NIMBY lobbyists into submission. The bill passed with wide margins in the House and Senate, legalizing duplexes almost everywhere as well as fourplexes and sixplexes near transit.
NIMBY Dems who voted against the bill in the House include Larry Springer (D-Kirkland), Chris Stearns (D-Auburn), and Amy Walen (D-Kirkland). In the Senate, your NIMBYs are Seattle Sen. Bob Hasegawa (D-Seattle) and Christine Rolfes (D-Bainbridge Island).
The state needs 250,000 housing units yesterday, and we need 1.1 million more in 20 years. State Senate Democrats say this "missing middle housing" bill may add up to 200,000 units by 2050. Let's hope! Hasn't exactly been working out in California.
Moreover, as the Seattle Times reports, the bill excludes "homeowner associations and other 'common interest communities.'" HOAs cover about one-third of Washington homes. Though not all HOAs regulate the number of units people can build on their lots, enterprising "common interest communities" may have time to insulate their neighborhoods from these changes before the bill takes effect. Lots of urbanists pointed to the racist legacy of exclusionary zoning as a reason to end it statewide, and for now it looks like the wealthy and the determined will maintain their largely segregated societies.
Other successful bills that will help produce more housing include HB 1337, which makes it easier to build backyard cottages; HB 1181, which forces most cities and counties to take climate change into consideration in their growth plans and to set goals for reducing emissions and vehicle miles traveled; and SB 5238, which makes it easier to build condos.
Unfortunately, SB 5466, which would have increased density around transit, died. But that legislation got pretty far, and it'll be back next year. Lawmakers killed HB 1026, a proposal to eliminate dumb design review boards, which is sad. But they passed HB 1293, a bill that streamlines design review process, which is not sad.
Protecting Abortion and Trans Kids
While other states are criminalizing abortion and health care for trans kids, Washington is expanding protections.
The big ones here include a bill to protect people from other states who get abortions in Washington, another one that gives people the power to request and delete personal data collected by health care apps, and another one that eliminates cost-sharing for abortions.
Though conservatives spread tons of misinformation about SB 5599, which protects runaways seeking abortion and gender-affirming care while strengthening the state's family unification strategies, the bill passed and awaits Governor Inslee's signature. Hoorah.
After a years-long struggle, Democrats overcame Big Dental and passed a proposal to authorize dental therapy, which should increase access to more jobs and dental care, especially in rural and tribal areas.
Meanwhile, the operating budget includes $53 million to help undocumented adults pay for health care, which is cool. (The state already covers undocumented kids.) There's also nearly half a billion dollars in there to increase pay for a bunch of different kinds of health care workers, $122 million for more behavioral health care beds, $142 million for drug treatment, and $108 million so we can restore someone's mental capacity in order to warehouse them in a jail ¯\_(ツ)_/¯.
Poverty and Homelessness
Back on the bad news tip, the two bills that would set up new systems to meaningfully reduce poverty failed to advance. State Treasurer Mike Pellicciotti's baby bonds program, SB 5125/HB 1094, would have given poor kids a pot of money they could use to go to college, vocational school, or to open a business. Rep. Berry's HB 1054 would have established a basic income program, but it languished and died in the Appropriations Committee. Thanks, Democrats!
In better news, the Legislature passed HB 1474, a proposal from Rep. Jamila Taylor (D-Federal Way) that sets aside $150 million to provide downpayment and closing-cost assistance for victims of racist real estate covenants, which includes Black people, indigenous people, Asians, my fellow jews, and others.
Another injustice the Legislature fixed: Starting in 2025, people will no longer have to repay their disability benefits to the state when they start taking SSI, thanks to a bill from Rep. Emily Alvarado (D-Seattle). They also increased Temporary Assistance for Needy Families (welfare) payments and bumped up the Working Families Tax Credit, which is a tax rebate for the state's poorest people. 
That said, homelessness service providers are crossing their fingers in the hopes of the real estate market improving. The document recording fee, which the state charges for legal paperwork during real estate transactions, funds a rather large portion of homelessness operations in the state. Collections tanked this year due to the cooler market, and state lawmakers scrambled for money to backfill the fund. They may have found just enough, but if the market doesn't improve, then budgets could still be imperiled.
A Lurch to the Right on Criminal Justice and Police Accountability
For the most part, this year Democrats decided to rollback major police accountability measures and punt on long-overdue reforms to a criminal justice system that literally perpetuates crime. Congratulations, now go read a book or two (or three!) during the interim and then come back next year with a different attitude, please! 
Republicans, conservative Democrats, and cops who grew up watching The Dukes of Hazzard are all celebrating the passage of SB 5352, which makes it easier for police to initiate car chases. This change will very likely lead to more deaths of innocent bystanders, and the Dems who voted for it should show up at the funerals. Sen. John Lovick (D-Mill Creek), a longtime Washington State Patrol officer, championed the bill. Read Ashley on the fallout here. 
And though they really really wanted to, lawmakers haven't passed a bill to increase penalties for drug possession yet, but they very likely will. Read our reporting on this nonsense here and here.
Continuing in this vein: Sen. Rebecca Saldaña's (D-Seattle) bill to legalize jaywalking died, as did Rep. Thai's bill to end qualified immunity, as did the bill to adequately pay prisoners for the work they do, as did the bill to stop cops from lying in their attempts to incriminate people, as did the bill to stop the state from torturing people with solitary confinement so often, as did the bill to make it easier for people in jail to vote, as did the bill to prevent cops from pulling over people for nonmoving violations unless there's a legitimate safety concern.
But it wasn't all bad. Sort of. Washington codified the racist "super predator" myth into law when it started automatically increasing sentences for adults based on crimes those people committed as kids. HB 1324 ended that practice, but lawmakers watered-down the bill, so it doesn't apply retroactively. So we'll reduce racist sentencing practices going forward, but we'll preserve the racism from the past for now.
Good Government
Regular readers of the Stranger Election Control Board's endorsement guides know that Tim Eyman's stupid fucking advisory votes are meaningless push-polls that clog up the first page of ballots, waste taxpayer dollars, and do nothing other than confuse people about how government works. This bill from Sen. Patty Kuderer (D-Bellevue) killed them on ballots and replaced them with a website that will keep people updated on how the state is spending our money.

They also passed a proposal from newly elected Rep. Sharlett Mena (D-Tacoma) that reduces some legal friction to securing voting rights in Washington, which is nice. As is a little tax break for newspapers from Sen. Mark Mullet ("D"-Zeeks Pizza), which will mostly go to the hedge funds currently buying up the state's papers and stripping them for parts, but I think The Stranger qualifies for it, and so I guess I can't complain.
Still Not Funding Schools Enough
As school closures threaten to wreck neighborhoods all over the state, the Legislature continues underfunding education at the state level, but it's not like they're doing nothing. They added more than half a billion dollars to fund K-12 teacher salaries, and they increased the amount of funding for special ed by more than $400 million over the next four years—but it's still not enough to meet the need.
In other disappointing but okay-fine-I-guess news, lawmakers did not fund free school meals for kids. They did expand the program to feed all students who go to schools where 40% of the school is already on free or reduced breakfast/lunch, though.
Dinosaurs
Kinda sad that they're not feeding all the children while they keep them trapped at school, but, hey, we got a state dinosaur!
This year, Rep. Melanie Morgan (D-Tacoma) carried the bill to help claim this short lizard king as our own. Scientists found part of its femur bone on Sucia Island up above San Juan, so that makes it ours I guess. 
Thanks to Elmhurst Elementary students, the Suciasaurus rex is one step closer to becoming our state dinosaur! Discovered in the 40th on Sucia Island State Park in the San Juans, the femur fossil discovered dates back to the late Cretaceous period nearly 80M years ago! #WALeg pic.twitter.com/p3DhX4juwz

— Sen. Liz Lovelett (@SenLizLovelett) April 12, 2023
Labor 
Thanks to the passage of a watered-down version of Rep. Beth Doglio's HB 1762, companies that run large warehouses—looking at you, Amazon—now must tell their workers how fast bosses expect them to work. If the quotas interfere with rest breaks and meal breaks, then workers can flag it and the Department of Labor & Industries can investigate and levy penalties. Would have been cooler if the let the Attorney General sue as well, but they didn't!
That said, SB 5454 lets nurses file workers comp claims for PTSD, which is nice, because they basically spend their lives smiling through wildly traumatic experiences. 
And truckers can actually finally pee at work now that lawmakers passed HB 1457. Apparently, companies who get shipments of stuff still were not letting truckers use the facilities when they drop off their cargo, as it were. This law forces them to let truckers use the john. Cannot believe we had to address this issue again this year.
The Arts
Rep Julia Reed's (D-Seattle) HB 1575 gives county and city councils the authority to pass a 0.1% sales tax to increase access to arts institutions without going to voters for permission. A nice thing to do for the arts, in my view! 
Pollution Bucks
The state's new polluter permits brought in more than $300 million to spend on efforts to mitigate climate change. Breaking down these investments will require a whole post that I'll do later because this one is already way too long!
Anyway, that's 2023, basically. See ya next year, when they do even less during the short session!