A Seattle Public Schools special education paraeducator took out a temporary restraining order against Jonathan Choe after the former KOMO reporter (who now works for a right-wing think-tank) allegedly punched the educator during a confrontation at a pro-Palestine march in October. The Seattle Police Department (SPD) referred the case to the City Attorney's office for assault charges. In response to the court's granting of a protection order, Choe posted the name of the demonstrator and the name of the school where they work on social media, leading to further online bullying from Choe's followers.
The public school employee, Gabriel Jones, spoke with The Stranger Monday and said they'd attended the Oct 14 demonstration in Westlake Center as part of the event's security team. When event organizers saw Choe at the rally, they asked him to leave due to his tendencies to harangue demonstrators and to film people who ask him to stop. Jones then began following Choe and using their "Free Palestine" sign to block him from filming. In the past, Jones said, they've been able to frustrate Choe into leaving events by blocking his shots. 
Ari Hoffman & Jonathan Choe showed up to the pro-Palestinian UW rally today to start a fight.

In this video taken by someone in attendance, Ari can be seen screaming and yelling at protesters while being held back by 3 event peacekeepers.https://t.co/tks8CSeR4K pic.twitter.com/4KVBPRafTG

— Alycia Ramirez (@AlyciaRamirez3) October 12, 2023
Choe posted the video of his interaction with Jones on social media. The video shows Choe starting to leave the demonstration with Jones following him. Jones told The Stranger they wanted to make sure Choe left instead of just posting up in a different location. As Jones follows Choe, you can hear them mimicking what they predict Choe might say about what happened at the demonstration: "You saw it here first, Johnny Choe chased by the evil antifa." Choe responds to Jones by saying, "You know, if you go to Gaza you'd get killed, you'd get killed in Gaza," and, "You'd be killed in Gaza by the muslims." Jones starts to trail behind Choe a bit in the crowd, and then the video shows Choe stopping in front of a Seattle police officer. Then something happens off camera that leads to Choe losing his shoe and bending over to pick it up while saying to Jones, "Hey thanks for, like, assaulting me now." The video ends there.
When Jones spoke to The Stranger, they said Choe stopped walking suddenly, which caused them to step on the back of his shoe. Then Choe allegedly snatched Jones's glasses off their face and ran. Jones then chased Choe to get their glasses, caught up with him, and grabbed at his clothing, at which point, Jones said, Choe allegedly punched them in the face, dropped their glasses, and left. 
Jones believes an SPD officer's body camera captured the incident, and they've requested the footage from SPD. 
I emailed Choe to ask about what happened after the video cuts off, and he said, "My response is on social media. Thanks." He then posted my email on x.com and accused The Stranger of preparing to write a hit piece. On x.com, Choe said he physically defended himself against Jones and that Jones allegedly assaulted and harassed him. Choe also claimed "militant activists" were trying to silence him. Jones denied the assault and harassment accusations.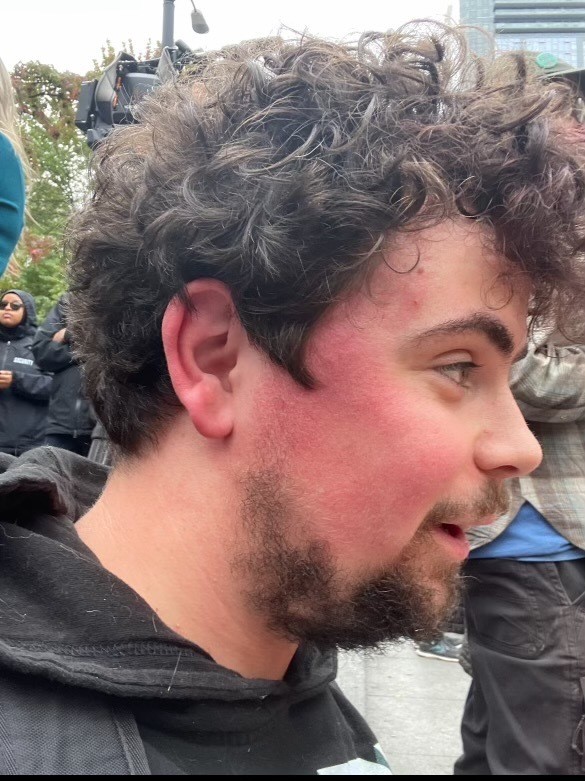 Jones sought medical care at Harborview Medical Center, where doctors diagnosed them with a concussion, according to medical records Jones provided. Jones, who says they tried to get SPD to investigate Choe for the alleged assault at the event, filed a police report the next day. A couple of weeks later, Jones filed for the order of protection after Choe posted the video of the lead-up to the alleged assault on social media. The post resulted in Choe's followers threatening to hurt and kill Jones, according to court documents. 
The online bullying escalated after Choe posted about the protection order. Social media users directly tagged Jones's employer and called for the Seattle Public School (SPS) district to fire them. Jones said they believe Choe's post violated the order of protection and could potentially endanger the safety of SPS students. The court scheduled a hearing on a more permanent order of protection for next week.