Duvall's "Pride wall" stood on Main Street for more than a year before extremism brought it down.
The wall was not a wall, really, but rather ribbons woven into a chain-link fence in the image of a Pride flag, inset with triangles of white, pink, blue, black, and brown for trans people and people of color. 
City council candidate Carol Kufeldt owns the business behind the fence, Valley Mail, which she called the friendliest packing and shipping business in town. She commissioned the wall from artist Axton Burton after seeing their ribbon art in Redmond.
Volunteers spent hours threading the wire mesh with colored ribbons and twice returned to reweave it, repairing damage from vandals who tore at its stripes and ripped Pride flags off the Valley Mail. Kufeldt loved the installation, not only for its message but for how the ribbons glowed in the sunlight. 
But in the dark, early morning hours last Friday, Duvall's City Clerk, its City Administrator, and two police officers meticulously unwove those ribbons. They also removed the flags tied to the fence alongside them, symbols of the little culture war on Main Street. Those symbols included American flags, a Gadsden flag, and a "Pine Tree Flag," – a white flag with a single pine at its center and the words "AN APPEAL TO HEAVEN'' printed above in bold, black letters, a relatively obscure banner associated with Christian Nationalism.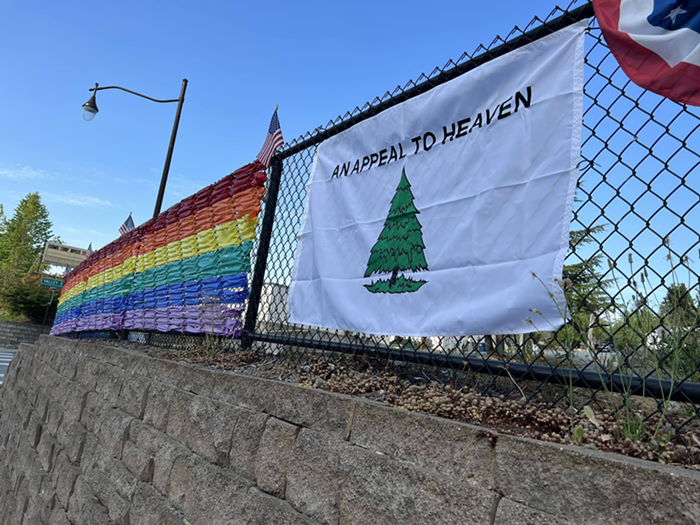 The City doesn't know who put the extremist flags there, but whoever did took cover in the same early morning dark, when no one could see them. The City Administrator returned the colorful ribbon to Burton, who lamented that they didn't get to say goodbye to their artwork.
"I wish the City would step up and be more transparent and say, 'Here is where we stand,'" they said. "As far as everyone else sees, it just seems like they took it down because they didn't want to handle the controversy. And while a portion of that is true, we also literally don't have a policy."
Duvall is in somewhat of a legal bind. Although Carol Kufeldt commissioned the wall, the city owns the fence.
Legally, the Pride wall and the flags were both in the public way, and because the public way is governed by First Amendment rules of free speech and expression, the City couldn't remove one symbol without removing all of them.
Leaving the hate symbols untouched was not an option. First of all, they created a hostile work environment for the City's employees of color, and Duvall is small enough that you can't easily avoid Main Street. City Hall is just two blocks away from the fence. One City employee felt personally attacked by the flag.
Duvall is also small enough that it didn't have rules for signs or artwork on City-owned fences. For years, people have hung banal posters promoting high school sports with no issue, even though that was technically against code. A City just isn't likely to enforce that transgression without complaint.
But censoring a message, even a hateful one, could risk a lawsuit, according to the City. Although, that legal action would need to come from a white nationalist who didn't have the courage to hang a flag in daylight, or from any other objector. 
The City Council planned a meeting to revise its public right-of-way policy in November, but they moved it to August 15. Burton doesn't think anyone will show up to oppose the ordinance.
"It is an incredibly welcoming town, but the underbelly can have some resistance," they said."
Game of Flags

Kufeldt isn't shy in her politics, and that's not a problem for her as a business owner in Duvall. It's still a hippy town at heart, she said. 
The hippies came in the 1960s, populating a once quiet logging town established by Civil War veteran homesteaders to fell the Snoqualmie Tribe's ancestral wooded lands.
The hippies started businesses, grew families, made art, and threw City-sponsored concerts downtown. One memorable afternoon in 1968, the new hippies dropped a piano from a helicopter, smashing it to wood chips and wires on the outskirts, livening up a town of 600 that has grown to more than 8,000 today.
Duvall Mayor Amy Ockerlander and residents who spoke with The Stranger said Duvall is changing once again, diversifying and gentrifying simultaneously.  
During the Women's March in 2016, Kufeldt distributed pussy patches made by local artists. To the chagrin of some customers, she implemented strict COVID rules in 2020. She had to call the cops a few times over the masking policy. That summer, she displayed a Black Lives Matter sign in the shop. A few older men told her the sign offended them and grumbled that "All Lives" mattered.
"I was like, oh man, dude, would you say that to your wife on her birthday–All Lives Matter?" she said. "He looked at me like, 'What?'"
Kufeldt said it's always the "same little group that gets their panties in a twist when people do the right thing, i.e. Republicans." When the Pride wall went up last year, customers told Kufeldt it made their trans kid feel safe. A lesbian couple told her they feel seen when they drive by the wall.
A fight for the fence began in earnest this summer, after Axton Burton called for volunteers to touch up the wall ahead of Pride. Someone had hung patriotic red, white, and blue bunting on the fence and stuck miniature American flags on top of the Pride installation, Kufeldt said.
"I guess they thought they were gonna ruffle my feathers over that," she said. "And I'm like, no, that's fine. I think the Pride flag and the American flag should be together because we're all American."
A week before the Fourth of July, someone zip-tied a POW MIA flag to the now-crowded fence, occupying banner space promised to a local organization called Empower Youth. Kufeldt took down the flag, folded it neatly, and took it inside. She posted on the town discussion board, explaining her reasoning, and invited whoever hung the flag to pick it up. People were angry; they thought it was disrespectful. People sent emails and complaints to the City, questioning the legality of the Pride wall. 
During the early morning hours of July 5, someone had zip-tied the yellow Gadsden Flag, with its open-jawed, spring-coiled snake at the center, bearing the words "DON'T TREAD ON ME." Kufeldt cut the flag loose with a utility knife. 
The Christian Nationalist "Pine Tree Flag" appeared last Tuesday. That was the last straw for the City, which decided to sweep the fence of everything–Pride wall included–ahead of the planned discussion in City Hall.
Burton, the artist, is from Duvall, but they no longer live there. Burton founded Pride Across The Bridge in Redmond, which provides services to the queer people in the valley; it also hosts events like potlucks, Dungeons & Dragons campaigns, discussion groups, and an annual skydiving event.
Burton said the City seems willing to put the ribbon back in front of Valley Mail, but that hasn't been clear to the community. The City even offered to return the ribbons to Burton–fence attached. 
"I'm like, girl, I live in an apartment complex," they said, bemused. "Plus, if you move it, it will break … It seems like [Carol] and I are the people having to take on the emotional baggage and the weird spamming phone calls. Like, what can we tell the community? [It's not my job], absolutely not after you destroy my child I spent 15 hours on."
Small Towns Aren't Prepared for Hate
The Pride Wall is a basic municipal problem: a hole in policy led to a clumsy solution from an activist perspective that angered the artist, their friends, and other members of the town's queer community. But the City wants to make a good-faith attempt to fix it, which is more than nearby Arlington can say about its handling of a Pride event last weekend.
If Duvall wants the Pride wall back–or any other LGBTQ art installation–it can revise its public way policy to allow art on City fences and ban non-permanent banners like extremist flags. All Burton has to do is sign paperwork and officially donate the ribbon to the City. The City needs to do more, and on a tighter timeline than first planned.
Behind the scenes, Duvall is looking at how King County resolved a similar problem in unincorporated Preston after the county's road services department removed a 9/11 memorial. The memorial went up shortly after the terrorist attacks, but it was in the public way on Preston-Fall City Road.
Someone had interpreted the memorial as a right-wing political statement, which says more about how people can read American flags in our political climate than about Preston. The County Council passed an ordinance that re-established the memorial as an official part of the town's welcome sign. 
King County's solution for Preston is not a perfect fit for Duvall. The memorial is made with store-bought flags. The Pride wall is artwork, which is how some municipalities in Washington have classified Pride crosswalks and stairs, Mayor Ockerlander said.
Small towns in the Northwest, even towns like Duvall that want to be inclusive, are vulnerable targets for hate groups because local, small bands of extremists scaring constituents is not an everyday problem for elected officials to solve, which throws responses into confusion. But the problem is becoming far more common.
White Nationalist QR Codes 
The weekend of Juneteenth, fliers with QR codes in plastic bags weighted down with feed corn thudded onto the streets of Duvall. An extremist group called the White Lives Matter Network likely distributed the fliers to advertise the white supremacist documentary Defiant, which promotes a more extreme version of the increasingly mainstream "great replacement theory." The film asks its audience to commit acts of racial violence, according to the Anti-Defamation League's Pacific Northwest chapter.
Crystal Frasier stumbled on the plastic bags while walking her dog near an elementary school the next morning. The longtime trans activist from Florida moved to Duvall 11 years ago. Frasier developed games during Gamergate, a misogynist, right-wing online harassment campaign over feminism and diversity in video games that targeted prominent women in the industry, including journalists and game developers. The movement cloaked itself beneath a shroud of plausible deniability by arguing that they weren't abusing women but rather promoting "ethics in games journalism."
The flags in Duvall remind Frasier of the same attention-getting dog whistles used to intimidate people online. She worries extremists will escalate the situation because the City "unfortunately did exactly what this group wanted them to do." She sees the City is trying, but she thinks it made the wrong choice. She's disappointed because Duvall is a safe place, a town where everyone knows everyone, and she can wear a trans pride shirt without attracting funny looks. 
"This is, by and large, a really good town," Frasier said. "There's just a tiny minority of people trying to turn it into something awful. I mean, I've lived all over the country, and Duvall has just been one of the sweetest, welcoming little small towns."
Over the same weekend, extremists dropped the same fliers in Snohomish, Lake Stevens, Monroe, Carnation, Fall City, Snoqualmie, in other US cities and in eight other countries as part of a coordinated action called "Night Defiant." A flier promoting the action suggested the night of the 18th was best for drops, so people would see them the morning of Juneteenth, and told white supremacists to use whichever flier they chose as long as it linked to the movie. Groups including Blood Tribe, GDL (Goyim Defense League), and other localized white supremacist groups also dropped fliers.
"One, we want Defiant, and its message forced into the conversation," the flier read. "Two, we want to scare the enemy."
Flier campaigns like this are common because they're easy, cheap and imply that an extremist group is bigger and scarier than it is, much like the snake on the Gadsden Flag; fangs bared, head reared back, body sprung upward to intimidate whomever crosses its path. In reality, the fliers are dropped by a handful of men wearing masks in the dark because they're afraid of getting caught, experts say. But a snake is a snake, and it is still dangerous.
Stephen Paolini, associate regional director for the ADL in Washington, pointed out the great replacement theory inspired a mass shooting at a grocery store in Buffalo, New York. 
He says that these groups believe that they can convert believers of popular conspiracies like the great replacement theory, which half of Americans think is real, and move them through a funnel of extremism toward a more violent belief system. Extremist groups seized on the myth of LGBTQ grooming to sow conflict over Arlington's "Camp Pride" and a spa in Lynnwood, Washington. Last December, someone shot through the window of a Renton brewery hosting a drag story hour event.
A national report from ADL and GLAAD (the Gay and Lesbian Alliance Against Defamation) found that extremists were involved in 49% of the 356 recorded incidents of harassment, vandalism, and hate motivated by anti-LGBTQ sentiment between June 2022 and April 2023.
"They really feel like, 'This is our moment," Paolini said. "We've hated the LGBTQ community forever and people are finally coming to see the light in our perspective."
In 2021, Washington reported its highest number of hate crimes since at least 2000; most were racially motivated. Across the US, crimes against Asian and LGBTQ people rose most sharply over the previous year.
Jenn Hernandez moved to Washington from Texas in 2014, when she started to feel less safe as a trans woman of color. Her intuition was right. 
In June, Texas became the 17th state to ban trans care for minors, and state lawmakers introduced 53 anti-LGBTQ bills during this year's legislative session, many targeting trans people's basic civil rights. Texas' FBI hate crime statistics showed bias incidents against queer people occurred at four times the rate of all hate crimes in 2021.
Hernandez used to drive from Duvall to visit her parents in San Antonio and take the side roads because, as a Texan, she knew no matter what stripe of politics or what kind of person you are, people will help you when you're in trouble. She doesn't believe in that sentiment anymore.
"As a transplant and almost a refugee at this point, seeing the flag pop up, it just riles me up to the point where I'm like, 'I'm not going to let what happened in Texas happen here,'" she said. "Taking down the Pride wall was just wrong. Hate speech and the Pride wall are not equitable. They should have worked at a way to keep [it] up. That said, they've done it."
Duvall City Council will discuss what to do next on August 15.
Mayor Ockerlander is the first Mayor of Duvall to recognize Pride month, or hoist a Pride flag over City Hall. She expressed sincere support for the City's queer residents and residents of color, and she isn't fooled by conspiracy theories that have pushed other municipalities toward far-right policy decisions in a misguided attempt at balance. 
Although activists are unhappy about what they consider a hasty decision, they felt empathy and understanding from the City Administrator, who carefully delaced the ribbons at 4 am, and believe Duvall is willing to make amends, which Hernandez said was "amazing" on their part.
Ockerlander hoped passions would cool before November, so the community could have a meaningful conversation about the Pride wall and come out with a policy that was fair, equitable, and passed all the City's legal tests. She said she didn't expect this to happen in Duvall, but the possibility was never far from her mind.
"I feel like that opportunity for the City was deliberately taken away by the individuals that continued to perpetuate the increasing visual of hate in our town," Ockerlander said. "...This appears to be a very, very small group of people that I do not know if they're connected or not. But this is a route that has been chosen to prove a point."