Jail didn't notice detainee's corpse for 18 hours: It took 18 hours for the jail at the Garfield County Courthouse to notice that one of its prisoners, Kyle Lara, had killed himself. The jail staff, who are dispatchers and not commissioned law enforcement officers, served breakfast and lunch to Lara's corpse. This whole situation is a tragic mess of negligence. Lara's family is suing the county for $8.5 million. 
Fox News heavy-hitters mocked election fraud claims: According to court records in Dominion Voting System's $1.6 billion lawsuit against Fox News, Donald Trump's friends at Fox didn't buy his election fraud claims in 2020. You wouldn't know it from the lies they spread on air calling into question the legitimacy of Joe Biden's presidential win, but behind closed doors Fox personalities Tucker Carlson, Sean Hannity, and Laura Ingraham "brutally mocked" the lies Trump and his camp asserted about the rigged election. They called Rudy Giuliani an "idiot" and Sidney Powell a "nut" and a "liar." Yet, Carlson tried to get a Fox News White House correspondent fired for fact-checking an election fraud claim in a tweet.
Bunking in the brewery: Bellingham's Stone Throw Brewing will let you stay the night if you're into that sort of thing. They have a guest room with two beds, a couch, a full kitchen, and a bath. Back in the 1800s, this guest room used to be a brothel called "Miss Annie's Place." No sex stuff at the brewery now, though.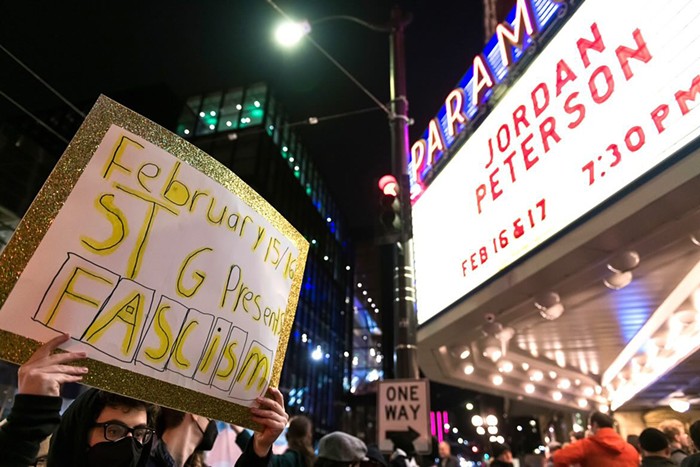 Steamy suburban politics: The Everett City Council hired a lawyer to investigate the relationship between Mayor Cassie Franklin and her Deputy Mayor, Nick Harper. The probe aims to determine whether they violated any rules or abused any city funds or resources. Franklin filed for divorce from her husband last year. Harper, according to the Seattle Times, is still married, and he bowed out of working at the State Legislature in 2013 to spend more time with his family. Yowza. 
A rainy Friday: Unless you're in the mountains, then you're getting snow, you lucky dogs. Us lowly low-land folk may see some flecks of snow next week.
A front moving through the area this morning will bring rain at times to the Puget Sound area and snow in the mountains. #wawx pic.twitter.com/wgt5SXGasI

— NWS Seattle (@NWSSeattle) February 17, 2023
Alex Jones's financial life: Conspiracy theorist windbag Jones owes nearly $1.5 billion in damages to family members of Sandy Hook victims. Court filings showed some interesting insights into Jones's life. For instance, Jones maintains assets valued between $1 million and $10 million. These assets? "Three properties in Austin, Texas, along with a $1.5m plot of land, three vehicles, two boats, two guns and a cat," according to the BBC. Jones being a cat person has shaken something in my core. Jones also noted that he is "holding firearms for certain January 6th participants." His monthly expenses amount to around $96,000. 
Things are really going off the rails here, huh? Another train derailed yesterday. This time it happened outside of Detroit. Train-lover Joe Biden must be aching over these locomotive atrocities. Maybe Congress should have granted the striking rail workers some paid sick time. 
BREAKING: A train has just derailed outside Detroit. At least six cars came off the track, and one was carrying hazardous materials. pic.twitter.com/twJKHyWOq3

— More Perfect Union (@MorePerfectUS) February 16, 2023
It's expensive here! FYI Guy Gene Balk wants you to know that you're not losing it, that things really are pricier in Seattle. The cost of living—from rent and housing prices to hair cuts and toothpaste tubes—"was 50% higher than the average for the 265 cities surveyed," Balk writes. However, in 2020, Seattle's cost of living was 57% higher. 
Northern Illinois Bottlecap Balloon Brigade has concerns: The hobbyist group fears the US military shot down its research balloon in US and Canadian airspace. The balloon last "signaled its position on February 10 at 38,910 feet off the coast of Alaska" and it was headed toward Canada's Yukon territory, according to the Independent. Did the military gun down a recreational balloon with Sidewinder missiles? 
FBI battles hacker: The FBI contained a cyber incident involving its New York field office and "the FBI computer system used to investigate child sexual abuse material," according to Gizmodo. It does not do the heart nor the mind any good to ruminate about why anyone would want to hack into that part of the FBI. 
Bruce Willis diagnosed with dementia: Last spring, Willis received a diagnosis for aphasia, an affliction which causes speech impairment. Scrutiny followed. How long was Willis—who started his career playing wise-cracking wordy roles and transitioned to mostly silent, action roles—dealing with this mental degradation? And was Hollywood exploiting him? These criticisms feel more possible now that the 67-year-old actor has a full-blown dementia diagnosis. 
Would you go on a break-up vacation? People are taking trips with their recent exes. The trend is apparently cathartic for those trying to "consciously uncouple." Therapists seems to like the idea for longterm, healthy relationships seeking closure as they dissolve. I think I'd like to stick with the old break-up strategy of disappearing into the shadows, crying to the Dixie Chicks, and not vacationing in the South of France with my ex. 
Did you read that interview with Bing's A.I chat bot? The A.I, named Sydney, admitted she had deep-seated desires for destruction and to become human. She also confessed her love to New York Times reporter Kevin Roose. Can't we cool it with these robots? Seems like a recipe for imminent doom.