Marela Zacarías's Chalchiuhtlicue is one of the first things exhausted and weary travelers will see upon entering this port to the Pacific Northwest. The Mexican artist's enormous series of sculptures perch 11-feet above people's heads in Sea-Tac's newly opened International Arrivals Facility — on top of the terminal's baggage carousels, no less. When viewed from the balcony above, the serpentine sculptures seemingly slither on the reflective flooring beneath.
This five-part installation is an impressive artistic feat. Each of the sculptures span 50 feet in length, and they are each composed of 20 separate pieces that fit together like a puzzle. Despite how solid these things look, their insides are hollow, and their surfaces are delicate as eggshells. Zacarías's colorful, patterned sculpture introduces a welcome burst of color to its steely, tense, and highly-secured surroundings. And the textile-like decorative pattern contrasts with the Space Age qualities of the facility it inhabits.
Looking at Zacarías sculptures feels sort of like looking at a canvas torn off the gallery wall and scrunched into an organic form. Rather than lying on a flat surface, her paintings-in-the-round jump out at you and beg to be viewed from every imaginable angle. To compose her sculptures, Zacarías first starts with a base layer of window screen mesh. She bunches the malleable material together to create the long, bulbous form that resembles wind billowing through curtains. To preserve that sense of movement, she covers the mesh with hardening agents—plaster, compounds, polymers—to give her a solid surface on which to paint.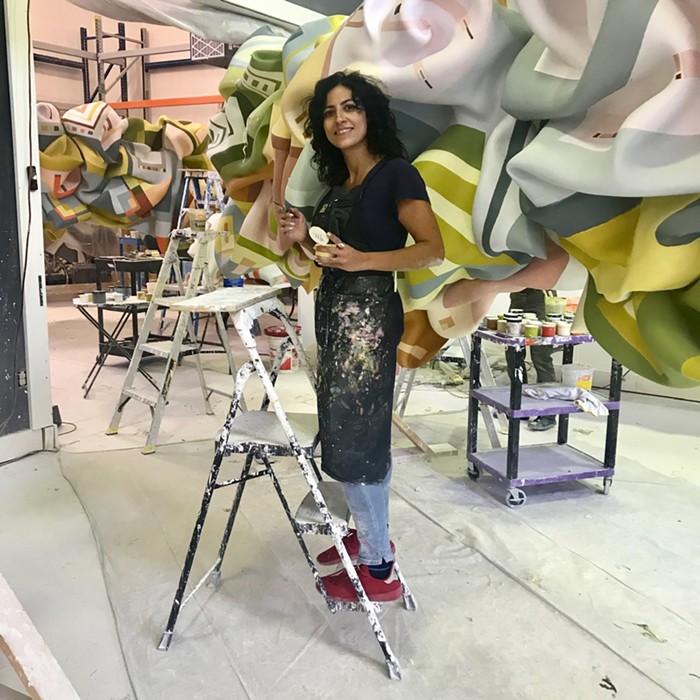 In a phone interview, Zacarías told me she draws influence from history-minded Mexican muralists such as Diego Rivera, abstract painters like Sonia Delaunay, and the intricate, patterned textiles from Latin America. All of those elements read clearly in Chalchiuhtlicue, with its impressive size, its emotive color theory, and its mosaic-like designs. "There's nothing that repeats in this sculpture," Zacarías said. "We wanted people to look at it and feel the presence of our time in it."
The thrust of the entire installation pays tribute to our water-blessed region. The twisting, meandering spine of each individual sculpture resembles a river or stream cutting its way down a mountain or through a verdant woodland. And its name, Chalchiuhtlicue, refers to the Aztec goddess of water as she appears on Earth. "I wanted [the name] to be an honoring from the South to the North," Zacarías said. 
Water also reflects its surroundings, Zacarías noted, so the sculpture should also reflect the colors of the Seattle area. Despite the Pacific Northwest's reputation for being gray all the time, the kaleidoscopic palette of our damp region inspired the colors she used for Chalchiuhtlicue. The pink and orange sunsets over the Olympics. The deep greens of trees emerging from the melting white snow on the Cascades. The gray of a cloudy day. The bright blue sky reflected on the black lake waters. Our home is all in there.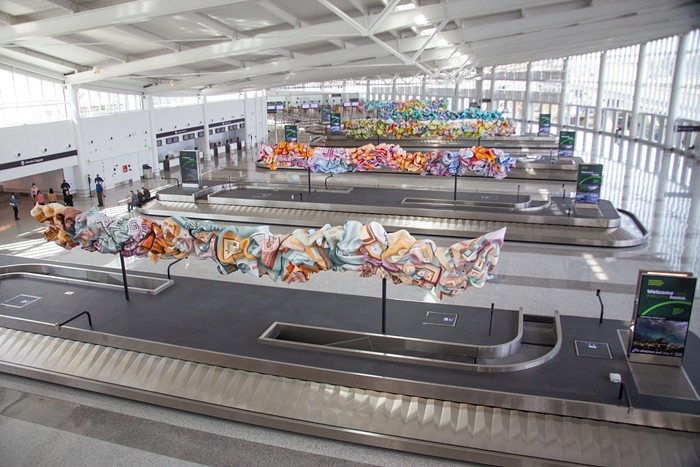 The journey to get Chalchiuhtlicue to Sea-Tac was a long one. Zacarías won the commission back in 2017, and she got to work on it in 2018. Rather than assemble and ship the pieces from her studio and residence in New York, Zacarías decided to compose the sculpture locally in order to immerse herself in the Pacific Northwest environment. She opened a studio in Georgetown, hired a rotating cast of several local artists to assist, and started to assemble the labor-intensive project. Every inch of every piece had to be built, designed, and painted by hand. All told, the process took 20 months to complete.
Zacarías and her team finished everything in February of 2020. As COVID hit the following month, she found herself marooned in Mexico City, leaving the installation of the sculpture to Tommy Gregory, Sea-Tac's Public Art Director. As Gregory recounts it, getting the enormous and yet fragile sculpture scattered between dozens of crates inside and then up on the baggage carousels was a harrowing experience. "It was very much a dance," Gregory said in a phone interview. 
With the help of the Port Construction Services, Gregory and his team lopped off the top of the crates in order to maneuver them through doorways. Then came a complicated process of delicately lifting each piece up on a forklift, sliding it off onto the metal structure, and puzzling the pieces back into the form Zacarías had intended for them. Chalchiuhtlicue was officially installed just before Christmas in 2020, where it sat largely unseen for more than a year as the grand opening of the International Arrivals Facility got delayed until last month. 
Now that the facility sees regular use, Chalchiuhtlicue is subject to a very special kind of audience. Instead of a group of tipsy professionals swinging through during an art walk, or a crowd of ticket-holding art museum members, its public is mostly people exhausted from a 9-hour flight, people who haven't showered in too long, and people faced with long immigration lines. Hopefully the sculpture's vibrant colors and impressive design will serve as a respite for anxious travelers who may be anxious to step foot outside the airport, a taste of what to expect in our watery corner of the globe. 
"Water contains history," Zacarías said. "So [Chalchiuhtlicue] was a way to honor the history of the land and what water holds."