An art collection says a lot about about the collector: their interests, disinterests, weird niche obsessions. For Seattle collector Jeremy Buben, food is the main focus of his nearly 200-piece collection. And now the Capitol Hill resident is putting it all up for sale in a massive auction at Museum of Museums this weekend.
You may have gotten a glimpse at Buben's assemblage, dubbed the FoodArt Collection, at a Capitol Hill Art Walk, when Buben swung open his apartment door to welcome viewers into  "probably" the only food-themed art gallery in Seattle. This quirky grouping of art centered on stuff we shove into our mouths captures a specific milieu of the city's art scene. And by putting it all up for sale, the auction is an interesting exercise in the practice of art collecting itself. 
Buben got his start collecting food-themed prints, paintings, sculptures, and photos after viewing the Art and Appetite exhibition at the Amon Carter Museum in Forth Worth, Texas back in 2014. He called it "the most transformative groupings of art that I have ever experienced" on his website, and came back to Seattle with an eye for food. Over the past seven years, Buben has amassed an impressive and specifically local collection of food art.
Part of the thrill for Buben in collecting around this hyper specific theme was seeing the different way artists approached food, whether symbolically or literally. Of course, there aren't many painters or sculptors who only make works about oatmeal, tangerines, or other comestibles. But Buben noticed many artists do make a food art piece eventually. "That was always something to look forward to with artists I was following," he told me in a phone interview. "I waited until that food thing appeared."
The FoodArt Collection itself is interpreted broadly. The pieces aren't limited to still lifes of food. Instead, Buben has collected art depicting actions or objects associated with food culture and consumption, like drinking or smoking or giant trash bins. In the show's exhibition catalog, most of the collection is grouped by theme rather than medium: olives, peaches, cake, coffee, Cheetos. You're just as likely to come across an 18th-century Chinese teacup recovered from a shipwreck as you are a ceramic sculpture of stubbed-out cigarettes. Buben also noticed that artists are particularly drawn to eggs, bananas, and oysters. "Eggs are powerful symbols," he said.
Perhaps the most useful and interesting function of the collection is how it serves as a time capsule of the past seven years or so of local artistic production. While Buben didn't explicitly collect Seattle artists, he bought a majority of the pieces while hosting exhibition and attending various art walks in the city over the years. Among the nearly 200 items for sale, you'll find an early Anthony White painting, a small collection of Genevieve St. Charles' saucy La Croix cans that sold like hotcakes a few years ago, Rich Stevens' freaky and fun hamburger-headed people, a red-themed photograph from Monyee Chau, grisly pork-centric paintings from Katlyn Hubner, and ample Meat Sweats propaganda courtesy of Kelsey Helland.
Why let a great collection like this go? After all, most esteemed collectors hold onto their works until they die, then bequeath them to institutions like the Seattle Art Museum. But as someone who works in the auction industry, Buben said he was always fascinated by the narrative-like qualities of auctions coming from one consigner. He wanted to host one himself. After a couple of potential collections fell through, he decided to put up his own for sale. "It's a freeing feeling," he told me. Key to reselling the past seven years of collecting work, Buben explained, was creating a hardcover book-style catalog that he could disseminate and look through from time to time. You can pick up a copy at Museum of Museums. 
"I think it should be more normal for people to collect and maybe change out collections from time to time," Buben mused. "You don't have to die with your collection."
The auction process has already kicked off. While you can always check out the catalog online, interested parties who want to take a gander at pieces IRL can head over to The Kitchen at Museum of Museums to look at the goods in person free of charge. The preview will run from today until Saturday, June 25, when the auction itself, hosted by Buben's employers MBA Seattle Auction House, will go down online starting at 5 pm. Even if you have no interest in decorating your walls or empty shelves with items from the FoodArt Collection, the catalog itself is a whimsical and specific snapshot of great work from local artists. Perhaps it'll inspire you to do some niche collecting of your own.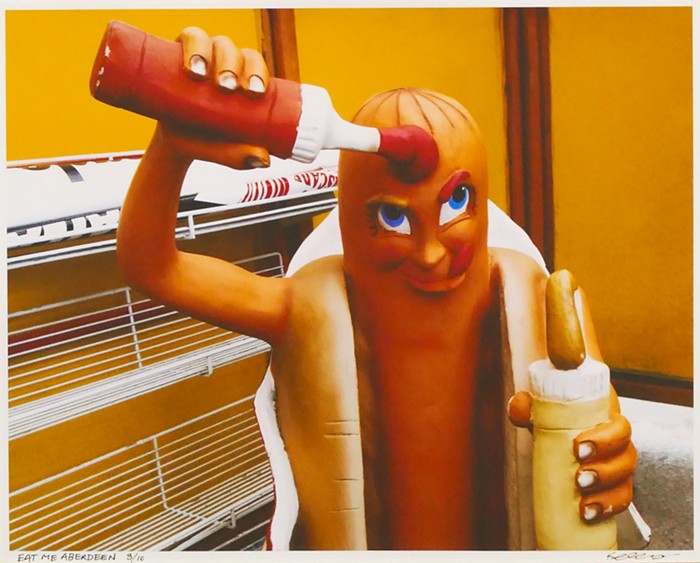 ---
Learn more about the FoodArt Auction on the collection's website as well as on its MBA Auction House page.