Anthony White creates dense, vivid works of art using colorful spools of bioplastic polymer and a very unique melting application tool. His imagery centers on the chaotic assault of advertising and our thorny relationship with consumer goods and consumption. In our interview, we talk about art as a confrontational tool, efforts to help other artists thrive, and what it feels like to be on fire.
Seems like things are really blowing up for you right now, with recent shows in Chicago, Berlin, and London, plus locally at Seattle Art Museum and your solo show at Greg Kucera Gallery that opens January 5… Is it hot inside that giant ball of fire?
My body temp most definitely runs cold! It has been a busy and fun couple of years.
And you're flexing your curatorial muscles lately too, right?
For sure. I really enjoy doing the curatorial work when I get the chance. Everything has to sort of line up perfectly in order for me to organize and conceptualize an exhibition. My next curatorial endeavor is in the works, and is planned to open in the fall. 
It's easy to imagine that anyone alive today can find something familiar and relatable in your work—it's full of pop-culture references and commercial products and logos. But at the exact same time, it's not trying to be relatable, it's actually quite chaotic and sometimes antagonistic. What kind of feeling are you aiming to create with your work?
If somebody who is looking at my work is able to find some connection, familiarity, or relation to the objects and images I depict, I think the work is doing what it's supposed to do. There is almost this inherent universal awareness, and blindness, of the things we are constantly surrounded by and confronted with. While the work is often tied to personal, subjective, and nostalgic experiences, there is a lot of commonality in the day-to-day that we experience both socially and culturally. The work tries to encapsulate these ideas and then some. It's funny though, "chaotic" is one of my five defining words of 2022.
Can you explain polylactic acid (PLA) and how you use it as an artistic medium?
Think of a factory, assembly line and all. The repetition in the process of mass producing an object that hits shelves in every store across the US. The material I use cements most of the concepts I work with and also critiques the synthetic, artificial, and superficial world we live in.
There's something so gently disruptive about the circular metal picnic table (coated in thermoplastic, no less) at your SAM show. What is your artistic intent in including that object in the installation? It seems obviously simple and also... not.
It was. There are many references in the show that are dated, obsolete, and point towards a time in the recent past. I wanted a type of functional seating that took me (and viewers) back in time a bit and also referenced the work on the walls.
Can you tell me about your history with the Lillian Miller Foundation, and helping to create an Artist Trust Fellowship Award focused on Trans* and Indigiqueer artists?
I've been on the board of the LMF for a few years now, after becoming aware of their existence while I was a student at Cornish College of the Arts. Our goal has always been to support, aid, and provide assistance (in many different forms) in furthering the educational and artistic goals of individuals, mostly students, who face challenges dealing with gender, identity, and orientation, and to support individuals, groups and community programs working toward the creation of equity beyond the gender binary. Creating this grant with Artist Trust is an expansion of what the foundation's goals and motivations are, and it has truly been a pleasure working with them.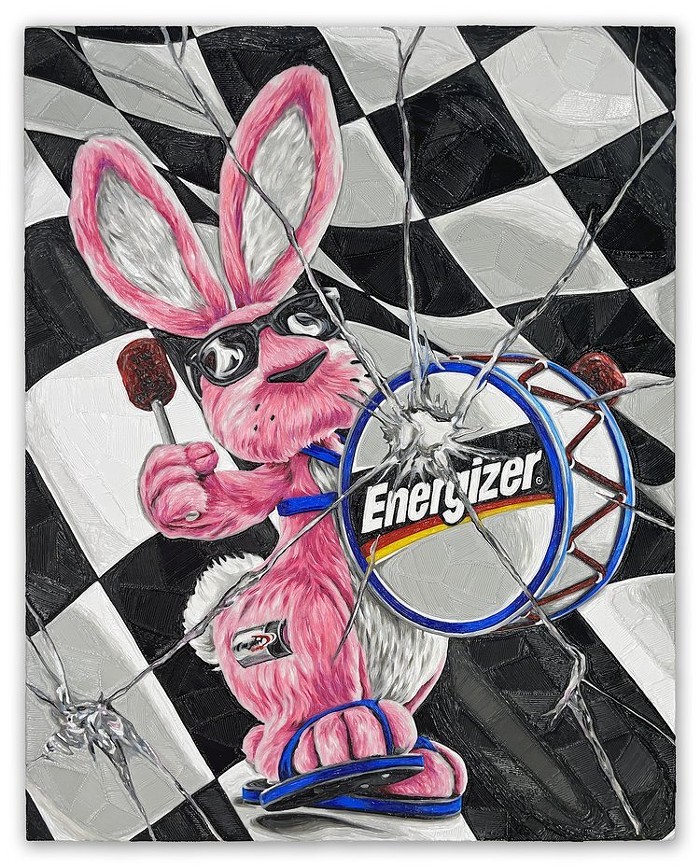 That's really tremendous, thank you for doing that work. Have you had the opportunity to see particular artists flourish and feel proud of the impact you've had on someone's creative trajectory?
There are a few that I've been able to watch flourish within their creative pursuits. It's very inspiring being able to witness them find their voice, establish their creative language, and, at the end of the day, be a small part of their journey. Also, the artists and creatives range from theater, to dance to fine art, and it's motivating for me to see their artistic disciplines and productions because it is often outside of what I am immediately familiar with.
Aside from the fall curatorial project, what goals are you lining up for 2023? 
I am looking forward to working with Omni Gallery in London for my next solo exhibition. I love that city, and it's scheduled to coincide with Frieze London 2023.
---
Anthony White: Extended Warranty is at the Greg Kucera Gallery, 212 Third Ave S, Jan 5–Feb 11. The Seattle Art Museum is also presenting Anthony White: Limited Liability through Jan 29.
Find more of Anthony White's work at boywithplastic.com and follow him on Instagram at @culturalcrisis.