Jessica Lynch is an illustrator and visual artist living on Guemes Island, just north of Anacortes, WA, with her daughter and husband. Her work is largely inspired by the Puget Sound, its bountiful wildlife, and a spirit of laid-back adventurousness unique to the Pacific Northwest. Through her work, she shares delightful glimpses into her life full of ocean adventures, island hikes, and beach exploration. In our interview, we talk about island life, man-buns, and the commercial side of making art.  
After art school in the Bay Area, what drew you to the remote and fantastic island we call Guemes?
As a kid growing up in Bellingham, I spent time on Guemes riding bikes around the island with my family, so I knew of the place. We'd ride down to the little resort and buy the only candy bar left for sale on the shelf and I'd split it with my sisters. Years later my mom showed me an ad in the paper for a studio/gallery on Guemes Island looking to hire a printmaker, a rare opportunity to use my printmaking degree. I got the job, moved one week later, and rented a small cabin near the ferry. This was 1999 and there weren't many people in their 20s living on Guemes, but I quickly made many older friends, one favorite in particular was Win who ran the island store. He rented me a room in his big woodshop barn for my screen printing press so I could keep working on Slow Loris. We took the press apart and then he loaded the heavy frame and pieces into the barn using his tractor bucket. He was a really wonderful man.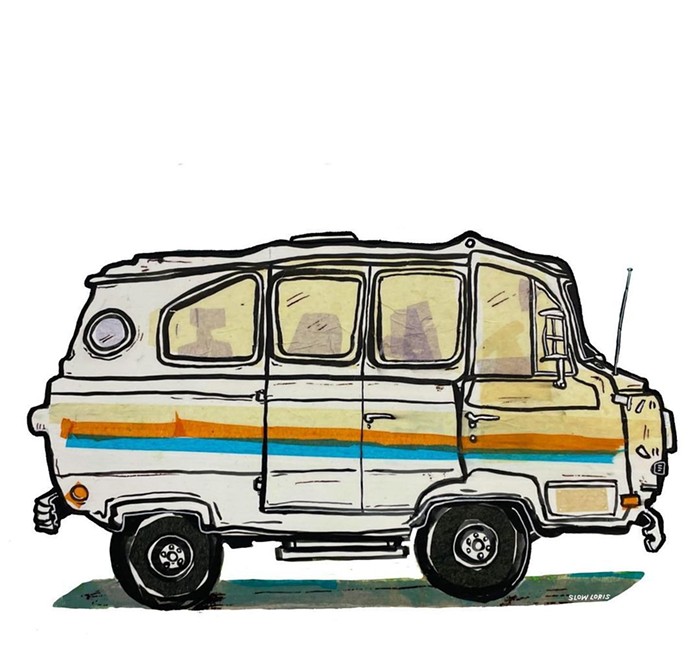 Has Guemes changed much since then?
Yes and no. It's still the same amazing island with friendly neighbors I moved to 24 years ago, but it has become more populated year round, with many moving here during COVID. During the winters it was much more quiet with most of the population gone until summer. It's still quiet and perfect, but with a wider age range of residents and I think that is wonderful.
When we first met you were printing your own shirts on a six-arm manual screen printing press in editions of 100. Now Slow Loris is a team of nine, with an automated press, operating in a nearly 4,000-square-foot studio. Besides a lot of hard work and dedication, how'd ya get where you are?
I have to blame a lot of Slow Loris's success on my business partner Arlo. He joined me about 10 years into being a small business and really started getting us in more stores and navigated us into the wild world of trade shows. His partnership let me spend more of my time on drawing and designing which helped me grow as an artist. We grew year after year, made a lot of mistakes along the way, drove a few falling-apart minivans weighed down so low to the ground with inventory we never were 100% sure we'd make it to a show without popping a tire. 
About 4 years ago, we were noticed by a big retailer at a trade show in Vegas, and soon after started riding a fast wave of growth with them in the years since. We know nothing is permanent, and never take it for granted, but it's really cool to make a better living at this art thing. Plus, knowing we now put over 75,000 shirts with our original art into the world each year is just wild and will always be incredible to me.
Incredible. But you haven't mentioned that Arlo is tremendously handsome. Are you intentionally hiding that from our readers?
I feel like the people must know this, as he is the furry face of Slow Loris. He has always been the T-shirt model extraordinaire and 100% willing to be in front of the camera. My favorite thing is to peruse the Arlo looks from over the years. We have "Year of the Man-Bun," the "Summertime Surfer Dude," the "Bubba Gump Shrimper." It really changes with the seasons. I would never want to hide his sweet beauty from the readers.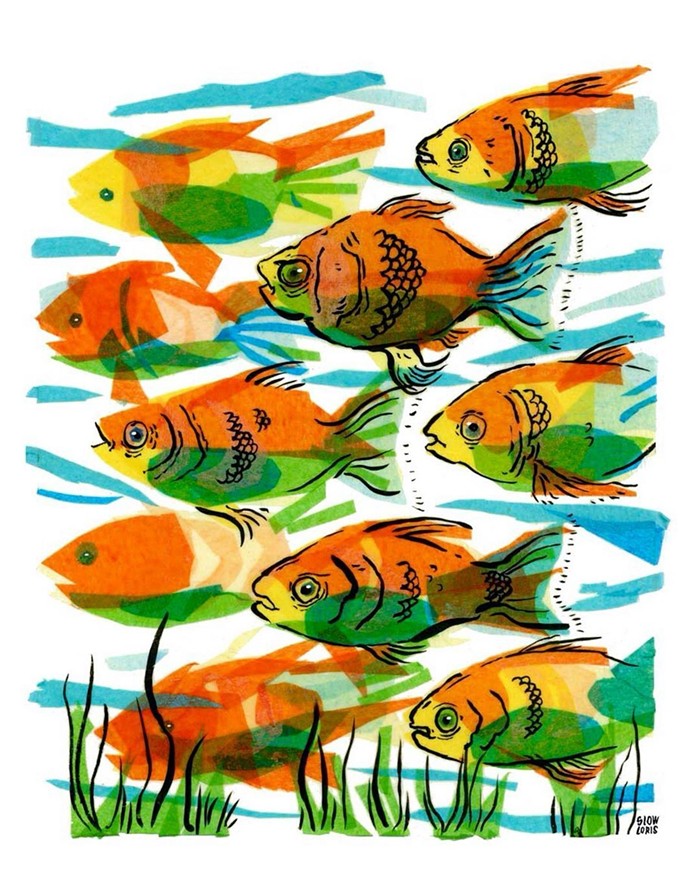 Can you tell us about the underwater painting on this week's homepage?
Yes! That mixed media painting is from a series called Island Rides I showed in Portland at Land Gallery a few years ago. It is based on the circumnavigation story my husband Carson attempted in high school, driving his Jeep Cherokee on the beach around the island at low tide. He almost made it all the way around but got the front end hung up on a rock near Clarks Point and lost it to the rising tide. It was towed out later but the engine was toast. I've always loved the story.
I love seeing the creative projects you include your daughter Matia in, and anticipate her becoming a noteworthy artist too! How has motherhood impacted your life and career?
Becoming a mother is really a trip. The first four years consume your entire world. Then school begins and your daily routine opens up when they are gone each day. It feels like you suddenly have all the time in the world. I had become really good at fitting a lot of work into a limited amount of time. She had spent so many hours with me in the studio, drawing under my desk and singing with me. She's seven now and I get such a kick watching how creative and clever she is. She has taught me to slow down, not work all hours, and be more present. She's the light of my life. I'm slightly better now at a normal hour workday, though I'm still a night owl and I don't think I'll ever be able to change that. Thankfully her dad is a morning person, so we balance each other out well. Arlo's family and ours are close and it's great we are able to give each other the space and time we need for our families and adventure. Our kids inspire many of the shirt designs as well.
What's a recent graphic inspired by one of the young ones?
The Hiking Tortoise. Arlo's daughter drew a version with its neck out at an angle that I loved, and I tried to emulate it. Matia inspired our Mercat design (drawn after our Cat Minnow) which has been quite popular with the 5–9-year-olds.
You've been the victim of plagiarism more than once. From companies large enough to have absolutely no excuses for such a lame, lazy crime. How have you dealt with these situations? 
Truthfully I just don't. I move on and make new things. 
What goals do you and Arlo have for 2023?
I'm on the phone with Arlo now, he says he wants to learn to fly and get his pilot's license. Travel more, take guitar lessons, and triple our retail with Google ads. I want to spend more time on larger-scale paintings than I usually do, and get back into intaglio printmaking. Also, spend more free time outside and playing in the new clay studio we built on the bottom floor of our house with my family. 
---
Find more of Jessica Lynch's work at slowloris.com and follow her on Instagram at @slowloris_jessica.