Kevin Muñoz is a self-taught artist in Austin who works in a folk realm of warm colors and loose textures to explore concepts of identity, longing, and happiness. His design background informs his practice, as does his upbringing in Southern California to Guatemalan parents. In our interview, we talk about overlapping disciplines, identity struggles, and the mighty power of parenting.
As a designer, I am often drawn to artists that came from the design world. What is your background in design?
After high school, my friend (turned mentor) Stephen Serrato encouraged me to take design and software classes at the local college. He literally wrote down which classes and teachers to take on scrap paper. He even told me to go to the local Circuit City (RIP) and pick up an iMac. I followed every step and am so glad I did. After a couple years of basic classes in art, design, and photography I landed at a local/global clothing company, Paul Frank Industries, which felt like my actual college education. I made hilariously witty T-shirt graphics and designed everything under the sun including patterns for pajamas and intimates, bicycles, wristwatches, packaging, and more. I learned everything I could from world-class creatives. I worked there feverishly for a few years while starting a family, then headed to Austin, TX. In Austin, I worked in print shops for a bit, some ad agencies, Robert Rodriquez's cable network, and the University of Texas. For the five years leading up to the pandemic, I worked as an in-house designer at a well-known Austin-based Cinema chain. At each workplace, I feel like I picked up a whole new set of skills that I fine-tuned over time. But as my design career went on, I wanted to do more and make personal work away from a computer.
About 15 years ago I started creating art at home, after my design 9 to 5. Drawings and paintings rooted in illustration and character design. Elements I had worked in already but with my own voice, really just practicing making art and using materials. Over the years, my work morphed into paintings that represented me more closely and in 2020, when I was laid off from my job, along with so many others, I dove into my art practice and focused on that full time.
Your work has such a cool blend of precision and wildness. Can you tell us about your process? Are we looking at assembled cut layers or are you using a masking technique to work through each area individually?
Lately, I've been exploring assembled layers on paper and canvas and this is feeling good. However, I mostly work on wood panels and my process consists of lots of masking. I start with small pencil sketches in a notebook to figure out the overall shapes and the layout of a painting. I then draw a sketch that I'm happy with on a wood panel and cover the panel with adhesive paper and cut into that, following my drawing, removing newly-cut sections each time I want to work within a particular shape. The duality of crisp cut lines and highly textured energy brought by bright colors and energetic brush strokes within those shapes makes for work that soothes my soul. It feels like my internal battles presented for the world to see on a wood panel. And I think people get it, I certainly do.
It's wonderful to see how you blend traditional folk themes with modern, expressionistic vibes. Can you talk to me about some of your artistic influences and inspirations? 
I felt some shame growing up one of the only brown kids in a predominantly white neighborhood in Orange County, CA. Once I was old enough (about 12) to abandon the shame and embrace my Guatemalan roots, I ate it all up. The patterns in tapestries, Mayan masks, ceramics, photos of ancient artifacts, etc. I loved being connected to this culture and still do. I think somehow that whole story makes its way into my art. Late Guatemalan painter Carlos Mérida did a great job of combining Latin American culture and the modernist movement. I really enjoy his work and the fact that he also was Guatemalan. Also, Robert Motherwell's art speaks directly to me and is an obvious inspiration as well as Gottlieb, Rothko, and Cy Twombly. One of my very favorite living painters is a high school art teacher named Anthony Garza. Hi, Anthony.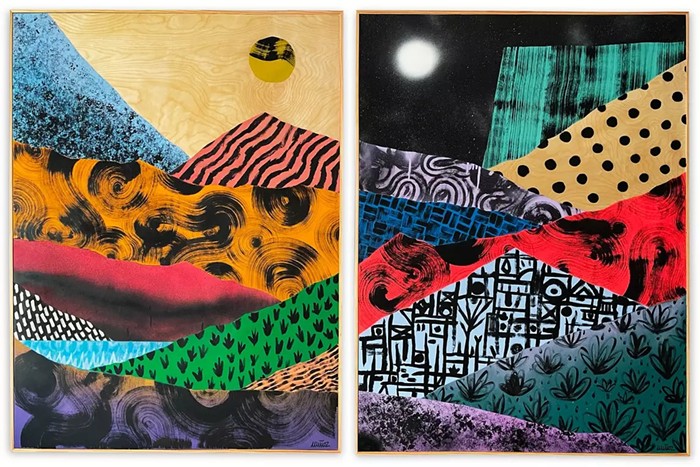 What are your favorite moments of a normal day for you?
I have never been a morning person but I recently started waking up at 6 am or earlier to tend to my new habits. Some of those habits include journaling, meditation, and yoga. I find that honoring these practices helps quiet the noise in my mind. All the loud voices in my head, fighting for attention just get turned down. Sure the to-do list is there and the self-doubt will always be in the shadows, ready to pounce in a moment of weakness, but it all somehow becomes more manageable. I'm so grateful for these new tools in my life that give me such peaceful mornings.
Also, cooking breakfast for my daughter might be my very favorite moment of any day. She means everything to me and I love being able to set her up for a successful day.
Lastly, when I make it to my studio and start painting and get lost in my work. Time zooms by, all is right. The big scary resistance monster has lost and my muse is happy.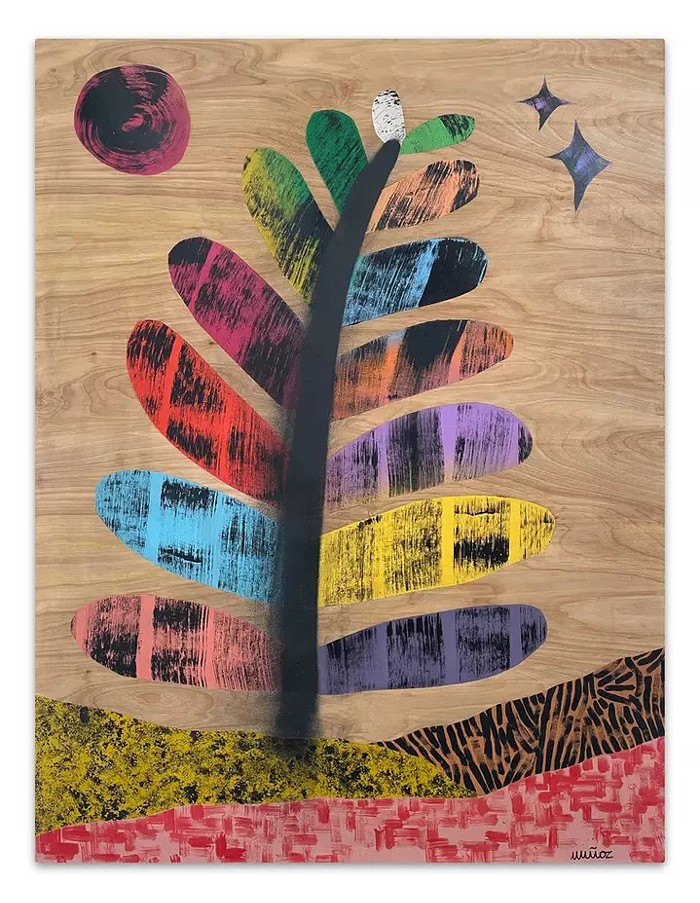 What are you listening to these days?
I've known about Panda Bear's music for a while but recently I really fell in love with his sound on a road trip to Graceland in Memphis for a friend's birthday. A couple weeks ago I took a trip to London and was walking the streets listening to the latest album he did with Sonic Boom called Reset. It might be the perfect album. Also, a new EP by my cousin Donny Hart, titled Pink Cloud warms my heart.
In the studio, I've been listening to a lot of Hermanos Gutiérrez and soft piano-heavy ramblings of artists that include: the Vernon Spring, Wildlife Freeway, Mamman Sani, and Elori Saxl. Basically, when music is so ethereal that I'm on the verge of tears, that's when I make my best work.
Next major goal for your art?
I want to travel! I recently wrapped up an artist residency here in Austin at the Line Hotel with Big Medium and that made me realize how much I would love to travel and make art around the world. Also, I love to work big but mostly get to when I work on commissions. I have made a couple murals but am interested in painting more walls, you guessed it, around the world. I'm at a point in my life where taking off for a few weeks here or a couple of months there, to make art, is more feasible.
---
Find more of Kevin Muñoz's work at kevinmunoz.us and follow him on Instagram at @kevinmunoz.
You can also see his work in VIM: A Group Invitational at Zinc Contemporary through February 11th.