Susan Dory is a Seattle-based artist whose abstract geometric patchworks explore systems of interconnectedness, harmony, and emotional patterns. Her work has been collected and exhibited nationally including at the Tacoma Art Museum, Microsoft, Nordstrom, and the City of Seattle's Civic Art Collection. In our interview, we discuss some details of her painting process, how work evolves through inspiration, and what it takes to effectively describe the universe.
Your work is constantly evolving, and while there are aspects that tie the collections together, they each feel distinct and fresh. What are your thoughts on signature styles and the risk of stagnation?
I am happy you see it that way too (constant evolution, freshness) thank you! 
For me, working in the studio is about exploration, seeking. With each new body of work, I have many ideas that I am synthesizing and distilling to try and create something new. I like to create bodies of work, with several paintings in progress at once in order to have a dialogue, conversation among the paintings, which keeps me on my toes. I have a lot of thoughts that I like to run with and see what happens so stagnation isn't really an option. It comes down to subject matter, I suppose, which for me is forever evolving. 
Your new show at Winston Wächter Fine Art dives into rhythmic, undulating patterns you've likened to networks, like the organized movements of birds or the invisible pathways connecting trees and fungi. What brought this new study to the forefront of your work?
The concept of Indra's net. Indra's net is a metaphor in Eastern philosophy attempting to describe the universe/infinity. Imagine an infinite net spanning the universe, at each intersection of the net, where the net is knotted together, there hangs a clear crystal jewel. Anytime there is movement in the net, anytime a jewel moves, each and every other jewel in the net (universe) also moves and reflects the other jewels. It is a very profound and mindblowing visual for me that I have been hoping would inspire new work for a long time now.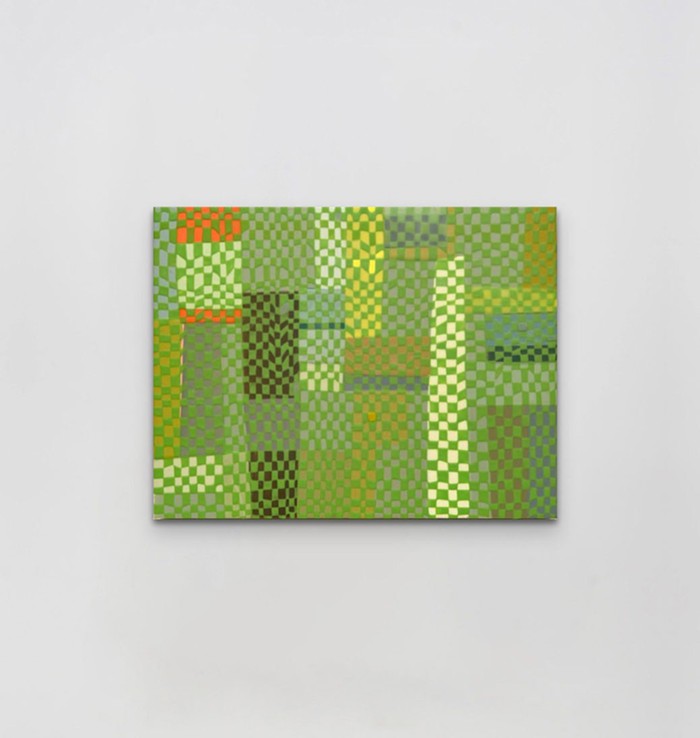 That is illuminating! On a technical level, your level of detail seems almost too fine for a brush, which brings up curiosities about stencil or resist methods. Can you tell me about how you actually apply the paint to canvas?
There is more of a taping off and pouring of paint as well as brushwork. It depends on which layer of the painting I am working on. The final layer, the net-like, grid surface is mostly the taping off part, the underpainting is brushwork and pouring. I also have some wonderful little spatulas that I work with for mark making and also my fingers and sewing needles.
Very cool. Can you describe the aspects of a fulfilling day in your practice?
I like an early start when the world is still quiet—having the time to make several passes on the current paintings.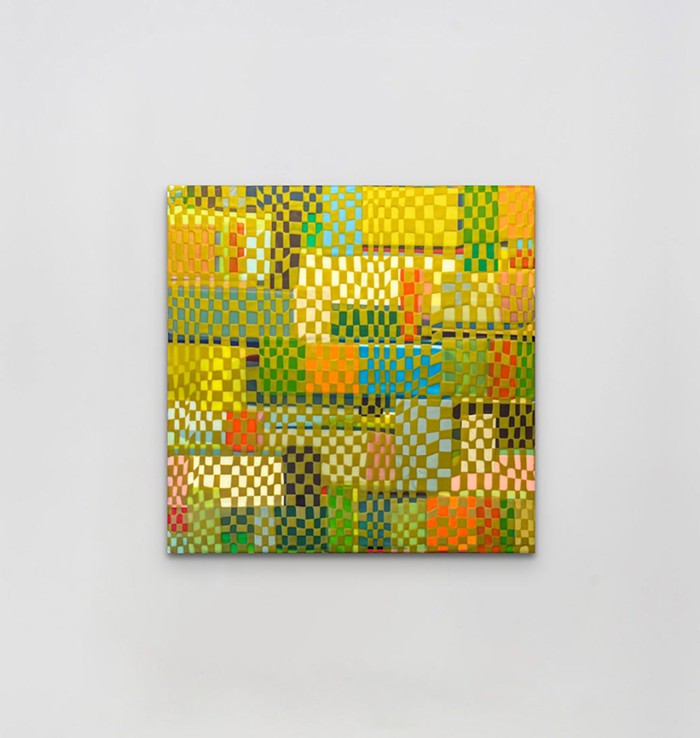 What are you listening to in the studio?
Ram Dass. Edwin Bryant, an amazing professor of Indology at Rutgers, who posted many of his lectures taught during Covid online for all of us to access, he's so brilliant! Bowie's Low album. Django Django's first album. Any Elliott Smith. And something that has become more a part of studio life is intermittent silence. It's an amazing way to really be present with the work. It's bracing.
---
Susan Dory's Spontaneous Sights is currently hanging at Winston Wächter Fine Art through March 11.
Find more of Susan Dory's work at www.susandory.com and follow her on Instagram.