Sarah More is a Seattle-based painter whose work centers on bright patterns that evoke American quilts and colorful mosaics, but with a precision that could easily be mistaken for a vector creation. She holds an MFA from the Cranbrook Academy of Art and a BFA in textile design from the Rhode Island School of Design. In our interview, we talk about her techniques, influences, and the special kind of solace that comes with slowing down.
Gouache is a unique and interesting medium, can you explain its unique traits and why you are drawn to it?
I began painting with gouache in sixth grade when my teacher, Mrs. Mitchell, introduced me to the medium. I was immediately intrigued by its opacity, which is what makes it different from watercolor. Essentially, gouache is watercolor with white added. Nowadays I paint with Acryla gouache which combines the opaque coverage of water-based gouache with the durability of standard acrylic paint. It allows me to paint on panel since I don't have to worry about it being as vulnerable to the elements as is necessary with regular water-based gouache, which needs to be framed under glass. Acryla gouache is delicate and strong, making it fun to work with. It's much more forgiving than standard water-based gouache.
Your work is both beautiful and tremendously meticulous, what histories or personality traits would you say led you to such precise and time-intensive work?
Thank you! I wouldn't say that I'm a particularly neat or meticulous person in my non-painting life, but I've always been drawn to time-consuming, detail-oriented ways of making. Studying textile design in college also contributed to my interest in this time-intensive work. Threading a loom, the rhythm of creating tiny stitches across a piece of fabric to hold it together, the care it takes to embroider something by hand; it's slow work. I approach painting in a similar manner, slow and steady. For me, that's where the magic lies and I find a lot of solace and peace in the slowing down that happens when I paint.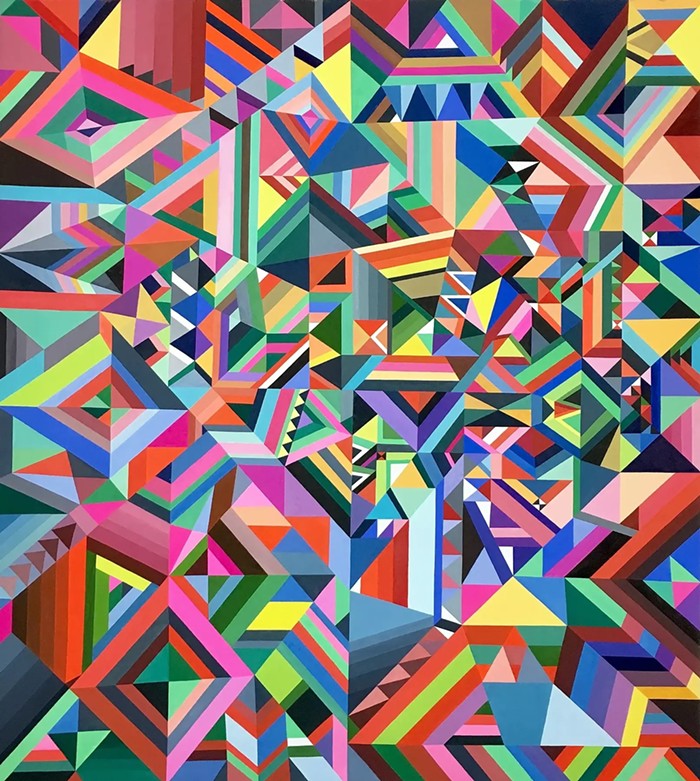 I can clearly see how growing up around your mother's handmade quilts has influenced your work, but you cite your father's collection of rocks and minerals as a big inspiration too. Can you elaborate?
By the time I was in my early 30s, my dad had amassed a large collection of rocks, gems, and minerals, many from trips across the US where he collected them himself. He was particularly interested in thundereggs and the various patterns and colors that exist within them. He had them all arranged inside this giant glass case he'd built, organized in a grid, often separated by their location of origin or color or material. I think the fractal patterns and color gradations in particular have found their way into my own work, especially some of the older pieces like "Red Rhapsody" and "Cabin Fever." 
You spent some of your childhood in Portland, what brought you back to the PNW this time?
I lived on the East Coast for over a decade before moving back to Portland in 2008. My parents are originally from Oregon and most of my extended family is on the west coast so it made sense to come back. I'd been living in Bend for almost 10 years until my husband and I decided to pack up and move to Seattle last April.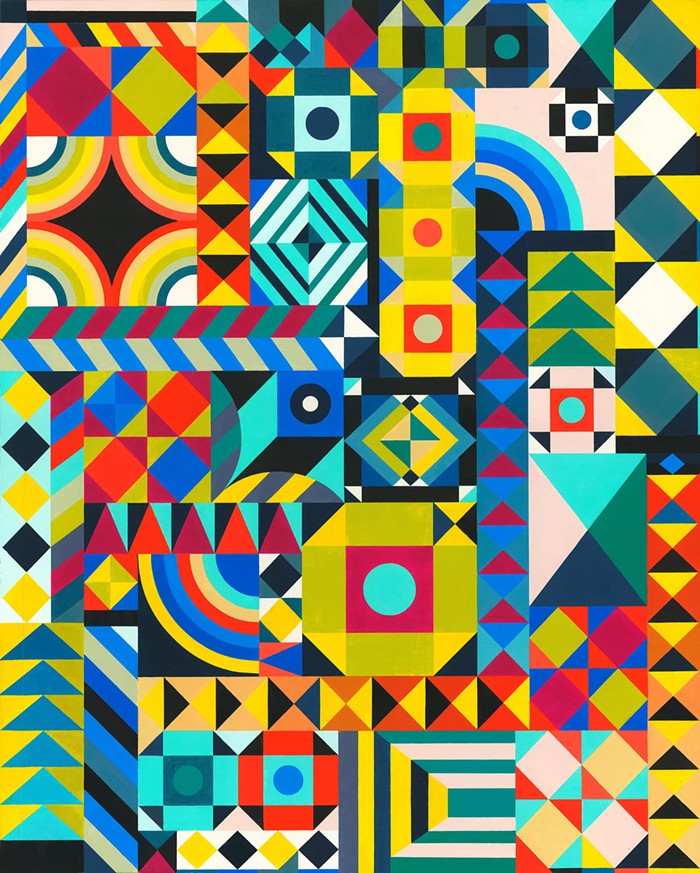 What do you like to listen to when you want to get in the zone?
I am a huge Last Podcast on the Left fan, but I also listen to lots of audiobooks and music. I made a playlist that contains some of the music that I listened to when I created this body of work. 
(Listen to Sarah's Before & After playlist here.)
Excellent, thanks for sharing! Any special goals for 2023?
Taking on larger projects is a big goal for me in general. In 2022 I worked with the Meta Open Arts program on a mural for their Bellevue offices, and I fell in love with the scale of the project. I feel really fortunate that I get to paint every day, so for 2023 I just want to keep doing that.
---
Sarah More's solo exhibition Before & After is at ZINC contemporary through March 31.
Find more of Sarah's work at sarahhelenmore.com and follow her on Instagram at @sarahhelenmore.