Andy Arkley is a visual artist, designer, musician, and animator who "strives to make work that fosters inclusion, positivity, and elation." He studied animation and electronic music at Evergreen and has gone on to develop a spectacular body of work using cut and painted wood, incandescent light bulbs, and music. In our interview, we talk about how art can make people feel better, creative perseverance, and cats.
I'm dying to see your new interactive musical installation You Can Do Most Anything at the recently open WNDR Museum. How did that opportunity come together, and what was your motivation for conceptualizing that piece?
I've been working with the WNDR museum since 2019. I have an interactive installation at their space in Chicago called "Try to Get Higher." When they told me they were opening a space in Seattle I asked them if I could do a piece there and thankfully they agreed. 
With this piece I approached it in the way I usually do, just let my imagination and intuition run wild and then rein it all into something I can actually make. I don't usually approach art from the standpoint of an "idea" as I think it is somewhat restraining. I will say that I try to make work that makes me feel elated or happy in some way. I'm not a particularly happy person, but art is a way for me to feel better and I hope it does the same for others. 
The people at WNDR are all really cool and thoughtful people and I think we both share a philosophy about making art accessible. My favorite type of art is the kind that immediately draws you to it, but then reveals something deeper as you examine it. It's incredibly hard to make this kind of art. Much of the art world also seems to have a hang-up about art that produces joy or is easily accessible to people. Sometimes I think I might be making things that are a reaction to this part of the art world.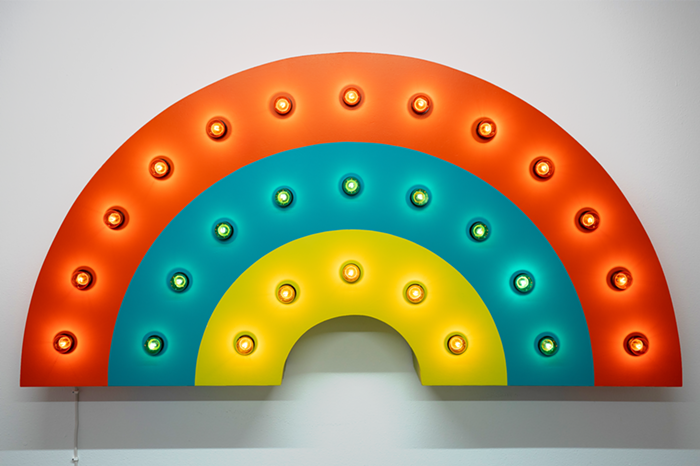 I recall you saying you were moving back to Seattle after your artist fellowship in Tulsa, OK. What's that been like for you and your wife Julie Alpert?
We've lived in Tulsa since the beginning of 2019 for the Tulsa Artist Fellowship, a multi-year artist residency that includes housing, facilities, a studio, and a stipend. The residency has allowed both of us to focus solely on our art for the last several years, which has been amazing. 
We've met a lot of very cool people in Tulsa but overall we would say Oklahoma is not a cultural fit for us. I can't wait to return to Seattle to contribute and support the Seattle art community, which I absolutely love. My entire family also lives in the PNW including my two brothers and their amazing partners and my wonderful parents Alfred and Harriet.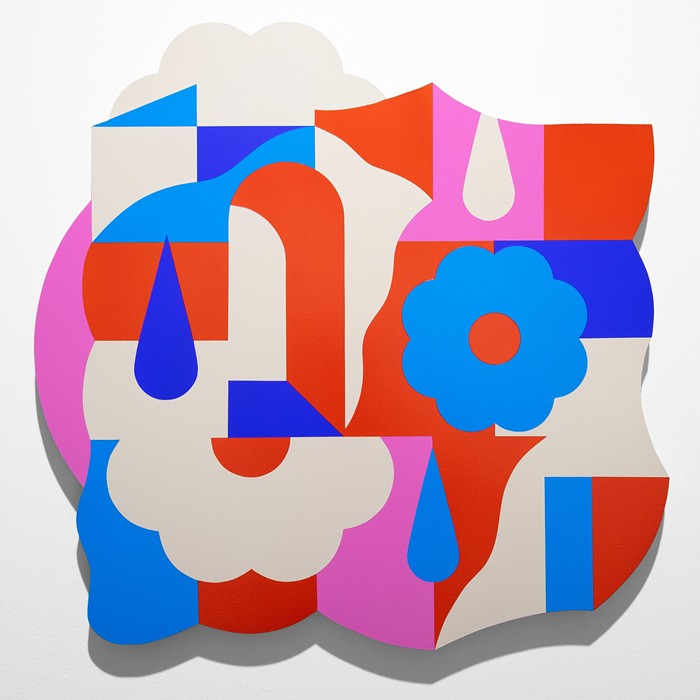 What was the art team LET'S, and how did it affect your creative path?
LET'S was a collaboration between myself, Courtney Barnebey, and Peter Lynch. Both of them are some of the most talented artists I've ever known. Before LET'S we were in a band called Library Science that put out several albums and played all around Seattle. Peter and Courtney also helped with the Bran Flakes' live shows, which had a lot of audience participation. 
LET'S was basically bringing our love of including people in our shows to more traditional art spaces. Almost all of our installations included interactivity and music very similar to the piece I have at WNDR. We had installations at places such as SOIL, Bumbershoot, and MadArt Studio. We ended the collaboration after I left Seattle but I've continued to make these types of installations on my own. I'm forever grateful to Peter and Courtney for everything I learned from them!
I checked out your band's single "I'm So Glad to See You" and it kicked off a really spectacular radio station featuring your band the Bran Flakes, and also TOBACCO, Dick Hyman, the Millennium, the Books... What defines a "sound collage" band vs. other types of bands? 
The Bran Flakes is a longtime collaboration between myself and Otis Fodder. The Bran Flakes is almost 100% samples taken from records, cassettes, and videotapes. We go to thrift stores, buy all the cheapest records and cassettes that nobody wants and sample from them. We then share those samples and create songs. Last time I counted we had almost 60,000 samples. 
The live shows include video animations, dancers, props, and audience participation. We've played many shows in Seattle and also around the country. 
We've been making albums for over 20 years and are always sampling and hoping to make at least one more album. Otis lives in Montreal now and is currently doing a show called Friendly Persuasion on WFMU where we'll probably be sharing new bits and pieces of things.
How great, it's like a musical form of conservation, using things that would otherwise go to waste. What are you listening to when you're working?
Boards of Canada (or music in that genre), dub music, and a lot of electronica like Mr. Oizo, Odd Nosdam, and other chopped-up stuff. Most of the music I listen to while working has no lyrics.
Any big goals for 2023?
I love making installations but they are just so incredibly complicated and time-consuming to manage and produce. I really want to spend the rest of the year drawing, painting, and making smaller sculptural pieces that can live on their own. And taking care of all my street cats in Tulsa. :)
---
Andy Arkley's newest installation "You Can Do Most Anything" is on permanent display at the brand-new WNDR Museum. Find more of Andy's work at arkley.net and follow him on Instagram at @andy_arkley.