Eric Fisher is a designer, artist, and musician living and working in Seattle. He's not only designed the visual identity for some of your favorite restaurants, but he probably chose the tile, painted a mural, and built the bench you sat on, too. As a musician, he's toured and performed with Damien Jurado and Rosie Thomas, and his recent bands include Atoms and Void and Constant Lovers. As a visual artist, he uses drawing as a meditation to explore themes of hope, connection, and community. In our interview, we talk about the interconnectedness of his creative specialties, the value of gratitude, and the French word for "squirt."
What's it like for your career to move through so many disciplines? What are the ups and downs of having such diverse and wide-ranging skills?
I have loved learning new skills and ways of doing my work. I don't see a huge difference between most of the things that I have chosen, often those things support each other. If I am designing for a restaurant, it's so helpful to think about the way people move and interact with the space, and how it feels to be sitting there, how the menu design communicates the same feeling, along with the sign outside. I could say the same for creating a record or a drawing, it has been really helpful to understand how things work together to communicate what my client or I want to say. 
There is the obvious lack of security in the path that I chose. There is that old saying "Jack of all trades, master of none" that can be confusing for a more traditional business. … It is far more fun, and I find it more fulfilling, to learn new things and explore new ways of working. I don't want to be the "master" of one thing. I am not really sure how that is possible. I have traded security and a desk for this ability to learn and explore.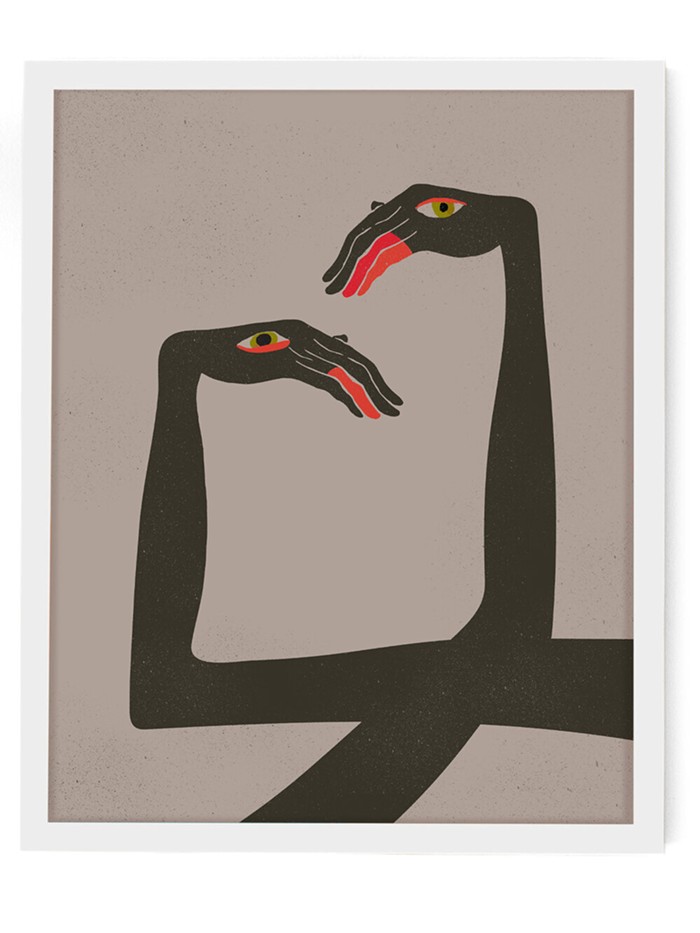 Your drawings are created digitally, tell me how you add warmth and tactility through printing mediums.
As I am drawing, I think about how the texture and color will print and look in real life, not just on a screen. Sometimes that is using brushes that have a subtle texture to erase back and reveal the color of the layer below, or adding a light graininess on top of a clean field of color. If it is an object that looks 3D, I think this texture helps the drawing to feel like a human has made it, and [it is] hopefully more interesting. I use a printing technique called giclée, which sounds really fancy-pants but means "squirt" in French. It is a really nice inkjet printer that gets amazing detail and has a wider range of colors that can be really vibrant. That, on a nice textured art paper, can look and feel almost like a screen print or painting. 
What would you say is your core value that unites all the creative work you do?
What I make that other people see or hear becomes their own once I put it out there. They can love it, hate it, or not give a shit about it. I have to respect that. For this reason, when someone buys a print of mine and puts it up on their wall, I am so very grateful that I have reflected something within them that they find beautiful in their way.
Would you describe your perfect day?
It would certainly have a shining sun and some warm air. A moment alone and some time with people that I love. Some water to jump into and some good food to eat. Most of all, a peaceful mind that can be there fully. 
What are you listening to when you want to get in the zone?
That can vary pretty widely depending on what I am working on and how I am feeling about sitting at my desk. Lately, it has been Nils Frahm, Joep Beving, Darkside, Mdou Moctar, Branko Mataja, Green-House, Hailu Mergia, Dorothy Ashby, the Sweet Enoughs, Suuns, Fugazi, Idles, Shabazz Palaces, Arooj Aftab, Khruangbin, Lower Dens, Alice Coltrane, Death and Vanilla, and many more. I guess it depends on the mood, and if lyrics start to get too distracting.
Most days, at some point in the afternoon, I lay down to reset my creative brain and listen to a song or two, lately I have found that "Structures From Silence" by Steve Roach helps me let go and move to the next thing.
Goals for 2023?
I am about to head into the woods of White Salmon and build a cabin on the property of some dear friends. After a lot of change over the last few years, I am looking forward to some time outside of the city, making some art, do some building, and thinking about what's next. 
My band Constant Lovers just finished a record and we are putting it out this year, very pumped to get that out and play some shows. I also have an ambient record in the works with my bandmate Joel [Cuplin] called Peace Beast—hopefully, we can finish that up as well.  
I have a pipe dream of an HGTV show called Make It Weird where me and my buddy Ben Verellen are hired to remodel spaces and make them super weird and wild, maybe that?
---
Find more of Eric's work at ericmfisher.com and follow him on Instagram at @_fishes_.