Ben Horak is a Seattle-based cartoonist whose incisive and irreverent comics have been a part of The Stranger for seven years. A graduate of Vermont's Center for Cartoon Studies, Ben's childhood love of drawing (especially monsters) has become a serious practice, with comics running in many local and domestic papers and websites, as well as self-publishing his own 10-years running comic book series, Grump Toast. In our interview, we talk mostly about movies, food, and music.
I didn't know there was such a thing as a "Cartoon College" and I'm seriously thrilled to hear about it, can you tell me what it was like attending?
I attended the Center for Cartoon Studies from 2009 to 2011 and it was fantastic! The school is located in White River Junction, a small train town in Vermont which felt like a combination Leave It to Beaver and Gummo. The program itself was really thorough in teaching all the ins and outs of what it takes to create a comic, as well as the history of comics. The school really helped me figure out the type of stories I wanted to tell and the most efficient way to tell them. I created my first issue of my comic series Grump Toast at CCS and would continue to produce issues for the next decade. I have nothing but fond memories of my cartoon college days and still count a lot of the faculty and fellow students as close friends and family.
I hear you're a major movie fan, tracking titles and racking up as many as 630 in just one year! As a fellow film nerd, I'm eager to hear your favorite genres and perhaps you can recommend a few accessible titles for people who may not know about them?
I love movies. I will watch anything, honestly! The genre I'm most familiar with is horror. The first movie I ever watched was King Kong and it really frightened me (as did Ernest Scared Stupid but that's another story). But I also enjoyed the feeling of being scared so I really leaned into horror growing up. As for horror recommendations, some of my personal all-time favorites are An American Werewolf in London, Return of the Living Dead, and John Carpenter's The Thing. To get hyper-specific on horror, my favorite sub-genre would be the horror anthology. I really get a kick out of short horror stories intermixed with a larger wrap-around plot. My favorites are Creepshow, Tales from the Hood, Ghost Stories, and anything by Amicus Productions. But again, I just love movies and will watch anything, horror or not. I recently watched [Richard] Linklater's Before trilogy, which I thought were all supremely beautiful. But I could easily talk about the romanticism behind the Before trilogy and the Basket Case trilogy in the same breath.
I'm always impressed by your weird/acerbic ideas when you pitch a comic. Do you jot down ideas as they come to you, or just sit down and let ideas come to you when you need them?
When I have an idea I will grab the nearest piece of paper to me and jot it down as fast as I can or the idea is gone from my brain. Most of the time these are ideas quickly scribbled on the back of crumpled receipts or Post-it Notes, whichever is closest to me. I then save the piece of paper to a folder in my writing journal. At some point I will sort through the random ideas and any that I still think are good I will transcribe into a more fleshed-out story in my journal. Whenever I am approached to create or pitch a comic I just consult the journal and see which story is applicable and something I would want to spend time drawing.
Your self-published comic book series Grump Toast had a successful 10-year run. What are the pros and cons of circumnavigating the publishers?
Pros: I can work at my own pace, have 100% full creative freedom, decide how I want the finished product to look, be a part of the process every step of the way, be your own boss!
Cons: It's a lot more work, you have less of an audience reach without a publisher, you have to pay for everything (i.e. printing, shipping, etc.), book your own events, market yourself, it's all riding on you!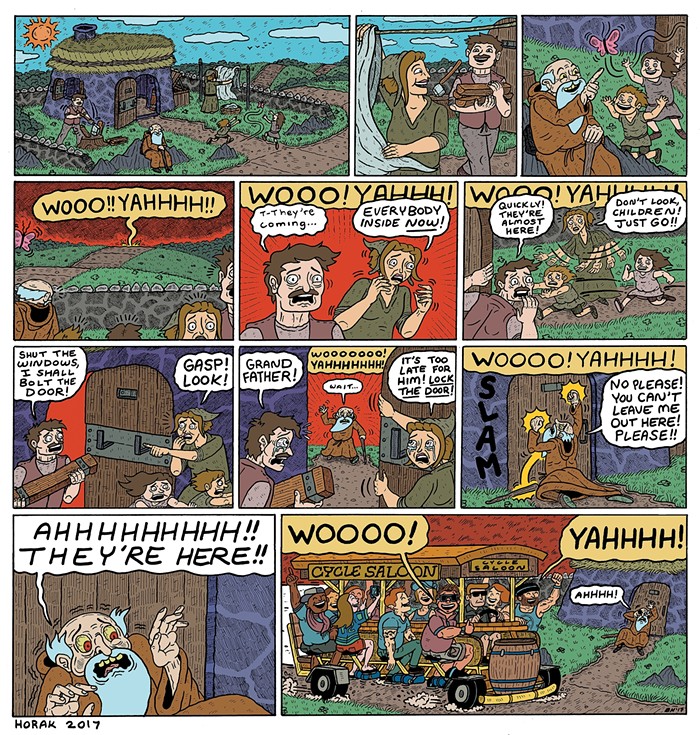 Favorite restaurant or food truck in Seattle?
Hattie's Hat is forever my go-to spot. Nothing beats having a Rainier and whiskey with an Ol' Con's Chicken Fried Chicken Sandwich while watching a random VHS tape on the bar's TV.
What are you listening to in the studio these days?
I listen to a lot of music. Much like movies, I will listen to anything. I make a point to play albums I've never heard before from start to finish. Here are the last 10 albums I've listened to: Avalon Sutra by Harold Budd, Show No Mercy by Slayer, Stranger in the Alps by Phoebe Bridgers, Sleepwalking by Johnathan Bree, Raven by Kelela, The Art of Forgetting by Caroline Rose, Scaring the Hoes by JPEGMAFIA and Danny Brown, Dedicated by Carly Rae Jepsen, Damned Damned Damned by the Damned and In Heaven by Mr. Twin Sister.
---
Find more of Ben's work at grumptoast.com and follow him on Instagram at @grumptoast.